According to the old adage, comparing apples to oranges is a no-no. Everyone knows the best results come from comparing apples to apples. In the case of Duane McCoy, however, it is not apples that he markets, it is Big Slice™ Apple Sauce; and he is happy to have his brand recognized in today's market. Armed with his grandmother's recipe, McCoy used apple sauce to build the Grandma Hoerner's brand, which is 25 years old and has vast growth potential.
In the late 1880s, Mabel Hoerner grew up on a farm in Kansas. The farm had an apple orchard, and over the years she developed a recipe for apple sauce. Every autumn, she cut thick slices of perfectly ripe apples, added cold spring water, freshly ground cinnamon and nutmeg, and then slowly simmered over a low flame. The resulting chunky sauce, with perfectly cooked apples, was jarred and given to family and friends who clamored for it, according to Duane McCoy, her grandson.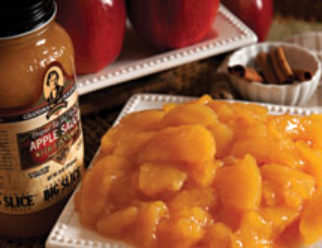 As an adult, McCoy was living in Southern California but never forgot about the apple sauce he loved to eat. He searched the marketplace and couldn't find anything similar. Wanting the same sweet sauce with large slices of apples, he took his grandmother's recipe and started experimenting. He found that the Fuji and Pink Lady apples were best at keeping their firm texture and sweet-tart flavor, but instead of using refined sugar like Grandma Hoerner did, he used natural juice concentrate, which maintained the original recipe's sweetness and provided additional health benefits. Calling it Big Slice™ Apple Sauce – with a tagline of "so chunky you can eat it with a fork!" – he began supplying it to markets in his neighborhood.
"I wanted my product to keep with the qualities of my grandma's apple sauce, which was wholesome, healthy and chunky with whole fruit," he says. "This is an all-natural product, and over time, the market really responded to that."
McCoy started marketing his product in 1986, a time when no one was making different flavors of apple sauce. He thought adding other flavors would "liven up the market and excite consumers," so he went back to the kitchen to experiment some more. One of his first offerings was Apple Kiwi Big Slice™, and now the company offers nine flavors. Each variety, McCoy stresses, contains big slices of apples and is all natural, with no preservatives and no sugar added.
Getting Good Ideas
McCoy started the Grandma Hoerner's business by working with co-packers in Southern California, but it was always his goal to move the operation to Kansas. In 1994 he, his wife and one-year-old son relocated to the family ranch. In 2000, he purchased a large building on 36 acres. After a big renovation and many upgrades to the building, he and his wife turned it into the processing facility and warehouse, bringing all operations under one roof.
"We start with all natural ingredients and use them in Grandma Hoerner's recipe," explains Regina McCoy, vice president, co-owner and Duane's wife. "We adhere to our gold standards, credo, mission and operating objective during production and abide by the highest quality methods."
It's not just apple sauce that Grandma Hoerner's Foods produces. As popularity of the company's apple sauce grew, customers and accounts began asking for other all-natural products, and the company has been consistently introducing new items ever since. Its line now offers more than 60 products, including fruit butters, chutneys, pie fillings, preserves, salsas, dark fudge dessert topping and a variety of sauces. Every product from Grandma Hoerner's is made using only the finest ingredients.
To ensure that its processes and products consistently meet high standards, the company developed a Quality Assurance Program with Kansas State University Department of Food Science. Grandma Hoerner's also has a HACCP plan in place, and multiple third-party auditors visit the plant throughout the year. In addition to its own products, the company does a lot of private label work for a number of national brands.
"We always strive to be on the cutting edge of innovation, in terms of our production and the development of new products," Duane McCoy says. "In the private label area, we work in tandem with those customers to create some unique products – it let's us flex our creative muscle. For our own brand, we are constantly developing new products."
He notes that customer feedback is always available. In addition to research gained from its national accounts, the company has a retail specialty food shop with viewing window that allows customers to see its products coming down the production line.
"Coupled with our own product development research, market demand, trends and in-house creativity, with a retail store on site, we're able to listen to the customers all the time," he says.
From Apple to Barbecue
His grandmother's apple sauce recipe is not the only thing that Duane McCoy took from his Kansas roots – he also developed a love for Kansas barbecue.  A couple years ago he used the re­sources in his plant to experiment in creating his own barbecue sauce, fully aware the market already had countless varieties. Even so, consumers responded positively to another all natural creation, and the McCoy's™ Real brand was born. It now offers three barbecue sauces, a rub and two seasonings.
"Our Grandma Hoerner's branded lines have experienced steady growth throughout the years," Regina McCoy says. "We are national but not saturated. The story behind the product and marketability is there, and even during this economy, people appreciate good, quality products. There are wholesome belief systems behind the brand that consumers like."
The McCoy's™ Real Barbecue branded products create a number of new avenues in which the company can grow. For example, Duane McCoy and his son would like to open a McCoy's™ Real Barbecue and Grill on site.
Grandma Hoerner's brand is expanding with the Scents of Her Life candle collection and premium coffee. It has partnered with a new distributor, Regina says, that will help get the products into smaller grocery and retail chains.
Stressing the motto "we're all about what matters," she explains it's always been important for Grandma Hoerner's to be a business that uses its growth to support local community, charities and ministries, both here and abroad. She says the company will continue to grow by focusing on innovation and continuously looking for new areas of the market to be a part of, while remaining true to its all natural and organic promise. Duane McCoy echoes this, and says Grandma Hoerner's has the best team in place to take its brands even further.
"I am pleased of where we are today and that the brand is so well received in the market, but we have visions of going beyond where we are now," he stresses. "We will further the development of facility to accommodate the inevitable growth, and we will keep working to maintain the ongoing extension of our products lines.
"It's really exciting to witness our success and development, and we look forward to the future."