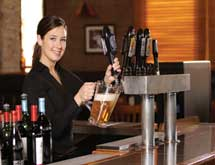 Granite City Food & Brewery Ltd.
Brewing its own beer is a unique way for a restaurant to draw a following. Great food made fresh on location can bring in repeat customers. Finding a way to do both consistently can create a winning combination, and that's just what Granite City Food and Brewery has done. Granite City is a polished, casual dining restaurant with a focus on hospitality, generous portions of great food and its own handcrafted, uniquely styled micro-brewed beers.
It opened its first restaurant in St. Cloud, Minn., in 1999. Since that time, the chain has grown to 26 company owned restaurants encompassing 11 states.
"We look at ourselves as handcrafters of food and beer," COO Darius Gilanfar explains. "We focus on both and we do each equally well."
The restaurants' menu carries roughly 85 items, all made fresh on the premises. The company has its own research and development group, a master chef and a corporate chef who work with the executive committee to develop new menu items. The company updates the menu twice a year.
"Everyone on our executive committee brings a great deal of culinary experience to the table," Gilanfar says.
Brewing Success
Granite City offers five basic types of handcrafted specialty brews: lager, ale, stout, wheat and bock. Each location usually has seven beers on tap at a time, with specials rotated in every so often.
Its brewing process, Fermentus Interruptus™, which makes micro brewing for their multiple locations more efficient. A facility in central Iowa cooks and prepares a wort that is used as the basis for all its beers.
Making the wort requires mixing a grain, usually barley, with water where it begins sprouting. The grain is dried in a kiln and the sprouts are separated from the grain. This malted barley is mixed with warm water and kept at a constant temperature to convert the starches into simple sugars. The wort is the remaining liquid drained from this process.
This wort's fermentation process is interrupted when it is transported to each location. Each restaurant mixes the wort with water and yeast in giant vessels to finish the fermentation process on site. Although they all start with the same basic mash, the in­dividual flavors are created by using different yeasts and fermenting times.
"We're the only ones that do beer this way," Gilanfar states. "The stages are split so individual locations can focus on both the food and the beer they serve."
More than Beer
Granite City takes the same care when it comes to its food. All items are freshly made on location with a menu that offers a unique range of options beyond the standard burgers and sandwiches. Appetizers such as truffle fries along with buffalo wings and Italian nachos give it a leg up on the competition. And each menu item has a recommended beer pairing.
"We start with the same menu at all of our locations," Gilanfar states. "But we add little twists for regional flavors. In Madison, for example, we have many vegetarian requests so we always run a vegetarian dish on our specials menu each week."
Granite City says it offers generous portions of flatbread pizzas, soups, salads, sandwiches and burgers. The menu serves up items such as grilled pork with stout au jus and grilled steak chimichanga. Its GC Meatloaf is served on grilled ciabatta under bourbon onion sauce, accompanied by garlic mashed potatoes with a recommended pairing of its own "Two Pull" beer, which is a blend of its Northern Light and Brother Benedict Bock beers.
Steaks are very popular, Gilanfar notes. It offers certified Angus top sirloin, New York strip and a honey rosemary filet mignon. The pastas are big sellers, with options including chicken and asparagus linguini and an adult macaroni and cheese made with six cheeses and topped with panko breadcrumbs and double-smoked bacon.
Granite City also offers an extensive brunch menu every Saturday that includes hickory-smoked bacon, sausage links, waffles, baked reggiano hash browns, biscuits and gravy, fruit, pastries and caramel rolls. On Sundays, the restaurant hosts "Prime Rib Sunday" with offerings like prime rib, eggs benedict, garlic mashed potatoes, french toast, and soups and salad.
Each Granite City location is decorated with tall, airy ceilings, big comfy booths, soft brown wood paneling and big, open bay windows. The kitchens are open for customers to watch the food being prepared. Televisions are strategically placed throughout the restaurant and bar area for all to view. And guests can view the brewery in action, too.
"We work to create an environment where people go to have a good time," Gilanfar states.
Quality Ingredients
Fresh food is a main ingredient in Granite City's recipe for success. It steers away from pre-processed foods and makes great-tasting items us­ing natural ingredients. These are sourced from more than 50 vendors, and Granite City makes sure its suppliers follow strict standards.
"We have a lot of check points," Gilanfar states. "We inspect the plants and look for vendors who provide high-quality foods and have the strong logistics set up to deliver fresh product to all of our locations."
Community Involvement
Granite City believes in community involvement and reaching as many people as possible.
To that end, it works with local schools to supply honor roll students with certificates for free items to elementary school children.
During the Christmas holidays, Granite City provides dinners for children, parents and staff at local children's hospitals.
Early in 2010, Granite City ran a fund drive for the Children's Hospitals and Clinics of Minnesota, which provides home-like lodging for families of children being treated in medical facilities. Granite City collected donations from patrons and in return offered them coupons for discounted or free items on a return visit.
This promotion certainly paid off for the its beneficiaries. During a two-week period, Granite City collected $40,000 in donations from its guests.
"It feels good to give back to families who really need support," Gilanfar states. "The true gift is always the giving and we're very fortunate to be able to help."
Looking Forward
Granite City is trying to reach a broader audience for its beers. It is working with a distributor to sell its signature brews in specialty retail markets to support its local restaurants. They hope to begin distribution in March 2011.
The company also plans further growth by adding locations in the market areas it serves.
The goal is to expand to more than 200 locations. "We are not necessarily looking at the bustling urban venues," Gilanfar says.