Granite City Food & Brewery hones its purpose as a craft brewery to reinvigorate its employee and guest experience.
In his first year as CEO of Granite City Food & Brewery, Dick Lynch has created a newfound excitement within the company that goes back to celebrating its roots: craft beer. "Granite City started in 1999 and was way ahead of its time being a craft brewery," he says. "It wasn't that craft beer was unheard of, but it was nowhere near the magnitude and trendiness it is today."
The first Granite City location opened in St. Cloud, Minn., and today has expanded to 32 locations in 13 cities. After spending more than a year on the board, Lynch took over as CEO in May 2017 and says he brought with him a strong focus to revitalize Granite City's position in the craft beer scene. "What I have done is pointed the company back to its original reason for being, which is its craft beer," Lynch says. "There is so much excitement there and most importantly, it's who we are."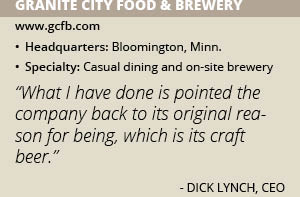 Sense of Community
One of Lynch's first priorities was to create Granite City's purpose. "I'm a strong believer that companies and people need to sign up for a purpose and believe in what they are coming into the office or restaurant for," he explains. "We needed a purpose to drive everything we do. That purpose is to 'Build and foster a community of craft beer fans for life.'"
Granite City's newly defined role in the industry helps it distinguish itself from its competitors that include the casual-dining segment and the "cool, start-up craft breweries all over the country," Lynch says. "We are a craft brewery with great food," he adds. "As we market the brand and build brand purpose, hospitality and service platforms, it comes from a place of craft brewing rather than casual dining."
By leveraging its heritage, Granite City has developed a sense of community not only within the craft beer segment, but also as a company as a whole. "This sense of community leads us to an important sense of who we are and the experience we provide for ourselves and our guests," Lynch explains. "That culture pushes into how we market and message, into the employee and guest experience."
Because the guest experience is only as good as its employees' experience, Lynch met with a team of internal staff members to develop brand values to live by. Those five values are Community and Caring, Contagious Curiosity, Courage for the Common Good, Service to Each Other and Guests, and Relentless Optimism.
Craft Beer Hospitality
Granite City features six core brews with one or two seasonal beers introduced every month. "Innovation is key in craft brewing," Lynch says. "We developed Ukulele, a Citra hopped IPA and Burning Barn, an Irish red ale, for example. We are constantly innovating."
Granite City launched a new guest service platform called Craft Beer Hospitality that emphasizes education. "Our servers are encouraged to do a better job at reading their guests and place more emphasis on the craft brewery experience," Lynch explains. "Our servers need to understand the difference between our beers and be knowledgeable about all the beers. It's only April and our guest experience scores have exceeded our goal for the year because of this program."
Granite City also launched a Features Menu where its head chef debuts three to eight items from its scratch kitchen based on the seasonal craft beer of the month. "We build a month-long marketing program around certain beer-related events like Oktoberfest and Irish Fest, and create a broader features menu," Lynch says. "June's seasonal beer will be Ukulele with new menu items to pair with the seasonal IPA."
Moving forward, Lynch will continue to focus on making Granite City a place where employees feel passionate again about the company they work for. "The passion just shows," he says. "I can't manufacture, market or prescribe it – they just have to feel excited and passionate and hopeful about the future, and they do. The purpose and values were here, all I did was pull it out of them, make it real and put it into words."