Toronto's Granite Club meets its members' high expectations by continually improving its food and beverage offerings.
The Granite Club's food and beverage operations are essential to its mission of total member satisfaction. "We create comfort and convenience for our members, who see us as a second home," says Robert Klombies, director of food and beverage for the private city athletic club, located in Toronto. "We offer food and beverage options that are healthy and that people like and enjoy, and we are also here to help our members create memories."
The club offers its approximately 11,000 members several food and beverage options including the Granite Dining Room and the Granite Bar and Bistro, both casual dining venues; Intersections, a snack shop; and The 1875 Sports Pub. The Granite Club also regularly hosts and caters special events including weddings and banquets.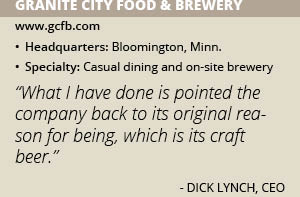 The Granite Club's food and beverage venues are designed and staffed with member input in mind. "Our members have very high expectations," Klombies adds. "We are a well-oiled machine that responds quickly to their needs."
The club is one of the largest private athletic and social clubs in North America. Members can enjoy a number of sports such as fitness, tennis, badminton, squash, aquatics, curling and skating, as well as social and recreation programs, including a large bridge section.
Aiming to Please
One recent example of the Granite Club responding to its members' requests is The 1875 Sports Pub, named for the year the club opened. The bar, which opened in February, 2017, offers adult club members a casual atmosphere to watch sporting events and enjoy a drink. "[The 1875] is an extension of what our members have been asking for, and it has been very popular with our guests," Klombies says.
The club also recently opened the Hall of Fame Lounge coffee bar, which is located within a recent expansion to the facility.
Additional renovations to the club's food, beverage and event facilities are planned for the next few years, including a full renovation of its Grand Ballroom in 2019. Following that project, the club plans a refresh of its entire food and beverage program.
"The expectation of our members is that we continuously improve our facilities and keep things new and fresh," Klombies says, noting the last major renovation to the club's food and beverage venues was in 2001. "People's eating habits have changed. Back in the day, there were formal dining rooms where people sat down and had long dinners. Now that's changed, and people want a variety of social experiences, where they can jump in and out and have a quick bite, or relax and socialize with family and fellow members in less formal venues."
The Granite Club's future food and beverage plans will address members' social eating habits as well as pre-prepared take-home items. The club will also likely expand its recent line of branded food items, which includes a ghost pepper hot sauce as well as soups, condiments and jellies. The hot sauce was introduced following an in-house competition among the club's chefs that yielded 15 entries that were judged by staff and club members.
"Our members are very proud of the club, so we want to create something they can take home," Klombies says. "We want to be more efficient by looking at more things we can do ourselves and have fun doing it. We feel good producing something people can enjoy."
Having an Impact
The Granite Club supports its food and beverage operations with a highly trained and effective staff that includes executive chef Ashton Root, who has been with the club for 18 years.
"He has been very impactful in terms of embracing change and engaging with our members," Klombies says, noting that Root, for specific cultural events, has invited members into the club's kitchen to understand the food preparation methods of different cultures. "[Root] is very accepting of ideas and feedback and doesn't shy away from constructive suggestions. It's hard with food and beverage to please 100 percent of people, but he strives to achieve that."
Staff training and development, as well as growing the club's banquet and catering businesses, were Klombies' main goals when he started in his position in December 2016.
"Our philosophy is to give our food and beverage leadership team ownership of their areas and continuously support them on the road to success," he says. "We make sure we communicate our expectations and standards to everyone and follow through with them. We want to be better today than we were yesterday."