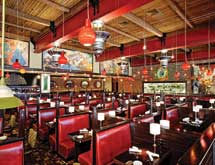 Great American Restaurants
When Great American Restaurants opens a new location, it's more than just a grand opening – it's a major event. "When we open up a new restaurant, it's like opening up 'Avatar' at the movie theaters," President Mike Ranney says. "We just get mobbed."
The northern Virginia-based restaurant group – which has grown from a single 16-table pizza place to an 11-location regional staple over the last 36 years – is looking to release another blockbuster hit in 2010.
The company's eight concepts will be expanded to nine with the addition of Ozzie's Corner Italian in Fairfax, Va., this fall, Ranney says.
The group owns and operates 10 restaurants: Artie's, Carlyle, Coastal Flats (two locations), Mike's "American," Sweetwater Tavern (three locations), Silverado, and Jackson's Mighty Fine Food & Lucky Lounge, as well as the bakery Best Buns Bread Co. All of the company's restaurants are upper-casual concepts.
"We are fanatically committed to being the world's best operators of casual restaurants. We want to be recognized as world's best," Ranney says. "We're taking on three goals – to have best in the biz hospitality, to have outstanding food quality, and (grow) outstanding leaders and managers."
Setting Goals
To achieve these goals, the company has an internal performance grid to measure performance and offers extensive professional development to employees (GARStars).
The grid uses both internal reviews and guest comments to measure progress.
"We want all of our GARStars to operate at the outstanding `wow' level," Ranney says.
The company's Talent Development Team – led by Jill Norton, vice-president of human resources, design and construction – develops and implements all the company's training materials and systems.
"We have a tremendous commitment to develop our people," Ranney adds. "What's outstanding today may not be tomorrow. One of our goals is continuous improvement; so the bar is always being raised."
GARStars spend a great deal of time in training inside the restaurants and offsite. External training for management includes visits with performance coaches.
Above all else, the company adheres to its core values –  providing happiness to guests and employees; a commitment to each others' bright and exciting futures; respect, fairness, integrity, passion, and enthusiasm; excellence; continuous improvement; and a "fanatical attention" to consistency and detail, Ranney says.
The company also rewards employees in many unique ways, including the Soaring Star Award, given to 10 restaurant managers and one Support Center team member at the end of each year.  The peer nominated award recognizes outstanding performance and is selected by the company's executive team.
"We create an environment where every person's unique talents are celebrated and each person will achieve their potential," COO Peter D'Amelio says.
Commitment to Hospitality
Exemplary guest satisfaction is at the heart of all of Great American Restaurants' training and development strategies.
"We want the guest to know we are on their side," Ranney says.
Each of the group's restaurants use a team service strategy, which Ranney says gives them a competitive edge by ensuring customers are taken care of.
"Whoever is closest to the table is the person who greets the table," he says. "We have staff that work in teams; somebody is almost always going to be in the dining room and greet the table within 30 seconds (of guests' arrival)."
All food in Great American Restaurants is made from scratch, not from frozen products. The restaurants' careful food preparation means each restaurant is a dine-in venture; to-go service is generally not offered.
However, exceptions to the to-go policy, as well as other Great American rules, can and will be made in service of guests.
"Whenever we have a failure in guest service, it's usually because we were trying to follow a rule," Ranney says. "This is normally when we don't break a rule the guest wants us to break."
For instance, the to-go policy is often disregarded at one restaurant located near a hospital; family members frequently bring food in to patients.
"We want to make a difference in people's lives," Ranney says. "People come (to our restaurants) for more than a dining experience, they come for fun and an infusion of spirit."
"We are over the top in our commitment to hospitality," he adds. "We are committed to providing the best experience."
Striving For The Best
"Great American Restaurants has risen to the challenge of a national economy that has been particularly hard on the dining industry," Ranney says. "[Last year] was our first year with sales above $90 million and our second most profitable year."
"We've hung in there," Ranney added. "The second quarter [of 2009] was the toughest for us from a same store sales comparison."
"We have a great relationship with our purveyors and pay our bills right away; we don't do the 30-day [wait] nonsense some companies do."
Expansion Plans
Great American Restaurants will open Ozzie's Corner Italian, its newest concept, this fall in Fairfax Corner. It is named after Vice President of Kitchen Operations Chris Osborn, known as "Ozzie."
"We decided on Italian for our 12th location because it fits in well with the existing restaurants of Fairfax Corner, and we love Fairfax Corner," CEO Randy Norton says. "This concept is something we have wanted to pursue for years, and we are excited for this opportunity to create a new restaurant and menu we think our guests are going to love."
GAR staff have started construction on the restaurant and are working on the menu. Osborn, along with members of GAR's Culinary Research and Development Team, is visiting and eating at top Italian restaurants across the country, according to the company.
The company is working right now to hire top chefs to lead menu development and kitchen operations for the new restaurant.
"As we continue to grow our company and our rich tradition of excellent food we are looking forward to hiring the best chefs in the business to take on these important roles for our company," Norton adds.
Local Commitment
To Ranney, being a world-class restaurant group doesn't mean a nationwide or international expansion.
"We're located 100 percent in northern Virginia," he says. "It's a great place to do business."
While the company is interested in a possible expansion into Maryland as well as Washington, D.C., Ranney says they plan to stay within their region.
"A real advantage is we grew up here, we understand the market, and we are heavily involved in our communities," Ranney says.
Ranney's history with Norton dates back to their childhood.
"We grew up together and played Little League baseball together," Ranney says. "[Norton's] the visionary and founder [of Great American Restaurants] and the guy who comes up with the great ideas; we have an outstanding operations team that works hard to consistently execute our high standards."
GAR's community involvement includes a dessert donation program, where each location donates 25 cents to a charity for every dessert item it sells. In addition, Best Buns Bread Co. donates 5 percent of all bread sales. Recipients include Big Brothers Big Sisters of Northern Virginia, Childhelp USA, Latino Student Fund, Food & Friends Fund, Share Our Strength, Medical Care for Children Partnership, the Bill Jackson Culinary Arts Scholarship at L'Academie de Cuisine and Meals on Wheels.
GAR donated $111,356 through the program in 2008.
The company hosted an appreciation party in March for members of Fairfax County's Search and Rescue team involved in relief efforts following January's devastating 7.0-magnitude earthquake in Haiti.
The urban search and rescue team sent more than 100 people including technical rescue personnel, physicians, paramedics, and structural engineers to Haiti along with approximately 48 tons of rescue equipment and supplies.
"So many people did a lot to help out the people of Haiti following the disaster," Norton says. "What the men and women of the search and rescue team did was truly phenomenal, and we are really excited to honor the heroes of our community," he continues.
The company also participates in Share Our Strength's "Great American Dine Out" event by donating a portion of sales for one designated week. The event, presented by American Express, is an effort to end childhood hunger. GAR also regularly donates products and gift cards for charity events including the annual Taste of Arlington.
The event benefits Community Residences Inc., a non-profit provider of programs and services for people who are developmentally and physically disabled, as well as the homeless and those with mental illnesses.
GAR restaurants have also taken part in events including the Muscular Dystrophy Association's Heartsongs Gala, which raises funds to support families and research related to MS and ALS; the Capital Brewer's Ball, benefitting the Cystic Fibrosis Foundation; Inova Cancer Services' "Life With Cancer" program; the "Walk to D'Feet ALS" event in Washington D.C.; and the Walk for Autism – Virginia.
The company routinely accepts donation requests from charities. "When people in our community ask us for something, we pretty much always say yes," Ranney says.