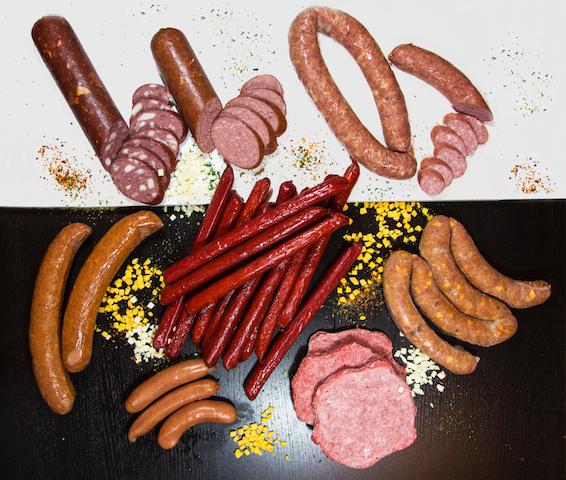 Now a standalone company, Great Lakes Smoked Meats is becoming a premier meat producer.
The global economy impacts nearly every aspect of business today, right down to local meat prices. Fluctuating costs caused by constantly changing global demand create a challenge for meat product producers such as Ohio's Great Lakes Smoked Meats. "There's a lot wider range than there used to be," President Ben Fligner says. "You used to know what time of year something would be up or down. Now you don't."
Despite those challenges, Great Lakes Smoked Meats elevated its standing in the global market by spinning off from its local Ohio grocery store origins earlier this year into an independent meat producer suppling national supermarkets and restaurants. The company is ramping up its capabilities and product lineup. Fligner knows he can't outspend the major meat producers on marketing, so instead of advertising Great Lakes Smoked Meats is introducing itself to new customers through in-store demos. "That's the best way to sell your product: to get people to try it," Fligner says.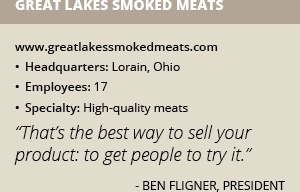 Great Lakes Smoked Meats may be a relatively new company, but it is rooted in a family with a legacy for understanding meats and providing unparalleled customer service. Fligner is a fourth-generation owner of Fligner's Market, which started as a produce stand in Lorain, Ohio, in 1924. Fligner's Market shifted its focus to meats in the 1950s under Ben Fligner's father, Kel Fligner.
Reputation for Quality
Meat remains the company's claim to fame. Fligner's Market boasts one of the largest full-service meat counters in the United States, at 82 feet in length. The company is dedicated to quality and purchases most of its meat from local farmers.
Ben Fligner began working for his family's market at age 13 and became a full-time employee in 1995. Fligner's Market's legacy for top-notch meat products soon got the attention of other grocers, who wanted to sell the company's products in their own stores. The demand inspired Fligner to start Great Lakes Smoked Meats in 2010 with two employees. Within a few years it had become a self-sustaining business with 17 workers. In January, Fligner spun off Great Lakes Smoked Meats into a standalone company.
Six years after its founding, Great Lakes Smoked Meats' products are found in hundreds of stores across the continental United States. Additionally, the company produces private-label items such as gourmet burgers for supermarkets and restaurants that need specific blends. Great Lakes Smoked Meats' lineup includes refrigerated snack sticks, shelf stable snack sticks, smoked meats such as kielbasa and andouille, precooked brats, chorizo and a variety of fresh sausages. In making all of its items, Great Lakes Smoked Meats continues the Fligner's Market tradition of using only the highest-quality meats, Fligner says.
All Great Lakes Smoked Meats products are made in its 4,000-square-foot facility in Lorain. Fligner says orders can be placed and filled within five days. For local customers, the company delivers orders itself. Nationally, it relies on several key distributors to get its sausages and snack sticks onto store shelves.
Reacting to Trends
Fligner's Market is a jack-of-all-trades business with its signature meat market, grocery items, bakery and robust catering service. Great Lakes Smoked Meats, on the other hand, is a much more focused business and operates strictly as a meat producer. However, it carries over the legacy of customer service from Fligner's Market. "We listen to our customers and we try to fulfill the kind of needs they are looking for," Fligner explains.
Listening to customers means adapting to new tastes in the market. Customers today want more wholesome, natural foods. Great Lakes Smoked Meats already offers natural casing hot dogs and all its products are already gluten free.
This year, the company is introducing a nitrate-free line of products. Nitrates are an additive used in meat curing and can act as a food preservative, but there is controversy over their potential for adverse health effects. Great Lakes Smoked Meats is responding by doing away with speed cures for some of its products and transitioning to a natural curing process. "We're doing our best to make it really clean label in all our products," Fligner adds.
Those new types of products will reinforce Great Lakes Smoked Meats' reputation as a premium meat producer – and it is now easier for new customers to find and enjoy the company's products. Earlier this summer, Great Lakes Smoked Meats launched its website, which allows anyone to order a selection of its products from anywhere in the country. Fligner hopes the website will act as a marketing tool for the young company and increase customers' awareness of Great Lakes Smoked Meats. "That's what we're going to use to reach further," he says.
The company is already expanding to meet increasing demand from its retail and restaurant customers. A second smokehouse opened in early August and the company plans to double the size of its production facility within the next two years. "[With] Great Lakes we want to be the premier supplier of high-quality sausages and snack sticks for people who want better," Fligner says.