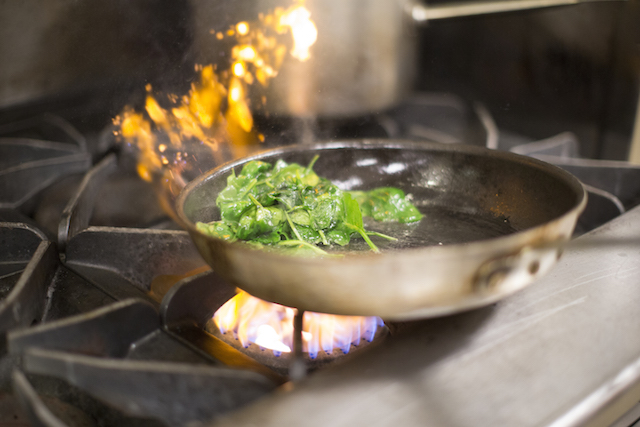 Great Wolf Lodge has invested in food and beverage consistency and expanded options across all of its locations.
Since opening its first property in 1997 in Wisconsin Dells, Wis., Great Wolf Lodge has grown into the world's largest chain of indoor water parks. Its resorts include amenities such as specialty restaurants, arcades, spas, fitness rooms and children's activity areas, and the brand's footprint today includes 14 destinations across the country and in Canada.
In the last few years, Great Wolf Lodge has made a concerted effort to enhance and expand its food and beverage offerings, The company has focused on standardizing offerings and work with full service vendors that would allow it to make improvements throughout its entire footprint.
"Our goal has been to have good products and work with category leaders to ensure consistency across the brand," Corporate Director of Food and Beverage Chris Hammond says. "In the past, there was no continuity, but that has changed to become more consistent across the company."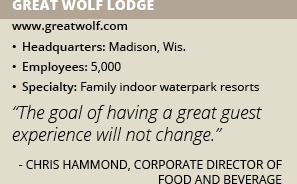 The Next Level
Improving food and beverage capabilities at Great Wolf Lodge is part of a comprehensive effort to enhance operations at its resort locations. No longer is a Great Wolf Lodge property all about the indoor water park. Dry play areas are increasing in size, including amenities such as rock climbing features and ropes courses, adding whole new elements to activity and entertainment options at the resorts.
"Because we expect these areas to be heavily populated, we are adding the food and beverage services with centralized bars and spaces where parents can enjoy food and drink while being in the vicinity of their kids," Hammond says.
Placement of the food and beverage locations has been a big part of the puzzle for Great Wolf Lodge. Previously, food and beverage options may have been located in areas that were not adjacent to entertainment and activity spaces.
"We wanted to put the food locations in the best areas possible, offering variety and keeping things centralized," Hammond says. "We want food locations to be in the right places so guests can easily access quick-service and sit-down restaurant options."
Ensuring that guest wants are taken into account is another focus for Great Wolf Lodge. Rather than offering products that guests may or may not be interested in, the company has spent the last few years studying what its guests are saying. It has responded by offering more clean label, organic and non-GMO items while also expanding indulgent fare and increasing available options.
"We want to make the experience well-rounded and cater to what guests are asking for," Hammond says. "It is all about choice. Now we listen to guests and want to get feedback from them. As a family resort, we are also very conscious about being allergy friendly in the food and beverage sections. There are no peanuts or tree nuts, and we have many gluten free options."
Great Wolf Lodge is also staying on top of current food trends. It has buffet options and gives properties the leeway to add regional items that are specific to their locations. The company also launched its Barnwood concept at Great Wolf Lodge in Colorado Springs, which will include a locally supported farm to table concept. Additionally, the quick service restaurant segment is growing, so the company is investing in pizza shops and burger places.
"We are downsizing restaurants a little and increasing variety through quick service locations because we see guests gravitating toward QSRs," Hammond says. "For example, families may sit down for breakfast, but after that they may want to run to a QSR and pick up food to have in their room."
Eye on the Future
With a continually expanding footprint, Great Wolf Lodge is looking to track guest reactions to its food and beverage packages so it can makethe right decisions about where to invest. As it builds new properties, it can take these preferences into account while also determining how to best utilize space and existing properties.
"For example, we have an ice cream partner in Colorado we will be expanding with and adding to other locations, and we're looking at ways we can improve pizza operations," Hammond says. "We want to improve efficiency and enhance our locations at existing properties. New builds can be easier because it is a blank slate to work with, and we have a few more properties in the works."
As Great Wolf Lodge looks ahead, it is focused on achieving lofty goals aimed at ensuring the best guest experience possible. The company has already taken great strides in improving and enhancing its food and beverage offerings, and it is now aiming to raise the guest experience bar so all interactions and transactions are part of a great experience.
"The challenge making sure we have the right amount of people on property to handle guest needs, staffing well at peak periods," Hammond says. "The goal of having a great guest experience will not change. Our biggest emphasis is on allergy friendly offerings and open dialogue with parents. We want to go above and beyond to make sure parents and kids know they are safe with us."