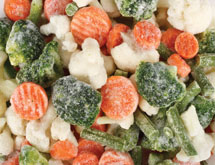 Green Organic Vegetable Inc.
Meeting the standards needed to become a certified organic food provider isn't easy. For one Canadian organic provider, earning and maintaining the status has meant investments in manpower, equipment and procedures as well as regularly passing the muster of a number of regulatory bodies.
Green Organic Vegetable Inc.'s efforts to follow strict organic farming, harvesting and processing standards have paid off in more than just strong sales and customer loyalty, Co-Founder Gary Lloyd says.
"To be in this business, the cost to companies is higher, but the return will be there not only financially but personally, because you know you're doing something for the common good and for the customer by growing something with nothing extra on it," Lloyd says.
The Mississauga, Ontario-based company grows, packs and ships a line of frozen fruits and vegetables under both its Green Organic label in Canada and private labels for a number of major grocery chains in the United States. "The Green Organic label has 90 percent saturation from Canada's East Coast to the West," he adds. "We are the prime supplier of frozen organic vegetables in Canada."
Producing a frozen product has allowed the company to meet retail demand year-round and keep pricing competitive, Lloyd says.
None of the company's products contain additives and preservatives and all are grown using non-genetically modified seed.
The company's certifications include:
ECOCERT organic certification
ISO9001: 2000 production and service of frozen organic vegetables certification
Hazard Analysis Critical Control Points System (HACCP)
British Retail Consortium (BRC)
Kosher Supervision of America
"It's very important to have these certifications in the organic industry," Lloyd says. "We've accumulated these certifications so we can meet the standards of our retail customers, who also send their own inspectors to our site to make sure we're meeting and exceeding standards. The end-result is that we're all doing something good, and the hard work is all worth it."
`From The Ground Up'
Green Organic Vegetable's main growing and processing operations are located in China. It farms 5,000 organic acres of land and processes fruits and vegetables in a 200,000-square-foot gluten-free facility adjacent to the farm. Crews hand pick, cut, triple wash, blanch, cool and quick-freeze fruits and vegetables within two hours after harvest.
"With our partners in the processing plant and seed supply we have the manpower to farm it," Lloyd says. "We control our own destiny instead of relying on someone else … we control our supply from the ground up."
The company this year added a growing operation in Ontario, Canada. The local farm allows the company to meet the needs of customers who prefer locally grown products, Lloyd says.
A Growing Industry
Lloyd co-founded Green Organic Vegetable in 2000 after previously working in produce for a major Canadian food retailer. He co-founded the company partly in response to the growth in the organic industry. "I was beginning to see momentum in stocking organic products picking up in the larger chains at the time," he adds. "We got into this business at what I believe was the right time … we captured a lot of markets, and the chains were interested in what we can supply."
Green Organic continues to grow with the organic food industry itself. "I think the customer has become much more aware of what organic is about and are much more educated now," Lloyd says. "The organic industry is growing at almost 15 to 20 percent a year … opportunities are still there."
Future opportunities for Green Organic include expanding its private-label business in Canada, offering new and expanded product lines and offering its in-house label in the United States, Lloyd says.
"Our objective is to continue producing excellent products and seeing positive results," he adds. "This is an industry that gives me a good feeling. People who buy our product always tell me how much they love it."