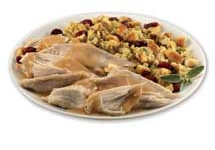 Greencore is a master of convenience foods, offering food to go, prepared meals, chilled sauces and soups, frozen foods and more. With 16 manufacturing sites and more than 8,000 employees in the United Kingdom and the United States, the company is a force to be reckoned with.
In fact, in the United Kingdom, Greencore is the market leader in sandwiches, chilled Italian meals, branded chilled meals, chilled non-dairy desserts, chilled sauces, cooking sauces and pickles, customer-brand mineral water and Christmas cakes. And in coming years, the company plans to grow its U.S. operations to the scale of its U.K. dominance.
Greencore USA's Newburyport, Mass., headquarters has the capacity and scope to more than double the size of its existing business to reach $100 million in sales in the next two years. The company's convenience foods division distributes its products to major retail, manufacturing and foodservice customers in the United States, Europe and beyond. In 2009, a deft move made its lofty goals more attainable, as Greencore USA joined forces with weight-loss system Weight Watchers. Greencore launched 12 chilled, prepared Weight Watchers-approved meals last year, and they are now available in more than 1,000 stores.
"This launch represents the first mainstream, low-calorie, portion-controlled meals available at retail in the United States," the company says. "Under the terms of an exclusive 10-year licensing agreement with Weight Watchers, Greencore will be developing ranges in a number of chilled food categories, including quiche, sandwiches, salads and pizzas."
To accommodate future growth, in May 2009, Greencore USA opened its second North American facility in Cincinnati. The facility focuses on producing fresh, pre-packed sandwiches.
The company also plans to continue increasing its work force with skilled and talented employees.
"Since we entered the U.S. market, we have increased our work force from 180 people to 490," CEO Fergal Leamy says. "We continue to look for skilled individuals in the areas of production management, purchasing, technical and supply chain management."
Quick Quality
Convenience food doesn't necessarily equate to hot dogs from gas stations or greasy burgers from a fast-food restaurant. Greencore aims to shatter those notions by providing high-quality food that doesn't come with a time commitment.
"Our vision is to be a leading international food company delivering convenient, premium-quality meal and snack solutions to retailers and foodservice providers at prices the majority of today's consumers can afford every day," the company states. "Greencore will become an acknowledged leader supplying markets where quality, freshness and convenience are valued."
The company says it aims to become a leader in the United States by understanding its markets, building relationships, utilizing a successful development plan, and appointing an ambitious leadership team and operating model. This will be achieved by modeling the United States' team after its European leaders.
"Underpinning everything is the imperative to strengthen our culture, our organization and our capability," Greencore says. "People matter in every industry, but perhaps most of all in food. Today, we have pockets of excellence in particular functional areas, but there is much more to do, and we are on the case."
Greencore was established in 1991 through a flotation of the state-owned Irish Sugar Corp. and the Irish government. The government privatized 55 percent of the company, but sold its shares in 1992 and 1993.
A series of acquisitions led to the company's immense growth in the past 20 years. In 2008, Greencore acquired Home Made Brand Foods, establishing Greencore North America.