For better or worse, America has excelled at making food faster – whether it's drive-thru fast food, microwave popcorn or the logistics that make fresh produce at supermarkets possible. Now that we have the "fast" part more or less figured out, it's time to focus on the "food" half of the equation. Greencore USA Inc. is focused on delivering food to retailers that not only is convenient for consumers on the go, but also is fresh and high quality.
Greencore already made a name for itself in the United Kingdom, Ireland and Europe as a producer of chilled and frozen foods such as sandwiches, prepared meals, soups and desserts. Liam McClennon, CEO of Greencore's United States operations, says the company entered the American market more than three years ago, after it acquired Massachusetts-based Home Made Brand Foods.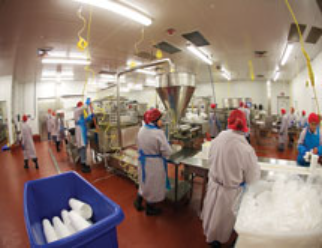 "The acquisition of the Home Made Brand Foods facility provides Greencore with the opportunity to marry our proven operational capabilities in convenience food – developed over 20 years in the U.K. market – with the emerging U.S. consumer and retailer demand for high-quality chilled prepared food," the company says. "As a regional leader in fresh prepared food, the site manufactures and supplies a range of fresh food products, including fresh prepared meals and salads, sandwiches and quiche to a customer based that includes leading regional retailers."
To justify entering the United States, McClennon says, the company aimed for annual sales in America of $300 million, a figure Greencore is well on its way to meeting. "We're very pleased," he says. "We've virtually tripled our sales in the time that we've been here."
Since establishing itself in the United States, Greencore has built a factory in Cincinnati for making sandwiches and last year bought Boston-based sandwich company On A Roll. As Greencore learns more about the market and how to tailor its line of convenience foods for American tastes, it expects to meet and even exceed its goals.
"We're beginning to gather some momentum now," McClennon says. At the moment, Greencore USA primarily serves customers east of the Mississippi River, primarily on the East Coast and in the Midwest.
Even though the United States presents a distinct logistical challenge for Greencore, McClennon says the company has adapted and will continue to adapt as it expands to cover more of the country. Through the company's experience, capabilities and quality products, McClennon says Greencore USA has a bright future ahead of it.
Fresher is Better
Creating fresh foods that also are convenient for consumers to grab while they're on the move is Greencore's top priority. Although other manufacturers in the convenience food market emphasize convenience and longer shelf life through the use of preservatives, Greencore > > prefers to invest in manufacturing and distribution techniques that don't rely on artificial additives.
"We believe that a fresher product resonates better with customers," McClennon says.
The focus for Greencore USA in the last few years has been refining existing products and processes to make them fresher, healthier and more appealing to American consumers. McClennon says the company has invested significantly in direct-to-store chilled distribution capacity, which allows Greencore USA to distribute fresh products to stores every day. Thanks to the company's investments, Greencore USA is capable of delivering sandwiches to stores within eight hours of their being made.
Greencore is able to accomplish these goals because of the infrastructure it has in place. The established facilities it inherited when it acquired Home Made Brand Foods and On A Roll, augmented by the improvements made by Greencore within the past few years, have given the company an edge in the convenience foods market. "I think our supply chain [gives us] our ability to make ultra-fresh products," McClennon says. In addition, the company's highly defined product development process helps ensure that everything Greencore makes is "right the first time every time," he adds.
McClennon says Greencore's approach in the United States is adapted from the one it established in the United Kingdom, one that he says was not very common before Greencore entered the U.S. market. "I think we've brought a different view of chilled manufacturing," he says.
Careful Growth
Aside from differences in processing, McClennon says the U.S. market differs from the European market in another substantial way – its size. "The scale of the country is so enormous," he says, adding that Greencore is evaluating ways to expand into new regions.
However, McClennon says the company wants to be careful to avoid growing too fast. He notes that growth brings additional challenges in terms of equipment and territory. For the time being, Greencore's strategy will be to focus on short-shelf-life chilled entrees and food-to-go products. "Those two areas are areas where we see lots of potential for future growth, and we're going to follow with investment," McClennon says, adding that the company plans to grow through a combination of organic growth and acquisitions. He says the company also is working on developing healthier products that contain less sodium and fewer calories.