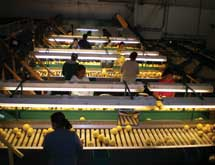 Greene River Packing & Marketing
Greene River Packing & Marketing in Vero Beach, Fla., provides oranges, tangerines and grapefruit to almost the entire planet. Pat Rodgers has been in the fruit business since 1977.
He began his career marketing bananas with Dole and moved on to its California citrus fruit division. When Dole bought Blue Goose – a citrus company in Florida – the company tapped Rodgers to run the new acquisition's sales department.
While in Florida, he dealt with a citrus grower named Barney Greene, who had been growing citrus fruits since 1947. In 1992, the pair decided to form their own company that could control every phase of the citrus business: from grove to market.
By combining Rodgers' sales and marketing savvy with Greene's decades of experience in the Florida growing industry, Greene River Packing & Marketing was born in 1993. When the company made its debut at a Florida farmer's market, it sold 1 million boxes of grapefruit. However, the full-service aspect of the company didn't take form until the fledgling startup purchased a packinghouse from Ocean Spray in 1996.
"We were finally able to combine the packing side with the growing and marketing sides," Rodgers says. "Now we're fully integrated from grove to market.
"We handle all the export and domestic sales in house and have developed a tremendous customer base for our products," Rodgers adds. "We're very agile. We can move back and forth between the two very quickly. If there's any pricing issues, we can move the product into another area."
Grapefruit League
Greene River Packing & Marketing's grapefruit is described by Rodgers as "our big horse." According to Rodgers, the company ships its grapefruit to Japan, Europe, the United Kingdom, Korea and Taiwan, as well as throughout North America. In fact, the demand had grown so large, the company recently leased an additional 3,000 acres of groves just to keep up. "It was getting hard to find a significant volume of product when we really needed it," Rodgers adds.
According to Rodgers, the acquisition of the additional groves really gave the company a boost. "That really put us in control," he says. "If you can control everything from the groves to the packing to the marketing, you can create your own marketing plan and put yourself in charge of your own destiny."
Greene River Packing & Marketing doesn't plan on sitting back and enjoying the success, however. Rodgers says expansion is in the works. He plans on obtaining more groves to meet the company's increasing demand. Greene River Packing & Marketing is the only licensed agent in Florida that packs and markets the Tropicana Brand fresh citrus.
"We will continue to grow if it makes business sense," Rodgers says. "Produce is a global business but, in a sense, it is a very small, intimate community. Our constant goal is to give our customers a consistent quality product every single day. We'll continue to stay strong if we maintain our commitment to our customers, our employees and our growers. We are always looking at new opportunities and innovative new products and packaging that set us apart from our competition.
"We are looking at the whole picture all the time," Rodgers says. "You'll never learn if you don't look at the whole organization. We have to adapt every day."
Greene People
The Greene River Packing & Marketing company consists of four divisions: groves, harvesting, packing and marketing. One of the driving forces in the packing division is its general manager, Janie Greene.
According to Rodgers, the employees in the packing division have nicknamed her "Mama Don't Mess Around." He says the former schoolteacher earned this moniker after just six weeks on the job because of her take-charge attitude and skills in dealing with a wide cross-section of people.
"She has incorporated a high level of morale in the packinghouse operation and leads by example," Rodgers continues. "There's never anyone who says, 'That's not my job.' If there's something that needs doing, anybody and everybody is a candidate. Happy people do great work."
When it comes to training and safety, it's not just mama who doesn't mess around. Because Greene River Packing & Marketing works on an eight-month season, the employees must be retrained before each season begins However, it's just like riding a bike for most employees, Rodgers says. He adds that the company's training program includes sanitation, first aid and HACCP.
"The food business is big on traceability," he explains. "We have to be able to show when our fruit was picked, from which harvesting company, the day it was packed in our packinghouse, who the grower was and have all the herbicide and pesticide records from each of the groves."
School Friends
Thanks to its good working relationship with the research department at the University of Florida, Greene River Packing & Marketing has been able to provide its customers with healthier fruit and, in some cases, varieties of fruit never seen before. The university has helped the company as well as the industry find new ways to grow fruit and has provided direction on how to prevent disease.
Earlier this year, Greene River Packing & Marketing began marketing the Sugar Belle, a new fruit developed by the University of Florida. The Sugar Belle is hybrid of a sweet clementine and Minneola tangelo. The company has been growing the Sugar Belle for a few years, but it only began marketing it this year because the company wanted to make sure it could handle the demand.
"Unless you have a good sourcing strategy, it's hard to take on a new line," Rodgers says. Clementines are usually packaged in 5-pound boxes, but Greene River Packing & Marketing is packing the Sugar Belle in a 4-pound box to provide a lower price point for retailers.
Some of the diseases Greene River Packing & Marketing are fighting now include canker and Citrus Greening Disease. While the canker doesn't hurt the fruit, it creates lesions that are aesthetically unappealing to consumers.
"This limits where we can ship fruit, but as the current science has proven canker cannot be spread from packed fruit, our marketing avenues have begun to open up again," Rodgers says. "There's nothing wrong with the fruit; it just doesn't look good. But that's why we're trying to solve this problem." There is research on the horizon and Greene River Packing & Marketing hopes to at least treat the disease and, at best, eradicate it.
The company cannot ship its product with canker to Europe and is waiting on Japan to give it the green light to resume shipping. Citrus Greening Disease can kill the whole tree and even wipe out a whole grove if allowed to spread.
"In Florida, we have too many diseases," Rodgers says. "Thank goodness we've got the university to help us."