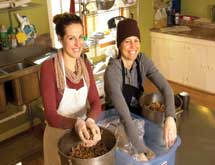 GreenStar Co-Op Natural Foods Market
A lot has changed since the 1960s, when the concept of the modern co-op first took root in communities throughout the United States. Although many of the social changes from that era have become muted over time, GreenStar Co-Op Natural Foods Market believes the co-op is an idea that is picking up steam, especially as people embrace the idea of eating more organic, locally produced foods.
"It's becoming more and more important around the country, especially in light of the ongoing economic [problems]," Marketing Manager Joe Romano says. Even though GreenStar still focuses on making a profit, that's only one component of what Romano calls its "triple bottom line." In addition to supporting itself, he says, the co-op also concerns itself with helping the environment and its community.
GreenStar is an offshoot of a co-op started in Ithaca, N.Y., in 1971. Originally focused on helping members purchase whole foods and grains, the co-op established its first grocery store in 1974, which eventually became GreenStar and separated from the original co-op. "We've grown naturally out of the needs of the community, and people really respond to us in that way and that's why we have the loyalty and the love in the community that we do," Romano says.
Organic Growth
One of the primary needs served by GreenStar is for locally sourced and organic foods. According to the co-op, more than 80 percent of its produce is certified organic, and the co-op goes to great lengths to ensure that all of its items are grown or produced to a rigid series of standards. Romano says the co-op's standards for meat go beyond the standards to be certified organic, and the co-op inspects every farm in person.
"When people come into our store, they know there have already been a whole lot of filters put up for them," Romano says. Although to the co-op marks certain items as gluten-free, or local for example, Romano says GreenStar does not have a rating system for products. Members keep themselves educated by reading the labels of everything they buy. "We're from the 'teach someone to fish' school around here," he says.
The central New York region is a haven for organic farming, and GreenStar is doing its part to help keep it that way. Because of the area's long and harsh winters, many organic farmers use greenhouses to extend their growing seasons, and GreenStar has loaned some of them the money to build them or to make other improvements. The farmers then repay the loans in produce, Romano explains.
"We have a lot of people waiting to do this with us," he says.
GreenStar also offers preferential pricing to local farmers, even those whose farms have not been certified organic. Recognizing that becoming a certified organic farm is an expensive proposition, GreenStar works with non-organic farmers provided they divulge their practices, such as avoiding pesticides or other chemicals. "Our customers expect those filters from us," Romano says.
Changing Times
Just as GreenStar grew into what it is today by changing along with the needs of its members, Romano says the co-op continues to adapt to the times. Being environmentally friendly is not only part of the co-op's triple bottom line – it can also be beneficial from an economic standpoint. Romano says the co-op has a "green team" that looks to improve on their sustainable practices. In recent years, GreenStar has cut its energy usage through using energy-efficient lighting fixtures as well as lowering its ceilings to save on heating and cooling costs.
As a member of the National Cooperative Grocers Association (NCGA), GreenStar has joined with other co-ops across the nation to buy from distributors as one entity while maintaining their individual identity. Romano says the NCGA is now the second-largest organic foods buyer in the nation, behind Whole Foods.
"What I see for us in the future is continued growth and expansion into other areas we haven't been," Romano says. "We've succeeded by adapting and growing as the world changes, and we're going to keep doing that."