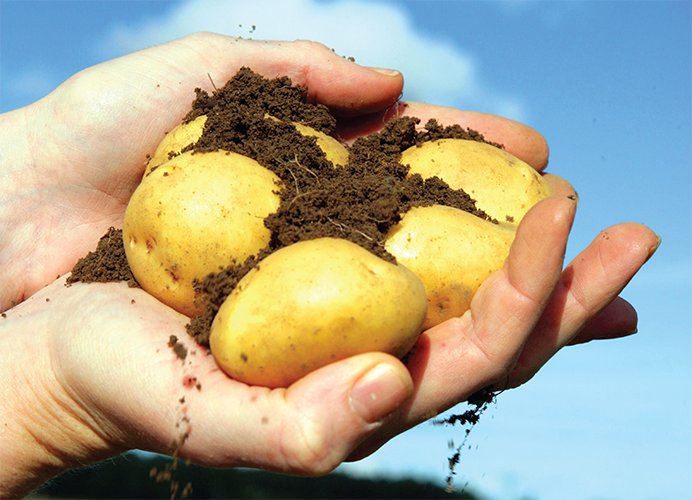 The natural choice
Greenvale AP has a long and successful history and the promise of an even brighter future, as Angus Armstrong reveals
With many years experience, Greenvale AP is one of the largest handlers of potatoes in the UK, supplying fresh potatoes, processing potatoes and seed to all sectors of the potato farming and food industries. Employing approximately 700 staff based on eight UK sites, the company has an impressive track record in providing high quality ware and seed to customers across the UK.
During 2007, Greenvale, through its parent company, Produce Investments, acquired Swancote Foods Ltd, a highly respected potato processing business based in the West Midlands. Swancote, under new Greenvale ownership willcontinue to serve all existing customers with high quality potato products. The high standards and service levels delivered by Swancote will be maintained and the acquisition by Greenvale will enhance the product offering through the extensive NPD programme that the company has in place.
Angus Armstrong, chief executive for Greenvale comments: "We believe this is a very positive and exciting move that is entirely complimentary to both businesses. Swancote is a high quality operation and we look forward to welcoming the business into the Greenvale group. The benefits of such an acquisition flow in both directions and it is my firm belief that both businesses will be in a stronger position to meet the future challenges of the industry."
Greenvale is continually looking for sensible growth opportunities with regards to acquisitions and product expansion. Angus explains: "We are currently launching a range of freshly peeled British potato products named Vale's Fresh."
Vale's Fresh combines all the benefits of fresh foods with all the advantages of convenience. Freshly prepared potato products, such as chips, wedges, wholepeeled, halves, quarters and diced, as well as a selection of mashed potato products, with no artificial additives are now available from Greenvale, guaranteeing a fresher, tastier and healthier addition to any meal.
Independent analysis undertaken by recognised research institutes has established that by using its revolutionary preservation process, Greenvale has succeeded in retaining significantly more nutrients and vitamins than other prepared potatoes treated with the industry standard methods. With a higher vitamin C content and a reduced fat absorption level, Vale's Fresh ensures a healthier potato base for any meal.
Angus continues: "We have also brought a wide range of new potato varieties to the market during recent years. Mayan Gold was launched in 2006 but as a result of it's popularity we are now looking to significantly increase volumes in November 2007." Unlike other potatoes, Mayan Gold boasts golden coloured flesh, new flavours found in no other modern potato and short cooking times.
He adds: "Mayan Gold is the result of a very successful breeding programme that has run in conjunction with the Scottish Crop Research Institute (SCRI). Greenvale and the SCRI have a strong and meaningful relationship, and together we are producing many new varieties. Two new Mayan varieties, which are set to follow in Mayan Gold's footsteps over the next two years are Mayan Twilight and Mayan Queen."
Angus concludes: "Other varieties, which have been successfully launched in recent times include the new salad and baby potato, Vales Emerald, and the maincrop variety Vales Sovereign. These are high yielding products, which boast excellent eating qualities. We also have our own Organic variety of potato – Lady Balfour, which is soon to be complimented by Vales Everest. Both of these varieties have similar strong blight resistant attributes and can withstand most weather conditions."
In 2006, as a result of the company's hard work in product and service development, Greenvale was awarded the Queens Award for Innovation – the UK's most prestigious award for business performance. Angus elaborates: "This is a huge endorsement of some of the successes the company has had with its NPD programme. This award was granted as a result of the work going on within the business and the way it operates with local communities."
He continues: "Predominantly the award recognised the company's investment into the development of a modified atmosphere storage system called Restrain. This system boasts some significant environmental credentials, reducing energy requirements and chemical usage, resulting in safer food for human consumption and no chemical contamination of the environment."
Restrain is a storage system, which produces low levels of ethylene gas to prevent potatoes and onions from sprouting residues. This equipment can operate for many months without maintenance, with benefits to growers including residue-free produce, good stock management and extensive storage of crops.
Greenvale is currently planning for the future and it is determined to retain its position in the marketplace. Angus concludes: "In this industry you cannot afford to stand still. We want to see Greenvale grow both organically and through acquisition. We are very much a potato business and we always have been, but I think we are now ready to look at enhancing our offering with other commodities. This is likely to happen through further acquisitions or by bringing on board like-minded companies, which could formulate a bigger and stronger group going forward."