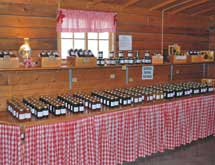 For President John W. Griffin, family owned Griffin Foods Co. is more than just a business. Instead, "Our purpose for our company is 'Sharing the Great Tastes of Life,'" he declares. Based in Muskogee, Okla., the 103-year-old company manufactures high-end syrups, mustards, jellies, salsas and sauces. Griffin's grandfather, J.T. Griffin, founded the company in 1908 when he came to Oklahoma from Mississippi to start his own business.
While Griffin planned to start in Dallas, his aunt who lived in Indian Territory and worked at the Chickasaw Indian Academy changed his mind. "We are about to become a state and there will be great opportunities for you in Oklahoma," she told Griffin.
From there, he started his wholesale business, which led to manufacturing, then radio to help promote his products. In the late 1940s, the family sold their radio stations and ventured into television media. Today, John Griffin shares ownership of two CBS affiliates in Oklahoma City and Tulsa. While he owns 1/3 interest through Griffin Holdings Inc., his brother David owns 2/3rds through Griffin Communications.
A Sweet Business
Today, Griffin Foods has two manufacturing operations. From its 145,590-square-foot location in Muskogee, Griffin Foods manufactures items for private-label and contract manufacturing clients. In addition, Griffin Foods produces items that are sold under its own label in grocery stores.
Sales Manager Patrick Thompson adds that Griffin Foods has a 60 percent share of the syrup business in Oklahoma. "You can't go into a store in Oklahoma or the surrounding states [without seeing our products]," he says. It has many varieties, from Original Waffle and Pancake to Sugarfree, Butter Pecan, Lite and Butter Flavored.
Griffin Foods' sister company, House of Webster, focuses on gourmet specialty foods. From its 100,000-square-foot location in Rogers, Ark., the company produces preserves, syrups, jellies, salsas, fruit spreads and dressings.
Griffin notes that a key to Griffin Foods' longevity is its products' customer-friendly pricing, which falls between private label products and national brands. In addition, the company's product quality is much higher, he says.
For instance, Griffin Foods' syrup is sweeter than "anyone else's syrup," Griffin says. "It is [also] thicker because it has more solids. In our region of the country, people like their syrup, barbecue sauce and other food items sweet."
Respect for Quality
A longtime veteran of his family's company, Griffin joined it full-time in the late 1980s. He says the family ownership has nurtured an environment where employees are more attentive to details.
For instance, "[We're focused on] making sure that if there are any issues, we jump on them really quickly," he says. "The customers really appreciate this feature, since we can develop special formulas or packaging needs for our clients in a short turnaround time to meet their requirements."
Griffin Foods also has a reputation for on-time deliveries. "We consciously make every effort to not short our customer orders and have a lot of respect for the quality that goes into our products," he says.
Griffin is proud of his entire staff. He says all have shown dedication in their work.
"We're on a first-name basis with all of our employees," he declares. "We work as a team and they help us with areas of opportunities and improvement."
Old Favorites
Today, Griffin Foods' most popular products are its syrups. In addition, "We produce two of 'Oklahoma's Favorite' products, Griffin Waffle Syrup and Griffin Strawberry Preserves," the company says.
But that success has not stopped the company from adapting its lines to meet changing tastes or demands. The company recently reintroduced its specialty Jalapeño mustard, which it had discontinued five years ago. But when the company re-added the product, it made a distinct change to the appearance of its container.
"Instead of reintroducing it in a high-end smaller jar, we did it more on a value type of approach with more product in the bottle," he explains. "We took a 16-ounce mustard tumbler, placed the product in it and lowered the price point to what [was] about half the original gourmet mustard product price," he says, adding that the tactic has worked. "It's an excellent chunky Jalapeño mustard that is getting rave reviews."
It has been such a success that the company will soon reintroduce another old favorite: a hot sweet mustard product.
Right on Target
Although Griffin Foods has watched the prices of its ingredients increase, the company has several strong points in its favor, Thompson says. "The consumers are still out there looking for high-quality products at reasonable prices," he says. "Our business model puts us right on target for that individual."
In addition, Griffin Foods' location in Oklahoma provides some advantages. While many food manufacturers are located east of the Mississippi River, "Being centrally located, we can service the West Coast customers with less freight costs," he says.  Also, being a Native American owned company helps with minority diversification opportunities.
Griffin says he sees continued potential in its private-label work. "That's a very large part of our business," he says. "We're a diversified private-label company at this time. We have the capabilities to serve the largest retailers in the country with truckload orders or the small gourmet stores using their store brand with a minimum 13-case order."