A high-quality approach to food binds together each of Grill Concepts' restaurant brands.
Partners Bob Spivak, Mike Weinstock and Dick Shapiro founded Grill Concepts more than 30 years ago. But after decades of running the California-based restaurant group, Spivak is handing the reins over to the next generation of leadership.
Grill Concepts' first restaurant, The Grill on the Alley, opened in Beverly Hills, Calif., in 1984. The company itself formed four years later. The restaurant was modeled after the high-end grills of New York and San Francisco in the 1930s and '40s. The company built on that successful concept as it opened more The Grill on the Alley locations and developed its other restaurant brands. In 1988, four years after the first The Grill on the Alley opened, Grill Concepts founded its second chain, Daily Grill. Daily Grill took the high-quality food of The Grill on the Alley and reworked it to an approachable, fast-casual concept.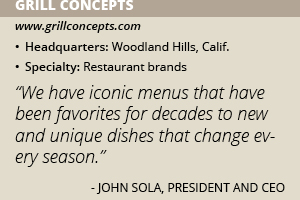 "Grill Concepts Inc. is seen as a small and dynamic restaurant company because of the variety of its brand," newly appointed CEO and President John Sola says. "We have iconic menus that have been favorites for decades to new and unique dishes that change every season. Grill Concepts Inc. develops concepts from classic to eccentric "foodtainment."
Expanding Concepts
Today, the company operates 31 restaurants under various brands in nine states, with a concentration in southern California. Most of those brands follow a high-end, full-service dining blueprint but in recent years the company has sought to broaden its market with new restaurant concepts that cater to local tastes. "Each concept has its own unique menu, which also drives the ambiance and theme of each concept," Sola says. "Every concept is created to evoke a special experience through the food and service."
The two best known members of the Grill Concepts Family remain The Grill on the Alley and Daily Grill. The Grill on the Alley now operates seven locations: four in California, and one each in Aventura, Fla., Chicago and Dallas. Daily Grill has 16 locations: eight in California; one in Tulsa, Oka.; one in Bethesda, Md.; two in Washington, D.C.; Austin, Texas.; Houston; Portland, Ore.; and Seattle.
The newest Grill Concepts brand is Public School on Tap, a chef-driven gastropub that serves up "An education in the art of food and beer," according to the company. Public School on Tap offers a rotating list of craft beers, seasonal menu and sources ingredients from local farmers markets whenever possible. The company now has six Public School on Tap restaurants in Los Angeles; Dallas; Las Vegas; and Culver City, Thousand Oaks and Sherman Oaks, Calif. Additional locations are planned for Austin, Texas, and Denver.
In 2014, Grill Concepts became involved in preserving a piece of southern California culinary history when it became a partner in The Ritz Restaurant. Since 1977, the Ritz had been known for its old-world charm but the restaurant's landowner decided not to renew its lease in February 2014. The Ritz closed but Grill Concepts believed the brand still had value among local eaters. Grill Concepts took full ownership over the Ritz in 2015 and began working on a plan to reboot The Ritz to appeal to modern diners with a new look and updated menu. The new restaurant, dubbed The Ritz Prime Seafood, reopened in October 2015 at a new location on the Newport Beach waterfront.
In addition to its established brands, Grill Concepts is working on a fresh seafood-oriented franchise, The Point Restaurants, which is expected to debut later this year. The first locations will open at Laurel Point in Studio City, Calif., and Wewatta Point in Denver.
In managing its restaurants, Grill Concepts is seeing an advantage in sharing recipes, ingredients and food sources between brands. "The restaurant business is changing largely because guests are changing," Sola explains. "People who dine out often have increased access to information about their food and potential dining destinations."
Grill Concepts began to evolve with those changes when it introduced the Simply 600 menus at Daily Grill, which features locally-sourced dishes with organic ingredients for fewer than 600 calories. "The result is that white table clothes and exceptional service is not enough for guests, who are learning more and more about their food every day," Sola adds. "Restaurants are tasked with meeting consumer desires along with providing a curated food experience through every element of their visit."
Leadership Changes
"After over 30 years, Grill Concepts Inc. still has that family business feeling from the dining rooms to the home office," Sola says. Now, Sola will be in charge of maintaining that family feel.
On February 25, Grill Concepts announced a new generation of leadership for the company. Sola, who started with the company as the original chef for The Grill on the Alley, was promoted from executive vice president of operations to CEO and president. He will replace Grill Concepts' co-founder Bob Spivak. "John has been my partner and friend since I started the company more than 30 years ago," Spivak said in a statement. "John is a true restaurateur with proven experience in operations and strategic development. Most importantly, he understands that our business is about people and he has developed a strong culture to help our people thrive."
Spivak will now lead the restaurant group that he has been a part of for more than 30 years. Sola was the executive chef for The Chronicle near Los Angeles before working with Spivak to develop the first The Gill on the Alley in Beverly Hills, according to the company. Since then, Sola has served various culinary, operations and development roles for Grill Concepts. "Bob Spivak has been a visionary in the restaurant industry, building a single restaurant into a diversified restaurant group with multiple brands poised for continued expansion," Sola said in a statement.
In addition to naming Sola CEO and president, Grill Concepts promoted Thomas Kachani to executive vice president of operations and Phil Kastel to executive vice president of culinary.
As CEO, Sola will lead the growth of Grill Concepts' existing restaurant brands and the development of new concepts. "I look forward to building and growing our portfolio of restaurants with Thomas [Kachani] and Phil [Kastel] by introducing our brands to new markets, creating new concepts and continuing to cultivate the finest culinary and operations talent," Sola said.