The practice of growing crops in vertically stacked layers, otherwise known as vertical farming, has globally shown a steady growth in recent years and is projected to grow 8.9 per cent CAGR until 20261.
Vertical farming addresses many of the upcoming demands in terms of food supply created by population growth and climate change. It is expected that demand for food will increase 70 per cent by 2050 while currently one third of food production globally is being wasted2. The main contributor to this food waste is the long distances produce has to travel to reach its point of consumption, sometimes travelling thousands of miles despite being grown in greenhouses. Vertical farms, however, can be built anywhere, independent of climate conditions supplying consumers with leafy plants that are still alive and growing. Thus, overall reducing the amount of 'food miles' and CO2 emissions arising from transport and cooling.
At &ever the 'food mile' is reduced to zero with the Grow Tower, a mini farm that allows consumers to pick up salads in their local supermarket where they are grown on location. This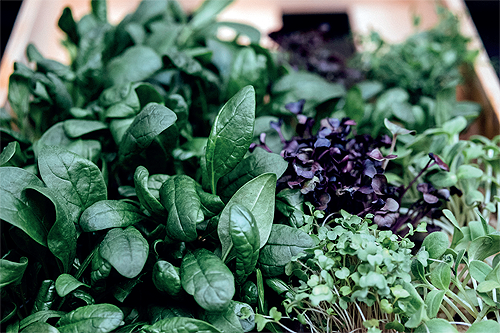 hyperlocal approach not only results in a drastic reduction of CO2 but also results in a better product both in terms of taste and nutritional value. This product benefit will certainly drive the sales of produce from vertical farms in the coming years and will also drive the availability of hyperlocal solutions both to restaurants and supermarkets.
Some see this increase of availability as a first important step for the further adoption of vertical farm systems for the home as the learning curve from cost-efficient mini farms will trickle down to smaller systems in the next decade. Vertical farms could in fact follow the same model as electric cars where luxury cars, like the Model S from Tesla, were introduced to help finance developing more affordable variants, like the Model 3.
But going smaller and smaller with farm sizes and closing the distance from production to consumption is only one way the market currently develops. Not all consumers necessarily have the space, financial and logistical willingness to invest in growing systems. This is why the design and management of larger vertical farms will continue to play a very important role in the next decade. It will potentially also lead to a split in vertical farm companies into those selling growing technology and those growing produce, as Chris Michael from Bright Agrotech recently wrote3. Both business models are very different and have a clear focus and definition of the core business model that is needed for companies to secure their future. When it comes to larger vertical farms, labor costs and energy efficiency are the two major factors to secure the cost-efficient production. &ever's new farm in Singapore is a great example where adaptive automation and a proprietary lighting system lead to a reduction in energy consumpton.
A third trend to emerge in the next years are the possibilities of IPOs of major vertical farm companies further driving venture investments and public interest into the field. This will additionally contribute adopting the produce and technology by both consumers and corporate customers.
So, is vertical farming the future of agriculture? Will it replace open field production and greenhouse production? As the future looks bright for the industry, the world's food supply will rely on the balanced combination of open field, greenhouse and vertical farming, with the latter leveraging other major trends/changes like urbanization, climate change and self-sufficient living.
(1) https://www.mordorintelligence.com/industry-reports/vertical-farming-market
(2) https://foodtech-report.talentgarden.org/
(3) https://www.maximumyield.com/top-3-reasons-why-vertical-farms-fail/2/3177
&ever Pte Ltd
ever Pte Ltd is fully owned by &ever GmbH from Germany, which is an indoor vertical farming company that combines best practices in technology, agriculture, and crop science. Using automation, machine learning, and efficient climate control technologies, &ever provides consumers with delicious, nutrient-rich greens that are 100 per cent pesticide-free, grown locally and sustainably year-round. &ever's proprietary grow system is easily scalable in form and size, allowing farms to be run at varying sizes, in any climate condition, anywhere around the globe while using 90 per cent less water and 60 per cent less fertilizer. &ever plans to open more sustainable farms in cities around the world, to bring better tasting greens with a higher nutritional value to more and more people.
For further information, please visit: www.and-ever.com