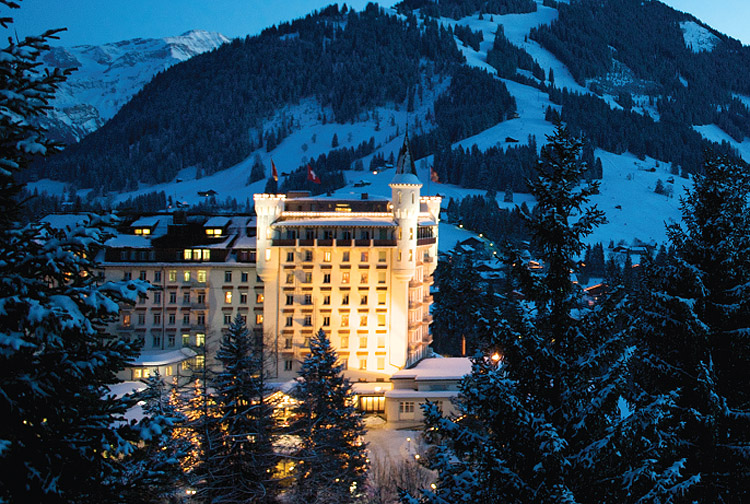 Fit for royalty
Set against the stunning backdrop of the Swiss Alps, Gstaad Palace has been a provider of five-star elegance and luxury for almost a century
Built in 1911, and opened to its first guests in 1913, the famous Gstaad Palace has been owned in that time by three generations of the Scherz family," explains Michael Lehnort, sales and marketing director of Gstaad Palace. "Set on a hill that overlooks the beautiful town of Gstaad, the hotel resort is privileged to be able to offer some of the most beautiful, majestic views of the Swiss Alps imaginable. Featuring 104 rooms, of which 26 are luxury suites, and an extensive number of facilities and activities on offer during both the summer and winter months, Gstaad Palace has rightfully earned an unrivalled reputation for providing refined hospitality in a sophisticated and cosmopolitan atmosphere."


Gastronomic traditions
With five different restaurant concepts, three bars, five meeting and balls rooms and the Palace Spa, which stretches across an area of 1800 square metres, it comes as little surprise that Gstaad Palace is home to a number of regular clients who have been coming back to stay at the hotel year after year for the last several decades. Guests both old and new take great joy in knowing they also have access to the hotel's GreenGo Night Club, four tennis courts, a squash court and an outdoor, Olympic sized, heated swimming pool.
A particular strength of the Gstaad Palace is its ability to blend together the latest culinary advancements with the finest gastronomic traditions throughout its various restaurants. Its first-class chefs take the utmost pride in their ability to satisfy the requirements of discerning palates on all occasions, be it the most elegant or casual. From the snacks and drinks available at the Lobby Bar and the international cuisine available from La Grande Terrasse to the Swiss specialities of La Fromagerie, there is a menu present to cater for the taste buds of every individual. This amount of choice extends further to Gildo's Italian Ristorante and Le Grill Rotisserie, a gourmet restaurant with a unique open fire show kitchen. This fine dining offer is reinforced by the years of experience held by the first class kitchen brigade. For example, Peter Wyss has been the executive chef since 1972, and is a master of exquisite culinary creations and the art of cuisine, while Gildo Bocchini has been head maître d since 1968, and orchestrates the excellent dining room team with an unmatched dedication and expertise.
In December 2010 the hotel undertook and completed the complete renovation of its Le Grand Restaurant: "Costing more than 1.2 million euros, this extensive project involved giving the restaurant a completely new, modern design," Michael continues. "What the hotel has done here is give Le Grand Restaurant a completely new identity, one that is based around providing a buffet lunch service, serving lighter dishes from a kitchen station positioned in front of the guests."
Across its different restaurant concepts Gstaad Palace applies the same strict set of procedures and best practices that ensure that only the very best raw materials and ingredients go into each of its dishes: "The vast majority of the products used in the hotel's kitchens are sourced directly from long-term, local suppliers," Michael enthuses. "Only the freshest, quality ingredients go into the dishes served in its kitchens and every one of them is subject to the strictest controls set out by Gstaad Palace's head chef."
The Walig Hut
As Michael goes on to highlight, the hotel's restaurants are just a few of the many splendours that guests can discover in the grounds of Gstaad Palace, one of which deserves particular attention: "Located 1700 metres above Gsteig and offering breathtaking views of Gstaad and the Saanenland, the Walig Hut is a hideaway tucked away among the mountains. Built in 1786, it was at one time home to farmers in the summer when their cows were brought up to pasture. While such huts once existed in abundance, sadly the passage of time has left few still standing and those that remain are often virtually impossible to acquire or left in a derelict, uninhabitable state.
"Out of respect for the traditions held by these Swiss farmers, traditions that date back centuries, the Walig Hut that lies within the hotel's grounds has itself undergone only minor renovation works, meaning it has retained the simplicity of life that was once enjoyed by many across the region. Providing a picturesque and calm ambiance that can only be described as magical, the Walig Hut is able to cater for between four and 80 people for lunch, between four and 14 people for dinner or provide a maximum of four people an overnight stay unlike any other."
Unrivalled luxury
In 2013 Gstaad Palace will have spent 100 years bringing unrivalled luxury and comfort to guests from around the world, an occasion that will be marked with a large celebration that will suitable mark such an important milestone. As important as this date is, Michael is just as focused on the year leading up to this event and those that will kick start a second century in business: "In the months to come the hotel will continue to bring its guests exciting new innovations and developments, for example the ability to charge ones electric car at the hotel or the option to book a stay that is guaranteed to be carbon free and environmentally friendly. In the longer term Gstaad Palace will return to the drawing board to see how it can once again renovate its rooms and public areas further to ensure it is always recognised as the very best hotel in its class."