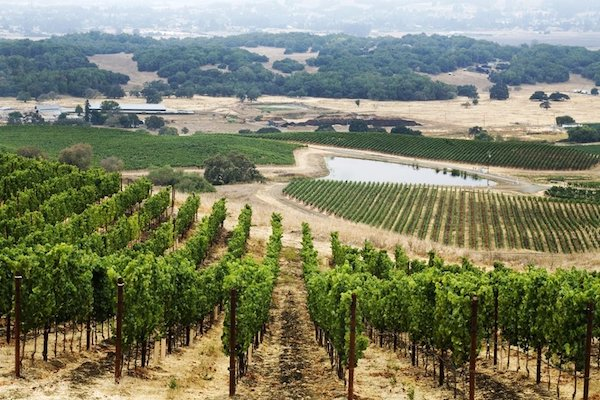 Guarachi Wine Partners expands from garage to major importer with South American wines.
Alex Guarachi was born and raised in Chile. He was awarded a soccer scholarship at San Jose State University and moved to the United States with clear plans and a dream.
"I was ready to sign a contract and play professionally," Guarachi says. "In the middle of the playoffs [during his senior year] I got a hairline fracture on the outside metatarsal, which are little bones that take a long time to heal. I was on crutches for two months."
By the time Guarachi healed, the professional soccer draft was over. Soon afterward, he graduated.
"I asked myself, 'Now what do I do?'" Guarachi says. "At that time, I was living in Palo Alto in the San Francisco Bay area. You could not find a good bottle of Chilean wine. I thought, why not pursue my passion in the wine industry and import Chilean wines?"
In the early 1980s, a relatively paltry 50,000 cases of Chilean wine was imported to the United States each year, Guarachi says. Imported wines came mostly from France and Italy. Nothing came from Australia – today Australian wines account for almost 9 percent of U.S. wine imports – and most North Americans didn't know wine was produced in Chile or anywhere else in South America.
"Chilean vines are originally from France, particularly Bordeaux," Guarachi says. "Chile at that time was delivering a good product at a good price. Cabernets, Merlots and Sauvignon Blancs for a very good price. That was a key to our success."
The other key was Guarachi becoming an evangelist for Chilean wines. It wasn't easy. For several years Guarachi worked out of a garage and did everything from invoicing, deliveries and sales to merchandising.
"I would discuss the brands, the culture, the country and the region," Guarachi recalled. "When I would talk to the press, they would bring up [Augusto] Pinochet, the dictator, who was president of Chile. My response was that the farmers and wine owners [in Chile], they are not in politics."
More often than politics, Guarachi had to educate everyone from press to wine vendors. "One of these guys I called, I said I have these great Chilean wines," Guarachi says. "He said, 'Where is Chile? In Africa?'"
Guarachi laughs, but at the time staying motivated was a challenge. "I would go out and get turned down day after day. I was ready to give up. I decided to read every book about personal growth, sales and wine. Anything to keep my spirits up and move forward. It was an incredibly hard thing to do."
Little by little, however, Guarachi began to make sales. A distributor in Massachusetts agreed to offer Guarachi's Chilean wines. People in southern California, the more ethnically diverse part of the state – and not coincidentally further away from northern California wine producing areas such as Napa and Sonoma – were willing to try Chilean wines. A wine writer for the San Francisco Chronicle newspaper and later Wine Spectator wrote about Guarachi Wine Partners.
Today, Guarachi distributes wine in all 50 states. He sells 18 brands with prices ranging from $8 to $250.
Other importers have followed Guarachi's success. About 6 million cases of wine are now imported each year from Chile and another 7 million from Argentina.
"When I started, it was a handful," Guarachi says. "Now there are over 700 labels from Chile and another 600 from Argentina. U.S. consumers can now savor a glass of Argentina Malbec or a Chilean Carmenere at any price point, grapes that were once unheard of north of the equator."
Wine Producer
In 2007, Guarachi decided that in addition to importing wines, he wanted to produce his own. "I love wine," he says. "I live in California. I have been building brands for other people. It is time to build my own."
Initially he bought grapes from growers and in 2010 produced his own wines, a Pinot Noir and a Cabernet. "Everything took off nicely," Guarachi says. "[One of the growers] said he would like to taste the wine. The next year, I wanted to buy the same grapes and the grower decided [to keep the grapes and] to produce their own wine. I realized that the only way I am going to control my own destiny is to purchase my own vineyards."
Producing wine is not for people with slender wallets. "To make $1 million in the industry, you have to start with $2 million," Guarachi explains. "There is a lot of hard costs: fruit, a full-time winemaker, dry goods and barrels. Then the wine ages for two to three years before releasing it. It is very cash-intensive."
Today, Guarachi Family Wines owns three vineyards, two in California and one in Oregon, that produce a variety of Pinot Noirs, Cabernets, Chardonnay and blends. The wines are available nationwide. Staying successful has required high quality, competitive prices and innovation.
After 34 years in business, Guarachi remains busy. He recently celebrated the 10th anniversary of Guarachi Family Wines and completed a multi-year remodeling. He began representing wines from an independent group of Spanish winemakers, ARAEX, and launched an innovation brand, Bacon. At the end of 2018 Guarachi acquired the Parker Station brand from Fess Parker Winery. "So far the response has been great!" Guarachi says.
This year, Guarachi Wine Partners began representing MontGras from Chile and a new up-and-coming winery, VIK, from Chile. "I try to look for new opportunities and trends, and how the company can continue to successfully move forward," Guarachi says.