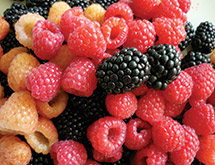 Guido's Fresh Marketplace
Organic versus genetically modified (GMO) food continues to be a heated debate in the food industry, but offering natural foods and as much product information as possible has always been the focus at Guido's Fresh Marketplace.
"We have been doing this for 36 years and we believe that people should know what's in their food," co-owner Chris Masiero says. "Truth in labeling is paramount to us. If a producer believes that much in a product, there is no reason they shouldn't list if it's GMO or not. From the consumers' perspective, if you are going to ingest something, you should be able to know what's in it."
The Pittsfield, Mass.-based market was founded by Masiero and his brother Matthew in the late 1970s when produce stores were "a dime a dozen." Chris got his start in the food industry at 15 years old working in produce stores, which sparked his interest in becoming a chef. He attended the Culinary Institute of America while Matthew attended the Wentworth Institute of Technology in Boston to study construction engineering.
"I was cooking at a seasonal location and I would come help Matthew in the off season at his produce stand in Pittsfield," Masiero remembers. "We had no idea we would be the full-service market we are today. We started out wanting a produce stand and my interest in food led us to the idea of making the store bigger and carrying more products."
The first Guido's Fresh Marketplace opened in 1983 in Pittsfield and a second location in Great Barrington, Mass., followed shortly after. Today, the market specializes in produce as well as meat, fish, flowers, and natural, local and prepared foods. Describing the market as a comprehensive, old-world style food emporium, the Masiero brothers say the marketplace has become a destination for the discriminating food shopper.
Room to Grow
Guido's Fresh Marketplace expanded its Pittsfield location four years ago to make every department larger as well as add a café and juice bar. Increasing its space to 20,000 square feet allowed for more spacious aisles, a larger checkout space, more freezers and an expanded produce department. As the headquarters for the company, additional office space was also included in the expansion.
The Pittsfield store's café offers a hot bar with four different soups daily as well as a salad bar. "I run the prepared food portion of the operation and I have gotten involved with what we serve," Masiero says. "I am fortunate to work with a team of talented cooks. We talk about our offerings together, and decide on the direction we want to head."
In September, Guido's Fresh Marketplace will expand its Pittsfield location again by another 4,000 square feet for further growth. The company plans to expand its Great Barrington location in four years, making it similar to the headquarters. "We will expand the departments and put a café and juice bar there, but I also hold a wine license down there and that's one of the biggest growing segments of the store," Masiero explains. "We will have a larger wine and spirits department because the demographic there is such that people are looking for the higher-end spirits and wines we carry."
Although Guido's Fresh Marketplace is geographically "sandwiched" between two large competitors in its markets, Masiero says the company remains successful because of its niche in natural food. "I'm selling a more health-conscious product than they are and we are one of the only places around that does that," he explains.
Continuous Improvement
"I have people here who have been with the company for more than 20 and 30 years," Masiero says. "One of the things we do is have great respect for who our employees are. We always treat people with dignity and fairness. Understanding and kindness is what we believe in and another big part of why we are successful."
Because customer service is one of the reasons the business is successful, Guido's Fresh Marketplace is developing a more intensive training program that it plans to launch next year. Moving forward, the Masiero brothers plan to pass the business down to their children and are in the process of training all six to take over in eight to 10 years. "Both families have interest in this being a multi-generational business," Masiero says. "Our children are working in the stores right now, which is great. They all have the passion and personality for it, and the drive to make it successful."