Gusto 54 receives international acclaim for Los Angeles-based Felix and looks to expand the concept throughout the world.
Each one of Janet Zuccarini's seven award-winning restaurants are expertly crafted to provide more than a million guests annually with a transporting experience through delicious and relevant food, inspiring design and impeccable service. A serial restaurateur and entrepreneur committed to beauty, taste, community and sustainability, Zuccarini has a unique pulse on the world of restaurants and food.
As the sole owner and visionary behind Gusto 54, a Toronto-based restaurant group, Zuccarini says it was anything but an overnight success. Zuccarini holds an MBA from Boston University in Rome where she lived for eight years and fell in love with cooking and food. "I have a passion for business and an entrepreneurial spirit, but I never thought about opening up a restaurant as a real thing," she says.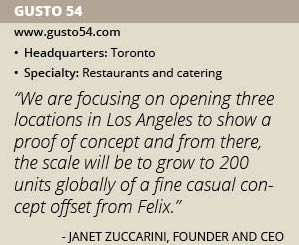 However, while in Toronto for a friend's wedding, Zuccarini came across an unexpected opportunity. "The location for Trattoria Nervosa at the corner of Yorkville and Bellair in the Yorkville area of Toronto became available and within two weeks I was in the restaurant business," she remembers. "We opened this Italian restaurant in 1996 in this awesome neighborhood – a triple-A location – and have been going strong for 22 years."
For the next 10 years, Zuccarini saved her money to purchase the building that housed Trattoria Nervosa, after which she felt financially secure enough to begin making risky moves. "I bought another building in Toronto's Entertainment District and opened Gusto 101 in 2012," Zuccarini says. "I wanted to see 1,000 people in a day and came up with ideas to create that result. We were the first to introduce wine on tap for a dollar an ounce, having the most affordable wine in the area. To appeal to the younger demographic, we built a retractable roof that was the first of its kind and makes you feel like you're outside even when it's -20 F in Toronto and were pioneering ideas to bring in 1,000 people a day. When we opened and saw 1,000 people a day, I knew I was on to something and it built my confidence."
In 2014, Zuccarini partnered with Chef Nuit Regular and her husband Jeff to open PAI Northern Thai Kitchen. The Regulars and Zuccarini would later opened Kiin and Same Same in Toronto. Today, these are some of the top Thai restaurants in Toronto.
That same year, Zuccarini was ready to turn her success into a proper restaurant group and expand globally, which is when she brought Juanita Dickson aboard as president of Gusto 54. "That's when life changed for me because I was wearing all the hats, but now I could focus on what I'm good at and Juanita could focus on what she's good at and we grew exponentially at that point," Zuccarini says. "We have doubled the business since Juanita came onboard."
Since Dickson came onboard in 2014, she is responsible for establishing the Gusto 54 brand and expanding it beyond the existing restaurant experiences. Included under the Gusto 54 umbrella today is Trattoria Nervosa, Gusto 101, Gusto 501, Felix, Chubby's Jamaican Kitchen, Kiin, PAI Northern Thai Kitchen and Gusto 54's Catering and Commissary Kitchen.
"When we consciously decided to transition the business to becoming a global restaurant group, we grounded in the idea that we are going to build culturally relevant and celebrated collections of innovative culinary experiences in the world," Dickson says. "That's really what defines or brings all these unique restaurants together and brought to life our mission to consistently deliver a transporting customer experience."
International Expansion
In 2015, Zuccarini set her sights on international expansion to Los Angeles. "I came to L.A. three years ago to see if I wanted to live and open up a business here and I fell in love the minute I landed," Zuccarini says. "It's an interesting city with the development of the restaurant, art and culture scene. My goal was to create a very different restaurant – one that was chef-driven and a destination in a triple-A location."
Chef Evan Funke, who made a name for himself in the industry by making pasta by hand as the chef of Los Angeles-based Bucato, accepted the invitation to cook for Zuccarini and her team in Toronto. Zuccarini, who is also a Top Chef Canada judge, says she was blown away. "His cooking was reminiscent of what I ate in Italy," she remembers. "He has such a masterful approach to cooking Italian food that I knew I had found my chef."
In April 2017, Felix opened on Abbot Kinney Boulevard in Los Angeles and was named Esquire's "#1 Best New Restaurant in America" and Eater Los Angeles's "Restaurant of the Year," and nominated for a James Beard award. Featuring a standalone temperature-controlled pasta laboratory in the center of the restaurant, Bon Appetit raved that "it was the best pasta [we] ate all year."
In response to the international acclaim Felix has received since opening, Gusto 54 looks to expand the concept into other major cities across the world, including New York City, Toronto, London and Paris. "It makes sense for something that's more scalable at a global level," Zuccarini says. "We are focusing on opening three locations in Los Angeles to show proof of concept and from there, the scale will be to grow to 200 units globally of a fine casual concept offset from Felix."
Empowering Culture
Gusto 54 strives to create transporting guest experiences in each of its restaurants. To achieve this, each restaurant is unique in design, menu, concept, and music. "There are over a million people coming into our restaurants annually and every one of those experiences is reliant on one person to deliver upon that," Dickson says. "We have spent a lot of time investing in infrastructure, technology and a culture of training development and recognition that allows us to scale and create this idea of skillful hospitality."
Gusto 54's culture is based on a unique set of seven family values: be positive and have fun; believe in exceptional service, be entrepreneurial, treat everyone like family believe excellence is in the details, be a leader and contribute to the community. "We believe the customer is always right," Dickson notes. "We want people to be well taken care of and enjoy a transporting experience. We are a tight-knit family business with a culture of leadership at all levels and a strong tie to the communities in which we operate. We want to be a staple in the neighborhood."
Gusto 54 contributes to community-building programs that actively support women in leadership and that educate children to eat in healthy and sustainable ways. In Nov. 2017, Gusto 54's charitable branch, Gusto Gives Back, launched its inaugural "Mini Chefs" program with the intention of fostering health literacy and food equality while cultivating foundational culinary skills.
"I'm proud that we are growing responsibly to become the best company in the world," Zuccarini says. "We treat our people well, the environment well and try to get better at everything we do. We are a conscious company and have a responsibility to give back to our communities in every way we can. It's a company run on love and I think that has to do with a lot of women in leadership."
As a woman-owned company in the midst of exponential growth, Zuccarini plans to grow Gusto 54 into a serious global restaurant group. "It's a company led by a lot of women and we are having our moment in a male-dominated industry," she says. "We add feminine touches in our restaurants and are still around 22 years later. So far, we have not had a restaurant that's closed, which is rare. I have a restaurant going into its 23rd year with numbers that go up every year. We have become a huge success and everything is still going strong."