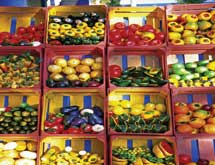 Guyana's name is derived from a term that means "the land of many waters," due to the many rivers that crisscross the country, as well as its location on the Atlantic Ocean. As a result, the country has one of the largest unspoiled rainforests in all of South America, but only five percent of its land is suitable for crop cultivation. Even so, the Guyana Marketing Corp. (GMC) is dedicated to making Guyanese produce and agricultural products more accessible to consumers – throughout the country and outside of the Caribbean region.
Sugar and rice are Guyana's primary agricultural products, but the country also cultivates a fair amount of wheat, bananas, coconuts, coffee, cocoa, citrus and peppers. GMC's focus is on the "non-traditional products," agricultural produce that is not rice or sugar. Based in Georgetown, GMC is dedicated to promoting the awareness of Guyanese pro­ducts by: providing crops' market in­formation to agricultural producers and exporters; providing market extension services to producers and exporters; working with the government to encour­age domestic agricultural policy and to stimulate the export of Guyana's non-traditional export products; and pro­vide specialized services to expor­ters.
In addition to providing the government and Guyanese farmers with market and pricing information, administrative and financial services, and marketing programs, GMC also hosts events to promote Guyanese agricultural interests. In recent years, the corporation's programs have included the:
Grow More campaign, which was laun­ched in 2008 to encourage more production among Guyanese farmers to meet growing demand for Guyanese produce exports while still meeting the needs of domestic consumers;
Guyana Night, which is a series of ann­ual events for Guyanese farmers to exhibit their agricultural products and encourage young entrepreneurs toward agribusiness activities; and
Grow More Food Festival, which offers many entertainment options for Guyanese residents, encourages all sizes of businesses within the agri­cul­ture industry to grow more food, and engages families to plant kitchen gardens and other small-scale gardens to help offset the effects of higher food prices.
GMC launched the inaugural Agrifest – a trade and investment festival – in October 2009, which is when Guyana's "agriculture month" is observed.
"While Agri Month activities are a celebration of the achievements of the sector within the previous year, an activity the likes of Agrifest serves to engage the attention of the Caribbean re­g­ion and beyond, generating market access and demand for local products," GMC says. "It also aims to create an awareness of the new technologies used in agriculture – all essential to the expansion and modernization path upon which the sector has embarked.
"There has been a deepening relationship between Brazil and Guyana, and with the completion of the Takutu Brid­ge, a new trade frontier is made poss­ible. Access to Brazilian markets is one of the ultimate goals of Agrifest and all other congruent initiatives of the Min­istry [of Agriculture]. Agrifest will be made an annual feature of Agri Month, and will entail a rich cultural com­­po­nent, providing entertainment for all the stake­holders who would have worked hard and demonstrated great dedication – the bedrock of this thriving sector."
Impressive Exports
To ensure Guyana's export industry con­tinues to thrive and the agricultural sector continues to diversify with "new and mod­ern interventions," in July 2010, GMC commissioned a $17 million cold stor­age facility at a packaging plant in Parika. This city is on the Atlantic coast.
This was intended to boost the reg­ion's economy, according to GMC, and is part of a $171 million cold storage pro­ject agreement between the governments of Guyana and Venezuela. This project also will provide for the const­ruc­tion of a cold-storage facility at Guyana's Cheddi International Airport, to meet the needs of small and large producers in Timehri, Soesdyke and other areas of Region 10, which is a large area just south of the northern coastal regions.
"Many of you may have known that we have embarked on a national diversification program, where emphasis is being placed on other crops other than traditional rice and sugar," Minister of Agriculture Robert Persaud said in a statement. "For too long, we have relied on rice and sugar, and not withstanding the many challenges in the rice and sugar industry, the government with its massive strategic plans was able to overcome those hurdles and move ahead with progression."
There is potential for other crops, livestock and aquaculture to have success in Guyana, GMC says, so it has been providing "substantial amounts of resources" to ensure farmers have the necessary infrastructure, technical assis­tance, training and skills to venture into new opportunities in agriculture.