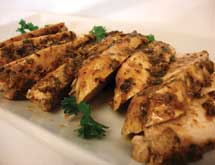 In its 90 years of business, H.C. Schau and Son has grown from supplying deli meats to corner stores in the Chicago area to offering a range of products to retailers in 18 states.
Schau's customers include major retailers with a strong Midwestern presence such as 7-Eleven, Trader Joe's and Costco Warehouse Clubs, as well as retailers in the Southeast including Publix Supermarkets and Winn-Dixie. The company's wide reach is largely attributable to its being a licensed manufacturer and distributor for Okami brand sushi since the late 1990s, owner Chuck Schau says.
H.C. Schau and Son also produces and ships fresh deli sandwiches, rotisserie chickens and other hot and cold entrees every day. "We never close here; we're open seven days a week," Schau adds.
The company still supplies specialty retailers with deli meats, including applewood smoked bacon and ham produced by  Nueske's Meat Products Inc. of Wittenberg, Wis., a client of Schau's for more than 25 years.
Many products are prepared and shipped from the company's main 51,000 square foot state-of-the-art preparation and distribution facility in Woodridge, Ill. H.C. Schau and Son in 2008 opened a second facility in Jacksonville, Fla., says Randy Schau, Chuck's son and the company's president.
The Florida facility is exclusively producing sushi to meet the needs of southeastern customers, but it has the ability to produce other products. "They have the same capabilities we have [in Illinois]," he adds. "While it was built as a sushi plant, it opens the door for other things, and opens our reach to the stores we're now supplying with sushi to offer other things."
Meeting Specifications
Schau Operations Manager Dan McAleese says the company distinguishes itself from competitors in a number of ways, including its 365-days-a-year operation and ability to produce food that meets customers' needs.
Customers come to the company with an existing menu of offerings, which H.C. Schau and Son then produces. "I think our ability to customize products in a timely fashion, our day-to-day execution of customer specifications and ability to change in a quick manner when our customers' specifications or expectations change help us stand out," McAleese adds.
McAleese attributes the company's ability to react quickly to change to its small management structure. "We don't have many layers like you might find in an organization that may take weeks to implement a change," he says. "We're nimble enough in the size of our organization that we can quickly make changes to suit the customer."
McAleese credits the company's staff – many of whom have worked for the Schau family for more than 15 years – with much of its success. "The conscientious nature of our employees sets us apart," he adds. "Chuck and Randy bring a strong family nature to the business, and I think that's felt by the number of long-term employees we have here."
Filling a Niche
H.C. Schau and Son is adapting to current economic conditions by working to help customers cut their costs. Instead of producing items such as sandwiches in-house, retailers outsource to Schau, both cutting their labor costs and providing business to the company.
"We're taking a lot of the labor out of the stores; that's what they're looking for," Chuck Schau says. "Supermarkets are looking to cut costs, and that's where we come in."
McAleese says the company also provides convenient, low-cost products that have proven popular during the recession as people eat out less frequently and spend more time at home. "The consumer is looking for the sort of products we produce," he adds. "Customers are looking for convenience – whether a sandwich or a fully cooked entrée – and we're able to fill that niche."
Years of Growth
Chuck Schau's father, Herman Carl "Bob" Schau, founded H.C. Schau and Son in 1919 after working for a sausage company. Chuck Schau joined in 1951 while still a high school student.
The pair supplied deli meats such as sliced bacon, veal loaf, meat loaf, polish sausage, pork loin roll, hard salami, baked ham and smoked butt to various independent stores on the south side of Chicago. The Schaus made sales calls and deliveries going from store to store, with nothing but one truck and one car at their disposal.
Chuck Schau took over the business in 1958 after a two-year stint in the U.S. Army and his father's death, he says. Chuck Schau's own son, Randy, joined full-time in 1976.
The company moved several times before settling into its current location in Woodridge, Ill., in 1997.
The facility complies with strict USDA standards governing fresh food storage, preparation and shipping. To ensure compliance, a USDA inspector is on duty daily.
Although the company made a major shift in the 1990s toward producing sandwiches, sushi and other products, its original mission remains the same, McAleese says.
"Meat distribution was the original business, and 90 years later, we're still doing it, and it's still an important part of our business," he adds.