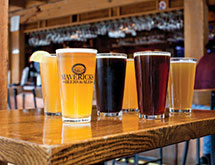 Half Moon Bay Brewing Co.
Half Moon Bay Brewing Co. may be known for its craft beer, but that does not mean it's not a family friendly place, Director of Sales Mary Oldham says. "We're a casual, fun place that you can bring your kids to," she asserts. "It has a great, broad appeal."
Located in Half Moon Bay, Calif., the Brewing Co. operates a 6,000-square-foot restaurant bar that specializes in seafood and home-brewed beer. Co-owner Lenny Mendonca co-founded the company in 2000. A former partner of McKinsey & Co., Mendonca also spent many years as a home brewer.
"He was always talking about how we needed a brewery here on the coast," Oldham recalls. When the Brewing Co.'s location became available, Mendonca partnered with several local families to start the company.
In 2003, the Brewing Co. opened its brewery, making it the first legal brewery in Half Moon Bay since 1873. "We just celebrated our 10th year of brewing on site," Oldham says. Mendonca today shares ownership in the company with his wife, Christine Mendonca.
The Brewing Co.'s location also includes a dog-friendly patio and its 1,200-square-foot Mavericks Beer Garden and on-site brewery, where it serves handcrafted Mavericks Beers and Ales. The company also has its Mavericks Event Center, located on Princeton Harbor. Spanning 2,000 square feet, it can seat 120 people and has a 700-square-foot deck that overlooks the harbor. "It's as close to being in the ocean can be," Oldham says.
The center can host weddings, receptions, corporate and team-building events, and even cooking classes, Oldham says. "That's been a great addition to our portfolio," she states.
A Diverse Menu
The Brewing Co. stays successful by maintaining "a very fun, innovative menu," Oldham says. "We focus on local seafood, but we also have really interesting, eclectic items like nachos and beer brat pops."
Its signature item, she notes, is a fisherman's stew that mixes fresh fish, shellfish and linguica sausage in a garlic and saffron broth with cilantro. "It was a recipe of our owner's grandfather who used to fish off the coast here," Oldham says.
The Brewing Co. is incorporating more beer in its recipes, Oldham says. "For example, we're now doing our own beer mustards," he says. "That has become a big draw for people."
The Brewing Co. also specializes in sourcing its food from San Mateo County, Calif. "We use local seafood and also local fruits and vegetables," she says. "It's artichoke country here."
Brewing Success
In the last year, Half Moon Bay has grown stronger on the beer side, Oldham says.
"We are definitely getting our beer in more of the local bars and restaurants," she says.
"Most of our beer sales are right from the brewery," she continues. "We are trying to expand so we can satisfy the outside towns that like our beers as well as keep the taps flowing in the restaurants."
The company also is canning and distributing three of its beers in Northern California: Chocolate Porter, Rye Pale Ale and Belgian Wit. "We're getting our feelers out in the Northwest and Midwest, as well," she says.
The Brewing Co. plans to stay in the microbrewery niche, Oldham explains. However, "We want to get more publicity for our beer," Oldham says, noting the company has won awards for its beers and ales. Mavericks Amber Ale won the Bronze Medal in the 2012 World Beer Cup.
Taking to New Levels
Oldham praises the Brewing Co.'s team, which includes General Manager Nate Rey, who grew up in the area and gained experience at Mullen's Bar and Grill and P.F. Chang's China Bistro Inc. "He's brought us up to a new level as far as teamwork, service and accountability, as well as helping us getting our brand out there," she says.
Its executive chef, Gaston Alfaro, carries 30 years of cooking experience, Oldham adds. "We will get requests at our event space for a certain cuisine, and he will source it right down to the spices," she says.
She also praises Brewmaster James Costa, who has 17 years' experience working at craft breweries in Northern California, and Head Brewer Shane Aldrich, whose experience includes Rock Bottom Restaurant & Brewery, Lagunitas Brewing Co. and Devil's Canyon Brewing Co.
"They're going to take us to a stronger level in the brewing side," Oldham says.
Staying Innovative
The Brewing Co. plans to stay innovative, Oldham says. She notes that the company is planning a "beer versus wine" dinner and a four-course dinner with a different beer for each meal. "You'll get to vote on which you think is best, and that's really fun," she says.
"We'll continue to provide our customers with great, quality food and beer and continue to grow," she says, noting that the company's products will soon appear on the shelves in Safeway stores in California. "We'll continue to grow that segment, especially in Northern California, which is a huge market."