Ham Farms sets itself apart with top technology and processes.
After more than 40 years, Ham Farms thrives by meeting the needs of its market. "We feel like we're good at that, whether that's growing commodities that are becoming more popular or creating value-added products that consumers are looking for," Senior Vice President of Sales and Business Development Will Kornegay says.
Based in Snow Hill, N.C., the family owned company grows and packs sweet potatoes, squash, watermelon and cabbage. Kornegay explains that the company originally started as a row crop farm, but later diversified into produce with a focus on sweet potatoes under the leadership of President Bobby Ham.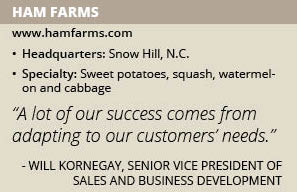 Over the years, as Ham Farms has experienced continued growth, it has implemented new packing lines and storage facilities to support the demand. The company also expanded into other fresh commodities, adding watermelons, squash and cabbage to its product lines.
If its clients request a crop that can be grown in the region, "We're willing to try to adjust and make it happen for them," Kornegay says. "A lot of our success comes from adapting to our customers' needs and solving problems that they may face."
Ham Farms also has made sustainability a priority within its business model. Over the years, Bobby Ham has led the company into processed goods, utilizing off grade produce to create value added products while reducing food waste by using nearly 100 percent of the crops it grows.
For example, through its company, Natural Blend Vegetable Dehydration, it dehydrates products to be used in both the pet and human food industries. Its YAMCO division offers packaged purees of sweet potatoes, butternut squash, pumpkins and carrots.
YAMCO aseptically packages the purees and uses proprietary microwave technology to cook and sterilize the products efficiently. "Our process allows us to retain the nutritional value, color and integrity of the raw product," Kornegay describes, adding that the purees are shelf stable for multiple years.
"That gives us a competitive advantage," he says. "We've got state-of-the-art technology and processes that are not the norm in the industry, which provides value to our customers."
The company also found success with Covington Vodka, its handmade sweet potato vodka. The Ham family has "been very innovative in their approach to agriculture and sustainability," Kornegay says. "That goes a long way."
Hungry for More
Ham Farms grows and packs its products from locations in North Carolina and Florida, and serves a broad client base. "We work with every customer class through the produce operation," Kornegay says.
The company serves the retail, wholesale, foodservice and processing markets. "There's customers across each of these segments that we serve on a year round basis," he says, noting that export demand continues to create a stronger market for Ham Farms and sweet potatoes in general. It will also be scaling its organic produce program in 2018.
The leadership of Bobby Ham, Kornegay adds, has set Ham Farms apart from other sweet potato companies in North Carolina. "[He has] the desire to do not only what's good for our company, but what's good for our employees and the industry," he says.
Going Glean
Ham Farms has recently partnered to launched Glean, a new company that sells innovative health-food products directly to the consumer. "Our initial products have been launched with sweet potato flour, pumpkin flour and beet powder," Kornegay says.
"We're actually taking dehydrated fruits and vegetables and milling it into powder," he describes, adding that these products can be used in smoothies, soups, sauces, baking and more.
Glean may be a young company, but its mission is rooted in helping those in need, and the startup is already showing its charitable side. "For every pound we sell, we're donating a pound to help fight hunger across the globe," Kornegay says.
The company is developing its "Fresh Pack," which will be a variety snack pack. Although it is still in development, "We've got a line of ready to eat, shelf-stable products in the pipeline right now," he reports.
Fruitful Future
Ham Farms plans to continue growing by adding more thought leaders to its team, Kornegay says. "Talent is very important to us and finding good people is what has enabled us to grow," he says.
Kornegay adds that there are more possibilities ahead. "We would like to see ourselves expand into other commodities and continue to provide value-added products," he says. "History shows we're capable of that, and the future is full of more fruit."