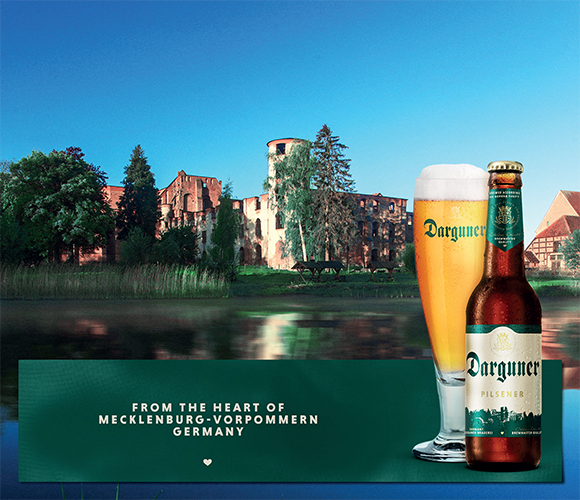 Top beer
The third-largest brewery in Denmark, Harboes Bryggeri is now managed by the sixth generation of the Harboe family and can draw on 137 years of brewing experience. Today with production both in Skælskør in Denmark, as well as in Dargun in Mecklenburg-Vorpommern, Northern Germany, the company offers its clients a broad assortment of beverages and malt ingredients
With a strong portfolio of beverage products, which are promoted internationally under its own brands and as private label, Harboe's beers and soft drinks are exported to selected markets in Europe, Africa, the Middle East, Asia and the Americas. As Søren Malling, Harboe Group CEO and Director of Harboes Bryggeri explained, the products are marketed in close co-operation with its large customers within the retail trade as well as local and international distributors. "This is with a view to build awareness, recognition and product value through targeted sales promotion
activities," he said. "We are experiencing stable development in demand for beers, driven in particular by a growing interest for craft and speciality beers and beers with differentiated alcohol content."
In addition to the beverage side, which alongside beer includes energy drinks, soft drinks, malt drinks and other alcohol-free products, Harboe is also one of Europe's leading manufacturers of malt-based ingredients, and these are used as a natural additive in the production of a broad range of food products such as bread, breakfast products and chocolate. "Our ingredients contain natural benefits such as color and sweetness, which can replace sugar, caramel and a number of other artificial additives, thus targeting a strong trend and increasing demand for clean-label products. Our customers are primarily European food manufacturers, including among others, the largest companies within the European bakery industry. We work closely with our customers and advise on how malt-based ingredients can be used to increase the quality, taste and durability of the final products," added Jon Jensen, Head of Global Export Sales.
Harboe's range of products is extensive, but its most well-known international brand remains Bear Beer, which was first launched in 1974 under the Danish name 'Bjørne Bryg'. "At the beginning of the 1980's the first international contract for Bear Beer was signed, and since then Bear Beer has travelled the world and is now available across our markets," said Søren. "The beer is brewed from carefully selected ingredients, which give Bear Beer varieties the distinct taste and high quality. The Bear Beer brand covers a broad range of beer types from lager and light to a number of specialty beers including, among others, wheat, stout, dark and IPA."
Sustainable foundation
Bear Beer and the rest of the portfolio are brewed at production facilities located in Skælskør in Denmark and in Dargun, Germany (which is the home of Harboe's Darguner beers, its second most popular brand.) Darguner beers are all produced according to German 'Reinheitsgebot' (order of purity) – an over 500-year old tradition for producing beer in Germany. "Over the past 20 years, we have made continuous investments to improve and update our production capacity and technologies to create further efficiencies and reduce our use of resources, emissions and improve our general environmental footprint," Søren noted. "Today, the two breweries have a combined total annual capacity of ten million hectoliters and we have a strong commitment to continue to be able to provide our customers with the volumes and product assortments they require, combined with the flexibility to meet seasonal changes in demand and new requirements to packaging."
Indeed, packaging is an area where Harboe works to continuously improve, and Søren confirms that the company is always striving to update its bottles, cans and label designs to meet its customers' demands for modern, creative and attractive products. He also noted how closely packaging is related to sustainability: "Our use of resources, life-cycle considerations and sustainability in general are of increasing importance among consumers and we include these considerations in our continued development efforts in close dialogue with our customers," he stated. "Our continued growth and development is based on a sustainable foundation and we continue to develop and invest in our production facilities and new technologies to be able to meet future demands and environmental requirements.
"In 2020, we invested in further integrating sustainability into our operations and additionally detailed our future strategic targets with the establishment of a new operational management structure and reporting framework, plus we have included the UN's sustainable development goals into our business development," he added.
Having highlighted sustainability and environmental responsibility as becoming increasingly important to consumers, Søren also noted that health is a hot topic, alongside demands for quality and freshness. These requirements put further pressure on Harboe to maintain a keen focus on innovation: "We are finding that consumers' requirements as to what they eat and drink are continually evolving, and expectations to how we, as a company, use our resources and affect our surroundings are increasing. Health, sustainability and responsibility are included in more consumers' considerations when they chose to buy a product, and we work closely together with our customers to meet these expectations. Among other events, we host regular workshops with our clients where we discuss future demands and new opportunities to create even better products and solutions."
The right team
Creating these close, flexible and harmonious working relationships requires Harboe to recruit and retain a team of high caliber staff, and as Søren highlighted, this is based around the creation of an attractive workplace built on the beliefs that have been part of the company for six generations. "Our company is based on strong values, which lie at the heart of everything we do," he confirmed. "At Harboe we aim to craft a dynamic working environment, where commitment, responsibility and high ambitions go hand-in-hand with a flat management structure, teamwork and high job satisfaction," he continued. "We allow room for new ideas and encourage a shared ambition to create the best results. It is a key priority to provide the right training of both new and existing employees to ensure the continuous improvement of their competences – we aim to use and upgrade the abilities of our existing employees before recruiting new team members. The
management team is constantly aware of any new training requirements that
will secure the ongoing improvements of routines and processes, and the continued building of skills among our employees is of great value to our company. We establish their current competences and tasks through individual dialogues, and then define new goals and make plans for further development in accordance with the Group's strategy and financial targets. We also focus on the development of team structures, where increased responsibility is a direct link to increased motivation and work satisfaction, with the latter being a key strategic target alongside employee retention."
Brand success
Thanks to this approach, Harboe has built a solid team and they support every level of the business, including the export side, where Harboe services over 90 global markets. Jon Jensen, Head of Global Export Sales, gives some more details about this aspect of the Group. "We work with a number of large private label customers in these locations, but we also market a broad range of products under our own brands in these countries too," he stated. "The branded products are primarily promoted in higher price segments in areas where there is an increasing demand for imported brands.
"Harboe is recognized for its broad and diverse assortment of high-quality products," he continued. "Our brands and products in the beer category include the Bear Beer that we've already mentioned, as well as Darguner, plus our own Harboe products, Puls and a range of specialty beers under the GB brand. The biggest and most important export brand today is our German beer Mecklenburger, with its range consisting of Pilsner and Northern German style specialties like Dunkel, Dunkles-Weissbier and Weissbier in 50cl cans as the primary packaging format.
"We also market a range of soft drinks and energy drinks, including the energy drinks X-Ray and Hustler; juices under the Harboe Pure brand; organic soft drinks, and a newly launched range in Scandinavia called 'Eagle', which are drinks mixers such as tonic and ginger beer. We also have a series of non-alcoholic products and malt drinks, which are marketed as Hyper Malt and Caribia ginger beer across our export markets."
The Eagle launch mentioned by Søren has been well received and included in campaigns by several of its customers, and other new products are attracting attention too: "In order to meet the increasing demand for both craft beers and alcohol-free beers, we have created several new beers under the GB brand, including an alcohol-free Brown Ale, for the Danish market. Our ecological soft drink series has also experienced increasing interest and revenue growth in the home market," Søren added.
With 2020 seeing a continued focus on research and development, as well as concentrating on its core brands, Harboe enters the second half of the year with a firm strategy in place. "We aim to maintain our position as an attractive and flexible supplier and strategic partner to our large customers within the retail trade," Søren concluded. "In addition, we will further focus our activities on our export markets and expect that these activities will positively develop through the targeted marketing of selected brands and sales support in close co-operation with our customers. Overall, we expect positive results and a strong cash flow.
"Our long-term success depends on our ability to create value for our company as well as for our surroundings. Our financial goals are to be achieved with respect for our stakeholders and our activities must contribute to making a positive impact throughout the entire value chain with regard to both human rights, employees and our effect on the environment."
www.harboe.com