Best in the the West
Serving caterers and local authorities, as well as the hospitality, tourism, and education sectors, Harlech Foodservice has been delivering a complete food solution for its customers since 1972. A business proud of its Welsh roots, Harlech was founded by the Foskett family and remains family-owned today.
Initially launched as a frozen food firm, Harlech quickly added new categories, the most recent of which was the Bwydlyn Butchery, acquired by the company in 2012. Constantly evolving, as of April 2021, Harlech supplies hotels, restaurants, pubs, cafes, ice cream stalls, care homes, hospitals and schools throughout Wales and the west of England.
Tasked with taking Harlech to the next level this decade is David Cattrall, who joined the firm as Managing Director in the summer of 2020. Of course, before he could enact any major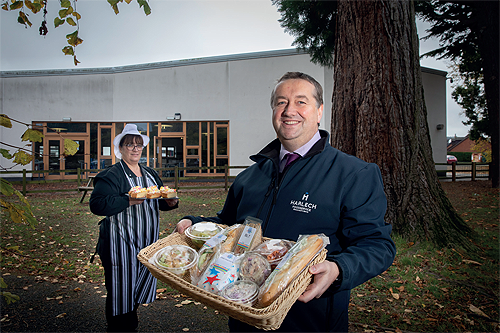 changes, David first had to guide the company through the Covid-19 pandemic.
"It's been a full-on rollercoaster," he says. "Sales were down 90 per cent when the lockdowns first came in, but when businesses were allowed to reopen, we saw sales outperforming the prior year. In fact, we probably outperformed the food service market for a short while, but it ebbed away towards the end of 2020. As we move into the spring, we find ourselves making another slow recovery and we expect things to improve as restrictions in England and Wales are eased."
Though the pandemic has presented Harlech with a host of obstacles, the company has continued to work through the challenges. Among its recent activity, Harlech has partnered with last mile logistics technology firm DispatchTrack to help improve communication and increase efficiency.
"We currently work with a scheduling system built into our warehouse and it does a competent job, however features like delivery time updates are superior," David explains. "Fleet scheduling has traditionally been a manual process, but DispatchTrack software can dynamically schedule all our runs in one go and make use of both our Criccieth depot and Chester depot depending on the delivery destination. Our customers will see the benefits immediately in terms of transparency and efficiency."
Spirit of service
Unwavering in its support of local communities, Harlech committed time and resources to food banks in Wales, Shropshire, Cheshire and Merseyside in 2020, at a time when generosity and unity were more in need than ever. Similarly, Harlech remains a key member of the Green Dragon Environmental Scheme and is involved in the planting of trees, as well as the implementation of hybrid vehicles and investigation into the role renewables can play in the business.
Harlech's focus on sustainability and social responsibility is no surprise to David, who was impressed by the company's culture from the moment he arrived. "A lot of companies talk about being a family business, but they don't always mean it," he declares. "Harlech, however, is a truly human organization. We care about our staff, we care about our customers and you see that in our service. There is a real passion in this business for getting things right for the customer. We're not perfect, we might drop the ball and make the odd mistake, but if we do that, a lot of work and effort goes into fixing it.
"At the end of the day, the customer is at the heart of what we do," David continues. "Our Founders, Colin and Gill, instilled that spirit of service, pride and quality at Harlech. Coming from a corporate background, that's the biggest difference I noticed – there's a real sense of care and passion here about doing things right."
With the worst of the pandemic behind it, Harlech can now look to the future. For David, this means the instigation of a long-term growth strategy with the potential to transform Harlech into a £50 million company by 2025. As part of David's plan, the firm will be looking to attract bigger contracts in the North West, increase its presence in Wales, strengthen its management team and expand geographically.
"We won't lose our North Wales roots. Criccieth will remain our head office, but we will be expanding across the whole of Wales, further into the West Midlands, and up into the North West of England," David reveals. "To support that expansion, we will be opening a new full-service 50,000 square foot depot on the border between Cheshire and Wales in January 2023. It will really strengthen our service in that heartland of North West England."
New appointments
Due to the seasonal nature of its core tourism business, Harlech is looking to increase its activity in the more reliable healthcare and education sectors. To facilitate this diversification, the company recently appointed a new Director of Healthcare and Education in the form of Mark Lawson, who will lead the development of a growth strategy in these areas.
In the first few months of 2021, Harlech has already bid for numerous contracts with the NHS and local education authorities. Focusing predominantly on projects further afield, the company's efforts are benefitting from a strengthened food offering and a reviewed pricing structure.
Still, tourism and hospitality remain major growth sectors for Harlech and the company continues to find ways to serve its customers more effectively. For example, the business recently carried out a category review on its ice cream range, which includes scooping, as well as impulse buy products.
"As part of the review, we discovered that in some places, we stock 22 ice cream flavors out of a range of 24. If you haven't got the other two flavors, you cannot offer a customer a complete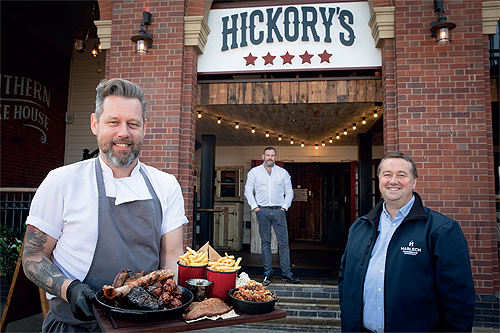 range and they are forced to use another supplier, which is not ideal," David reports. "As a result, we have gap-filled all our ranges and come up with a very sharp price point that rewards high volume orders, which we have called Spend & Save.
"Our review also revealed that we weren't selling many cones because they were arriving to our clients broken," he adds. "It means we have now changed to a stronger range of cones with in-built features that prevent them from breaking. Not only are they packaged better than our previous ranges, but we now offer our customers a guarantee to replace any broken cones within 24 hours."
A new price transparency initiative was launched at Harlech in 2020, meaning clients can find all prices on the company's website, eliminating the need for lengthy negotiations and concerns over billing. Perhaps more importantly than anything else though, the company continues to invest in its greatest asset – people.
"People are extremely important to this company. A business is only ever as good as its people," David asserts. "You can have as many clever systems as you like, but what you need is people to bring those systems to life.
"Since I joined Harlech, we've really been focused on working together towards a common goal across every department. We've also made a number of new appointments. Having previously worked in our sales unit, Ceri Brown has taken over our marketing function and Leah Adams is now leading our customer experience team. In April 2021, Matt Flynn, a former Purchasing Director at Green Gourmet, joins us as Head of Purchasing. His expertise will, no doubt, facilitate the evolution of our categories and purchasing strategy."
Market recovery
Unafraid of modernization, Harlech hopes to better utilize its digital platform throughout the next decade after seeing digital orders rise by more than 25 per cent in 2020. First though, David is looking forward to the market recovering from the Covid-19 pandemic, making for a more stable, settled environment in which the company and its customers can rebuild, rebound and prosper.
"There has been a lot of frustration and anxiety out there this year with so many businesses unable to trade, so as an industry, our immediate goal is to get everyone back into work, get back up and running, and make sure we are looking after our customers," David states. "After that, we are hoping to see some success from our tenders in the healthcare and education sectors, which will allow us to expand our reach, increase our geographic footprint and grow our business at a steady rate.
"We have been working really hard of late to inform customers of our range, of our transparent competitive prices and of our digital services, such as ordering up until 10pm," David notes. "As we go through April, May and June, we hope to see that the message has landed and that sales increase as a result. It's going to be really interesting to see how quickly we can resonate with customers. I think that is the bit I am most excited about."
www.harlech.co.uk
All images © Mandy Jones Photography