Vertical Ingetration of owned entities, the largest branded beef program in the U.S., and base of local suppliers are helping the Harris Ranch Inn & Restaurant deliver on its promise of quality dining.
Along Interstate 5, almost perfectly between San Francisco and Los Angeles, lies a lush oasis in California's Central Valley. For nearly 40 years, Harris Ranch Inn & Restaurant has welcomed travelers and locals alike to share in its philosophy of locally sourced, farm-to-table eating. "Everything that we do here in the restaurant we try to do from California," Executive Chef Reagan Roach says. "We're very proud to be a California company and to support the Californian economy through our efforts."
The Harris family started their farming operation in the San Joaquin Valley in 1937, but the Harris Inn & Restaurant's modern operation emanates from the growth in traffic along I-5. In 1975, the family opened a small burger stand just off the freeway and soon realized the demand for a major rest stop between San Francisco and Los Angeles. Two years later, the Harris family founded the Harris Ranch Restaurant and it quickly became a signature stop on I-5 and a gathering place for the area's agricultural families to share the day's news.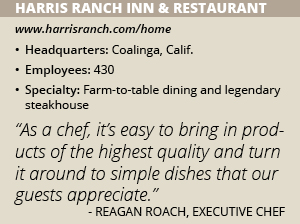 The restaurant has expanded three times in the ensuing four decades and in 1987 added the inn at Harris Ranch. Today, Harris Ranch Inn & Restaurant is the fifth busiest independent restaurant in California by volume, according to General Manager Jonathan Farrington, according to Restaurant Business Magazine.
Service Hub
Harris Ranch is one of the largest integrated farm-to-table restaurants in the western United States. The restaurant and inn sit on just one small part of Harris Farm's 17,000-acre agricultural property. Harris Farms, a sister company, grows 35 different commodities. Additionally, another sister company, Harris Ranch Beef Company, is the largest branded beef-processing plant in the country. The Harris Ranch Country Store features one of the busiest full service meat counters in the Central Valley and in a single year alone will sell in excess of 120,000 pounds of Harris Ranch beef. Because Harris Ranch utilizes the other Harris entities' products above all others, Chef Reagan is able to keep a tight watch on quality control, serving only choice and prime beef at the restaurant.
Although it draws customers from all over the state – and the country – Harris Ranch does not see itself as a tourist destination, but rather as a major hub for services. Locals rely on the property's Fast Track gas station and frequent the Subway sandwich shop, while visitors see the inn as a convenient middle point for family reunions and holiday get-togethers. "There's a lot of emotional attachment to the place from our consumer base," Chef Reagan explains. Harris Inn & Restaurant, the beef company, and the farms division are each separate parts of the greater Harris Ranch corporation and are treated as individual entities that support one another.
The airport, for example, is used by customers who want to fly in for a meal and businesses coming to make a deal on the ranch's livestock. With 3.5 million gallons of gasoline sold each year, Harris' Fast Track is a key refueling point along I-5. In addition to its agriculture operations, Harris Farms is home to about 600 thoroughbred horses at any given time, making it one of the largest breeding and training operations in California. Several famous racehorses hail from Harris Farm's pastures, including 2014 Kentucky Derby and Preakness Stakes winner California Chrome.
The inn itself is an American Automobile Association (AAA) Three-Diamond hotel. The hacienda-themed building features 153 rooms between 380 and 600 square feet in size and its annual occupancy is about 80 percent, Farrington says. An Olympic-sized pool and three hot tubs help guests relax while complimentary cookies and homegrown almonds satisfy their taste buds between meals. "It's very, very secluded and quiet," Farrington adds. "Even though we're near a major interstate, the inn is set far away from the main road."
The restaurant serves more than 600,000 meals annually, and as many as 3,700 in a single day during peak holidays such as Thanksgiving and Christmas. That volume of business is demanding for any eatery but securing a consistent food supply is even more of a challenge when 98 percent of all ingredients are locally sourced. "We manage that much food every day systematically," Chef Reagan says. Harris Ranch's access to an integrated food supply and partnerships with other farms in the surrounding area make its farm-to-table goal possible. "As a chef, it's easy to bring in products of the highest quality and turn it around to simple dishes that our guests appreciate," Chef Reagan says.
The asparagus, onion rings, beef and famous fried green beans all come from Harris Farms' own fields or neighboring growers such as Lyons Magnus Products, a Fresno, Calif.-based company that produces juices, dessert syrups and fruit. Lyons Magnus has been once of Harris Ranch's key suppliers since the restaurant opened in 1977. "We're looking for California companies that are able to offer locally grown and ethically produced products," Chef Reagan says. "The more we can draw from our own local community, the better it is for our community and the better it is for our business."
The Harris Ranch Beef Company houses between 100,000 and 110,000 cattle during the more than 120 day finishing process at their feedlot and processes up to 1,000 heads of stock each day. What's not used by Harris Ranch Inn & Restaurant is sold to many grocery stores and restaurants such as In-N-Out Burger, Raley's Supermarkets and Costco.
Dealing With Drought
In the same way that Harris Ranch uses locally sourced food to support the California economy, the company is looking for help from the state as it deals with ongoing drought conditions.
For the past five years, lack of rainfall has dried up California's natural resources, forcing the state and communities to institute drought measures and water control. The drought has had a detrimental impact on the farming industry as water use limits have restricted irrigation for farming operations like Harris Ranch, Farrington says. Roughly half of Harris Ranch's 17,000 acres are fallow as the company cuts back to comply with drought conditions. "That equates to really a very tough impact on jobs in the local community," Farrington says. "We feel that the water is there but it's not being made available for use right now."
Farrington believes the state could do more to support farmers and questions why California is spending nearly $70 billion to construct a high-speed rail system when it doesn't have the money to take care of agriculture, including more long-term water storage. Instead, growers are left hoping for a wet, cold winter that increases the state's snow pack and will provide a steady source of water as it melts over next spring and summer. "We're hopeful we'll get to the end of the drought and start to farm like we normally would," Farrington says.
Harris Ranch is taking its own steps to manage drought conditions by focusing on reducing its water use. Landscaping outside the inn is changing to drought-tolerant plants. Eucalyptus trees are being replaced with Desert Museum Palo Verde, an Arizonan tree that doesn't require irrigation after maturing. The company is also moving away from English boxwood shrubs to hedges that use less water.
As it cuts back on its water use, Harris Ranch is still looking for ways to expand its overall business. The company is considering a fourth expansion to the restaurant and inn and is in the early stages of planning a high-end, full-service RV park for the property.
Harris Ranch is looking to expand on its partnerships with California companies. The agriculture giant is teaming with another West Coast innovator – Tesla Motors – to expand its number of supercharging stations from six to 13 by the end of the year. The company is also working with FirstElement Fuel Inc. on a new project that will bring the first hydrogen fuel station to the region by the end of this year.
For Harris Ranch, embracing those technologies is part of its responsibility to I-5 motorists and its community. "We do see ourselves as being a major hub and charging location because we're dead center in California," Farrington says. "We just have to evolve with the needs of our customers as they're traveling through the state."