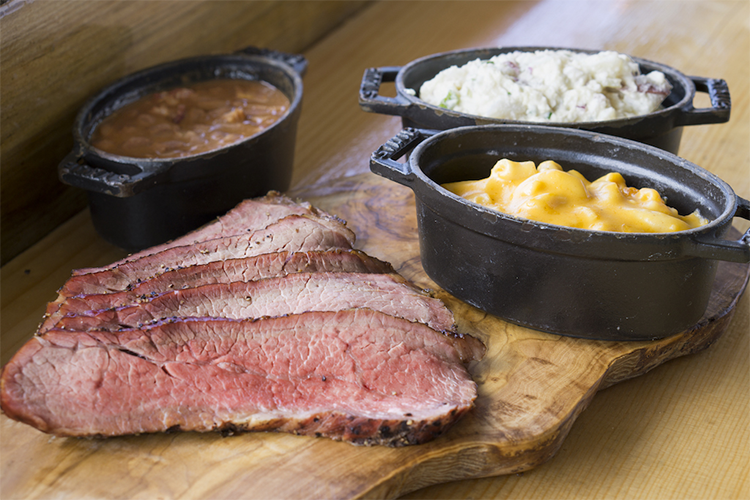 Harris Ranch Inn & Restaurant
Harris Ranch brings Farm-to-Fork dining to the quick-service space with its new barbecue restaurant.
Since the 1970s, Harris Ranch Inn & Restaurant has been a welcome sight for motorists on I-5 heading between San Francisco and Los Angeles. The Harris family opened its first eatery, a burger stand, in 1975 and since then has turned a small part of its 18,000-acre ranch and farm into a true culinary experience, complete with four restaurants and 153-room inn.
Nearly every ingredient that goes into its dishes is grown or raised on Harris Ranch or one of the neighboring farms in the San Joaquin Valley. This makes it not only a destination for weary travelers, but also those seeking out the epitome of Farm- to-Fork dining.
Over the past four decades, Harris Ranch has become one of the premiere hospitality venues in the state of California. The newest addition to the family of restaurants brings Harris Ranch back to its original roadside stand roots for those looking for a fast, casual bite on the road.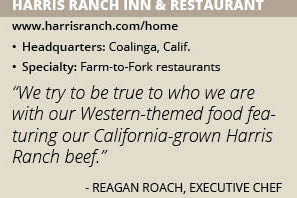 A Different Market
Harris Ranch Express BBQ opened in April and combines the Farm- to-Fork food the company is known for with quick quality service. The restaurant is located within Fast Track, the gas station and convenience store located on the Harris Ranch property, and it replaced a 17-year-old Subway franchise. Its location caters to a different kind of customer than the ranch's typical diners, which are usually staying at the inn or looking for a upscale sit-down experience.
Although it targets a different market, Harris Ranch Express BBQ still highlights Harris Ranch beef, including tri-tip, brisket and beef back ribs. It is authentic barbecue, made on a 17-foot custom pit manufactured by Texas-based Johnson Custom Smokers.
Everything is made fresh in front of the guest. Guests can either take their orders to go or enjoy them in a small patio section at the convenience store. "We're using our own beef," Executive Chef Reagan Roach says. "We're sourcing our own product locally."
The restaurant has been an overwhelming hit after only eight months in operation, the company reports. Harris Ranch originally expected the Express BBQ to draw about as many customers as the Subway it replaced, but it has actually tripled the Subway's headcount. The early success of the restaurant has Harris Ranch thinking about how to build on the concept. "We're already considering what we can do to expand the current menu to offer more items," Chef Reagan says.
The physical ambiance of the Express BBQ has already received a substantial makeover to better reflect the barbecue theme. Harris Ranch added bar-top seating and high-top tables made of glazed pinewood that had been marked for destruction by the United States Forest Service. Rustic panels, heaters and patio shade covers were also added to make the area more inviting for diners. "This reaches out to a different type of guest that might not be coming over to our restaurant or retail environment," General Manager Brad Reynolds says.
Having improved the dining experience, Harris Ranch is now focusing on Express BBQ's take-out customers. The company is preparing to launch a family-style meal that will pack a whole tri-tip, two quart-sized sides and four cornbreads in a box to feed about five people. The meals will be available as carryout boxes and are aimed at customers who want to bring home a hot dinner.
Barbecue was a natural choice for expanding Harris Ranch's restaurant lineup. The company's other restaurants, The Ranch Kitchen, The Prime Steakhouse and the Horseshoe Lounge are already known for serving some of the finest beef dishes in Central California. The reputation comes from the high-quality beef Harris Ranch raises on its own land.
More than 100,000 cattle graze the property, each going through a 120-day finishing process at the ranch's feedlot. With as many as 1,000 head of stock processed each day, Harris Ranch Beef Company is the largest branded beef-processing plant in the country. The volume and quality of beef that Harris Ranch produces have made it an ideal supplier for large organizations such as the University of California school system, which consists of nine campuses with more than 260,000 students.
Drought Relief
As one of the largest farms in California, Harris Ranch was hit especially hard by the Golden State's five-year drought. To comply with drought measures and water controls, the ranch had to limit its use of irrigation and allowed roughly half of its acreage to fallow.
The drought's end in April enabled the farm to return to normal operations, which has meant higher crop yields, more variety and better-quality ingredients for the restaurants. Chef Reagan says regional suppliers are offering more produce, such as lettuce, watermelons, honeydew and cantaloupe. "It certainly has loosened up the supply chain to have the drought officially over," Chef Reagan says.
More food production means more variety in Harris Ranch's dishes. The company matches its menu items with what is in season and routinely makes tweaks to introduce fresh ingredients. "We can make minor changes as often as once a week," Chef Reagan says. "Major changes happen at least four times a year. There's consistently brand-new items on the menu and we also bring back some old favorites and things guests have enjoyed in the past." His favorite new dish is a beef bacon-wrapped filet that he worked with Harris Ranch Beef Company to develop.
The Ranch Kitchen is Harris Ranch's oldest and most stable menu concept, featuring comfort foods, classic beef dishes and
seasonal fruits and vegetables. The Steakhouse is Harris Ranch's signature restaurant, offering fine steaks and an à la carte menu. Meanwhile, The Horseshoe Lounge, named for the ranch's history in horse breeding, features a combination of prime and choice steaks, seasonal items and entree salads. "We try to be true to who we are with our Western-themed food and showing off our beef," Chef Reagan notes.
Harris Ranch's three restaurants serve about 1,500 people each day, making Harris Ranch the No. 3 independently owned restaurant by revenue in California, and second by meals sold. Harris Ranch's impact on the state's restaurant industry was recognized in 2016 when the California Restaurant Association honored John and Carole Harris with The Lifetime Achievement Award.
Utilizing Technology
As the first generation raised entirely in the digital age has entered the working world and become consumers, it's become important for restaurants such as Harris Ranch to embrace the internet so they can educate those younger guests about its legacy. Harris Ranch recently updated its website for the first time in 15 years, giving its history more prominence, making it more interactive and sharing links to social media. It was designed not only to promote the Harris Ranch experience, but also to be easily navigated on desktop and handheld devices such as smart phones.
Since the launch of the new website, Reynolds has seen increases in guest feedback and interaction online and through social media. "Positive reviews create more volume and exposure to other people's Facebook," he says.
Alongside the new website, Harris Ranch is introducing a new ordering system that will allow for purchasing via a mobile app. The beta for the mobile App program began with Harris Ranch Express BBQ in November and is expected to eventually roll out to all the restaurants. "People are communicating differently," Reynolds says. "Instead of calling in, they want to put their orders in on a [device]."
Harris Ranch is also leveraging technology to create better guest interaction in the real world. A customer who comes to the Steakhouse or Horseshoe Lounge might never step foot in the Country Store, a shop that combines the traditional Western general store with the in-house bakery items available to-go, a bookstore, craft gallery and gourmet grocer.
However, by utilizing a traffic count system that uses cameras to track guests, Harris Ranch is able to discover opportunities to convert restaurant diners into Country Store customers and vice-versa. For example, when a guest receives their check at the end of a meal, the check holder includes a pamphlet on items available at the Country Store to entice them to check it out.
"You see some areas of opportunity and we're trying to nail that gap," Reynolds says. Harris Ranch always had a solid understanding of its restaurant customers, but with the traffic count system it now understands how many people are coming in to shop at the Country Store or just use the bathroom, and can create conversion opportunities around those actions. "We didn't have that information, now we do," he adds.