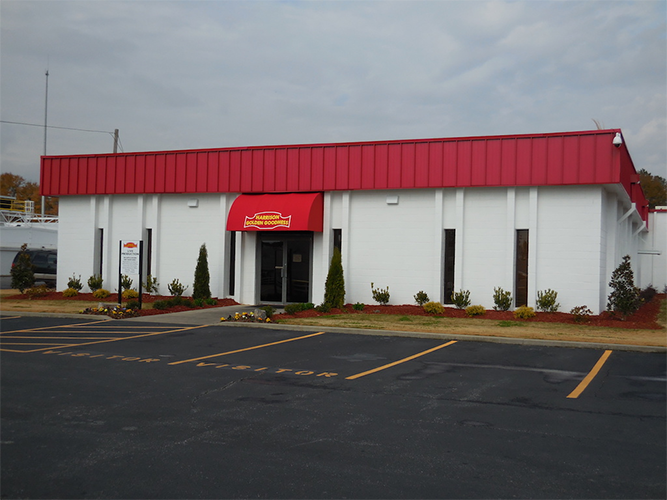 Harrison Poultry's facility upgrades ensure it provides quality products.
It's a good time for Harrison Poultry to be in business. "All the analysts say that poultry demand worldwide is going to increase in the next 10 years," President and CEO David Bleth says. "[When they] give you the charts, you see a great opportunity for poultry."
Bethlehem, Ga.-based Harrison Poultry produces golden-yellow chicken, which it sells to Hispanic markets across the United States. Its founder, Harold Harrison, founded the company in December of 1958.
Born in 1920, Harrison grew up during the Depression and graduated from the University of Georgia before joining the Army in 1941. "He served in the European Theater until 1945," Bleth says, adding that Harrison left as the captain of his platoon.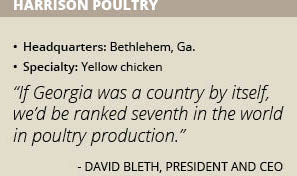 Harrison taught agricultural economics classes at the University of Georgia before starting his own egg business in 1949. When business slowed, he expanded and sold both eggs and chicks, and finally built a broiler processing plant for Harrison Poultry.
Continuing the Legacy
Harrison served as a state senator and on the board of education of Barrow County, Ga., for 24 years. He also funded the $3.9 million construction of a church in Bethlehem that has more than 1,000 members and a preschool today.
Harrison died in 2001, and Harrison Poultry continues his legacy in Bethlehem. "Today, we are ranked number 22 out of 35 total chicken companies in size," Bleth reports. The company's 180,000-square-foot facility processes up to 44 million chickens a year.
"We're one of just a few remaining yellow bird companies left in the United States," he says, explaining that the chicken is popular in Mexico. During its process, Harrison Poultry adds marigold flower extract to turn the poultry's skin yellow.
The company performs a soft scald on the chicken, which is eight to 10 degrees cooler than a typical scalding process. "That allows us to maintain the yellow coloring," Bleth says. "It also allows us to have a little more fat between the skin and the meat, which makes our chickens more flavorful."
Harrison Poultry has three lines of product that it sells to stores today, including its Golden Goodness product. "That is our oldest brand," he says, adding that the company also has its Pollo Eldorado chicken and Al Marwah, which is a halal product.
An Outstanding Facility
Harrison Poultry's recent investments include updating its plant. "Over the last several years, [nearly] every piece of equipment has been changed out to the most modern, available equipment," Bleth says.
This includes a computerized vision grading system that allows Harrison Poultry to evaluate each chicken. The company can tell if there are any skin tears or missing parts on each bird with the help of cameras.
This grading system, which also allows the company to look at the weight of each chicken, determines the optimum use of the bird to maximize value. "We use computerized processing equipment in many locations throughout the plant to make economic decisions with several hundred chickens per minute," Bleth says.
But the company has some more upgrades to make. "The only things left to do in the entire building is putting in new scalders, which are scheduled to go in next spring," he reports. "We have a very competitive modern facility."
Harrison Poultry's operations also are in accordance with animal welfare programs and undergo regular inspections by independent auditors and USDA. "We're doing everything correctly in terms of handling animals," Bleth asserts.
Essential Rewards
Like many, Harrison Poultry is coping with a labor shortage. "Everybody's fighting for enough people to get the job done," Bleth says. "As you look to expand operations, finding additional employees is a big challenge."
The company copes by offering its employees benefits that most other poultry companies do not, including two extra checks per year. "We also give free insurance," he adds. "There is no deductible for single employees in their checks."
Harrison Poultry also rewards them through a profit-sharing program and an ERISA retirement fund where associates do not have to contribute anything. "If the employee makes $50,000 [per year], they normally will get $5,000 put into a qualifying fund," Bleth says.
The company also plans to open a wellness center on its site in January 2018, featuring a full-time practitioner and pharmacy. "Our employees won't have to punch out and go see a doctor for basic things," he says.
Bleth sees a strong future for Harrison Poultry as well as the poultry industry in the company's home state. "If Georgia was a country by itself, we'd be ranked seventh in poultry production," he says.