Growing golden goodness
Home of the golden-yellow chicken, Harrison Poultry, celebrates the success of its brand-new live production complex, and gears up for major expansion in the coming years
As a family-owned operation, Harrison Poultry is dedicated to providing the best quality chicken products to its network of loyal customers across the US. Known for its unique offering, the golden-yellow chicken, Harrison Poultry serves niche markets with the highest level of attention, value and care. With the help of a brand new, fully operational live production complex, the company now enjoys further growth opportunities of one of the most efficiently automated plants in the country.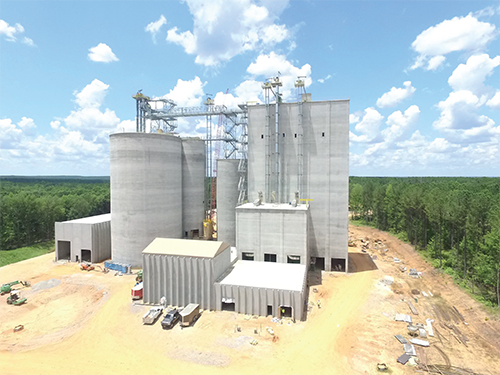 As a company with over 60 years of heritage, Harrison Poultry is known for its innovation and depth of industry knowledge with its highly talented team of professionals. Having outgrown its original feed mill facility over the last five decades, the company began construction on a new feed mill and live production complex in December of 2018, and now reaps the rewards of that investment. "Our original feed mill was built in 1965, so it was 50-plus years old, and its only value was that it was paid for. It was so small that we had to bring in single rail cars to supply it, and the single car freight rates were double those of normal rates, so it was costing us a lot of money to operate. It was our growth bottleneck so as a result, we decided to invest in a new feed mill facility.
"The mill we have today allows us to buy the entire 90-car grain train, have it come to our location, offload in less than 15 hours, and leave ready to be refilled.
This actually saves us money as well as time because we get a major discount on freight when we buy out a whole train," discusses David Bleth, Chief Executive Officer at Harrison Poultry.
The new feed mill hub in Crawfordville, GA is not only state-of-the-art, but spacious too, having been slipped formed to operate three pelleting lines in the future. It comes with many economic benefits, as David highlights: "It's more efficient for the railroads to deliver to one location, so it's actually helped out our suppliers as well. We started it up in February of 2021, which was very exciting because construction had been underway since December of 2018. It may have taken two years to be fully operational, but it's been such a good thing for the company, and it's running great today. It's allowing us to make our own feed, and we have started thinking about further growth."
With the new feed mill up and running, Harrison Poultry is able now to grow its operations to match the company's ambitious plans. "The new facility has been great for us, but our success is the result of more than just the right equipment," explains David. "As a family-owned business, we have more of an informal environment allowing us to work closely together as a team. We really encourage and enable creativity with our team members. Those ideas can quickly become reality as we collectively discuss emerging opportunities and act fast to meet our customer needs.
"The other thing that sets us apart is the fact that we are the only company left in the United States that is growing a golden-yellow chicken. Mexico has long been a yellow bird country, and we cater to the Hispanic markets in the United States, where our golden-yellow bird is preferred," he adds.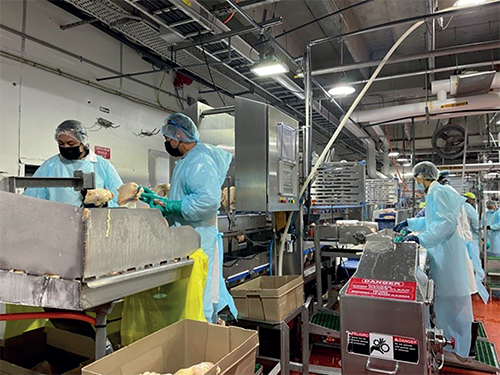 Working within such a niche market has allowed Harrison Poultry to build close relationships with its customers. As David details: "We had a customer who was buying our boneless tenders frozen and then thawing and marinating them at their restaurant. It was creating a lot of labor costs on their end to get this product ready to be cooked and served to their customers, and so we went ahead and invested in the technology that would enable us to ship them fresh, marinated tenders. By doing that we sped up their process by reducing their preparation time significantly. It's a really good example of how we work closely with our customers, and invest in new technology, in order to improve our offering."
Focus on people
It is clear that Harrison Poultry is dedicated to fostering strong connections between people, as well as producing great-tasting products. The company is known for respecting its employees, and having a strong working culture, as David asserts: "The thing that sets us apart from any other poultry company is the outstanding benefits package we offer. Our hourly employees are provided the same benefits as our salaried employees. Our entire team has access to free medical insurance. We also have an amazing profit-sharing retirement program, which is something we are very proud of. The employee retirement benefit was started 50-plus years ago by our founder, Harold Harrison; he was motivated by a desire to look after his employees and to create a strong community, which is something we still carry on today. It has averaged over the decades a ten percent contribution to our employee's gross annual income with no personal contribution required."
Investment in people begins from day one at Harrison Poultry, as the company runs an industry-leading paid internship scheme. "We focus a lot on the people side of our business here. One of the things we really spend a lot of time on is investing in the young talent that comes to us through our internship program. We start them out in a training program that allows them to really gain an understanding of the business and learn where to best utilize their skills. The training program lasts 13 weeks, which is a lot longer than the industry standard. Not many companies would invest three and a half months into someone before they even start working," says David.
Staying future-orientated in everything that it does, Harrison Poultry is dedicated to the future of their industry, as well as the future of its team. The company has made significant strides toward energy efficiency and zero-waste operations, as David reveals: "Our biggest focus when it comes to sustainability is water conversion, and reducing water waste. We have spent well over $1 million on water conservation technologies and have saved over 78 million gallons of water per year with those efforts. Another one of our sustainability goals is to eliminate paraffin wax boxes. Poultry is a wet product, so you typically need reinforced boxes that will hold up during the shipping period. The issue of course is the fact that paraffin wax boxes are not recyclable. In order to tackle this issue, we have been working with some companies on a couple of unique blends that will totally eliminate wax boxes from our operation.
Technology investments
"2022 is the year we plan to put that change into motion; we have been running tests over the last several years, and this summer we intend to switch completely to recyclable boxes that use eco-friendly coatings such as beef tallow. We also have some plastic initiatives, and we are looking at heat and stack recovery systems in order to reduce heat loss and energy inefficiency. In the long term, because we have a lot of land, we are looking at putting solar panels up in order to generate electricity during the day. We are also considering using zero-emission propane in our vehicles, so there is a lot going on."
With its sustainability drive well underway, Harrison Poultry also places emphasis on automation technology, and the important role it will play in the future of manufacturing. "We are also making significant investments into robotics and artificial intelligence," David confirms. "We are working on robotic projects that can be used to duplicate human movements, to improve our efficiencies. Recently we spent $4 million installing state-of-the-art breast deboning equipment, which is the first of its kind in the US."
With long-term plans to double the size of its operations, Harrison Poultry certainly has an exciting few years ahead of it, as David concludes: "I believe that our plans are very achievable. We are investing in our future to make sure that we stay efficient, relevant and sustainable enough to succeed in a very competitive environment."
www.harrisonpoultry.com