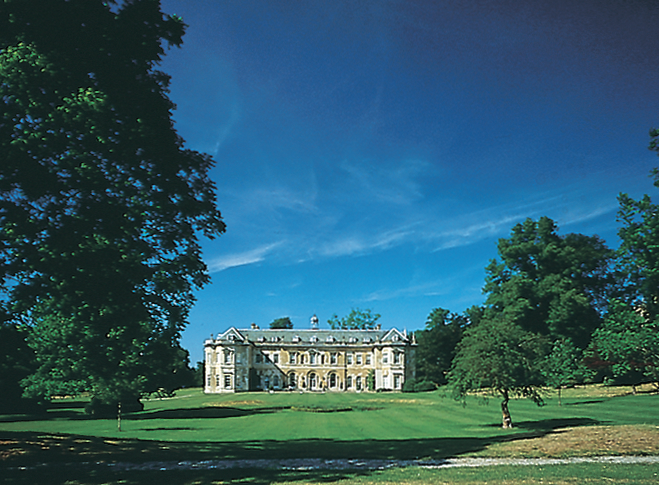 History comes alive
Hartwell House's emphasis on tasteful restoration has ensured its continued popularity as one of England's
The Hartwell House was first mentioned in the Doomsday Book as belonging to William Peverel, a natural son of William the Conqueror; since that time Hartwell House has played many roles and has a remarkable history. Between 1809 and 1814, during his exile from France, Louis XVIII held his court at Hartwell, signing the constitutional document, confirming his accession to the throne, in the library. Today, portraits of King Louis and his Queen, Marie Josephine de Savoie, hang on the main staircase.
Hartwell House was originally built for the Hampden and Lee families, from whom the Confederate General Robert E. Lee was descended. It remained in the possession of the original families until 1938, when it was purchased by the grandson of Thomas Cook, founder of Cook's Travel Agency.
During the Second World War Hartwell served as an Army billet for the British and American troops. Later, in 1956, it was let to The House of Citizenship, a finishing school, which remained in occupation until 1983 when the lease was taken by Historic House Hotels. The resulting restoration, of exemplary tact and sensitivity, has set standards for such work in future.
Guests visiting or staying at Hartwell are immediately struck by the high standard and attention to detail of the restoration. Director and general manager, Jonathan Thompson comments on the development: "For Hartwell House, it shows the road that we have travelled, from being in danger and empty at one stage, to now having a reputation as one of England's finest hotels, for good food, service, and hospitality. We've been able to enrich the House with fine paintings, alongside modern features like WiFi, flat screen televisions, and air conditioning. We have also been modernising our spa, which was the first one to be opened in 1989. We have redecorated and modernised the treatment rooms, as well as installing air conditioning. We have recently refurbished the changing rooms, sauna areas, and the spa café and bar, which will soon replace the buttery that was previously there. We are now creating health conscious modern food in a beautiful setting with alfresco dining to offer a larger range of snacks and light meals for our spa visitors."
Amongst Hartwell's standout features are its dining rooms, which have been under the direction of head chef Daniel Richardson for the last nine years. "Daniel has achieved consistent high standards, alongside the sourcing of local quality ingredients. He currently holds three AA rosettes and four Red Stars, and we have held a Michelin Star. What we try and do is allow the food to do all the talking, and we don't like to mess around with ingredients too much. When you buy quality ingredients, you want it to be cooked well and simply so that the flavours come through – and Daniel is brilliant in achieving that. He is innovative, creative, and our guests enjoy the menus and appreciate all of his skills. Equally, Peter Liese – Daniel's sous chef – has been with the Hotel for over two years, and won an Academy of Culinary Arts prize for the quality of his skills as a chef. He is also very skilled, with a fine palate and sense of taste, works very well with the entire brigade."
The a la carte and daily menus specially feature seasonal produce from local farms and county produce together food from with the hotel's own Hartwell Orchards
and Garden fruit, vegetables and herbs to bring the freshest of ingredients to the dishes on offer. "It is important to remember that the restaurant is located in an English country house hotel, and therefore this must be reflected in the food: good, fresh, English products," Jonathan continues. "If we can find interesting, good, local ingredients, we will use them, but there are times in the year where you can't source goods locally, and must look further a field."
This localised approach to sourcing supplies also applies to looking for potential kitchen talent, as Jonathan recognises: "We have a number of young people who come to the Hotel to learn and find out more about life in the kitchen, and giving young girls and boys this opportunity and training is a factor we are proud of. We invite parents and children from the local schools and colleges to come to the Hotel, to see the kitchen and the opportunities there are in developing caterers as chefs and food service staff."
While Hartwell continues to develop to meet the demands of the times, there is an aesthetic and architectural belief that underpins any proposed restoration. Jonathan elaborates on the approach: "I would say that we stay true to the integrity of the house, which means we will not build new modern bedroom wings onto the house. We work within the existing property to make sure we are not breaking the integrity of the Grade One listed house. Our guests feel comfortable in an environment that is right, rather than turning it into a theme park that loses sight of the initial design. A Grade One house can steadily lose its charm if the amount of new building increases around it.
"Consistency, service and hospitality have always been important to us, and we have been classified as an AA Red Star hotel for 19 years, as well as holding three rosettes for 15 years," Jonathan states. "I see the hotel developing in the near future in the same manner as it has grown over the last 19 years; we will concentrate on adding value to a guest's experience at the hotel, whether that be through the spa, or within the house itself. We will look at developing the technological features of the house, while at the same time continue to restore the parkland. "It's grand country living brought to life without the formality that used to attend it." he concludes.