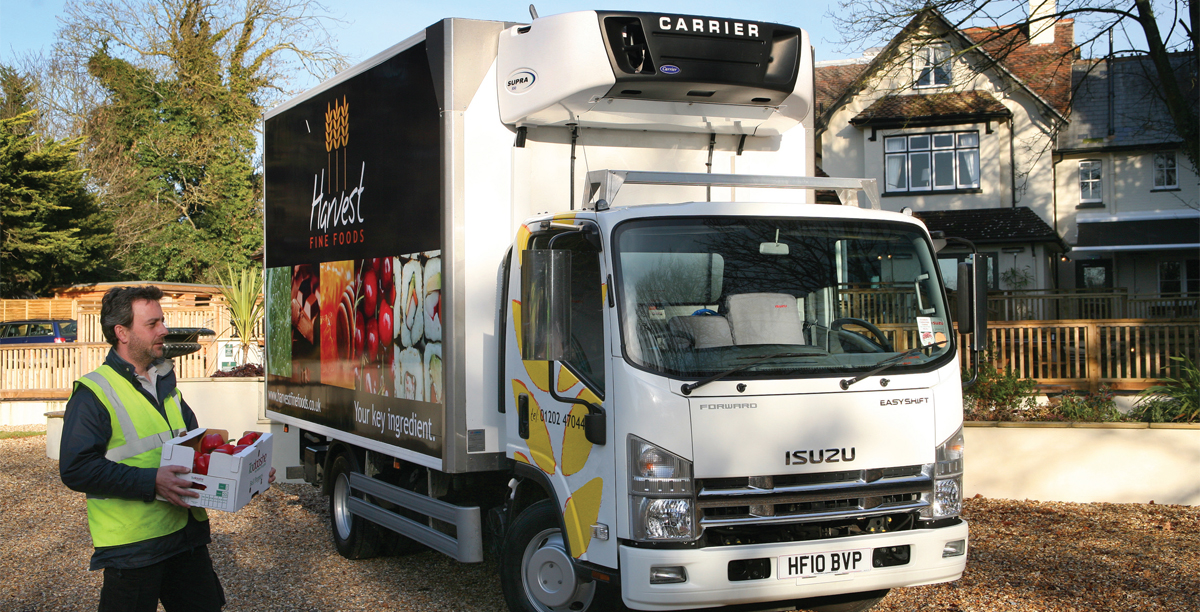 In fine fettle
One of Southern England's premier wholesale food distributors, Harvest Fine Foods delivers thousands of quality products to hundreds of satisfied customers across the region all year round
One of Southern England's premier wholesale food distributors, Harvest Fine Foods has built a reputation upon providing a first-class, reliable service to catering establishments across Dorset,
Hampshire, Wiltshire, West Sussex and Surrey. With a client list that includes schools, NHS Trust hospitals, residential care homes, hotels, fine dining establishments, restaurants, gastro-pubs and golf clubs, the company delivers to more than 450 customers daily, six days a week.
Harvest Fine Foods has come to be recognised as a supplier of top quality fresh produce, and also stocks a range of more than 4000 products and can supply dry-ambient, frozen and chilled foods, as well as cleaning materials and non-foods/disposables. Understanding that the first consideration of any chef is the quality of the raw materials that they are putting into the dishes they make, provenance is an integral part of Harvest Fine Foods business. This is why the company has developed a superb supply-chain to ensure that it can provide an impressive range of speciality fine food ingredients, why it sources all of its products with the utmost level of care, and why it is committed to supporting British farmers and local producers, wherever possible. The company backhaul using its own vehicles, placing orders with farmers in the morning and returning with the produce later the day ensuring that all ingredients and materials arrive with its customers fresh and ready for use.
In addition to being able to boast an impressive array of suppliers, which includes Nestle, Unilever Food Solutions, Essential Cuisine, Speciality Breads, McCain, Premier Foods, Lamb W
eston and Tyrrells, Harvest Fine Foods is also proud to be a member of the Country Range Group. This gives it access to over 800 own-brand products, which are designed to deliver 'best value in use' to the professional caterer. With a 20-year foodservice heritage, the Country Range brand is widely recognised by caterers as a trusted and reliable brand delivering consistent quality. Its comprehensive range of grocery, frozen and non-food products is developed specifically for foodservice use, and its products are an integral ingredient in kitchens throughout the United Kingdom. From basic commodities to finished products, the Country Range brand is designed to provide caterers with a value for money proposition without any need to compromise on taste or quality.
In terms of corporate partners, Harvest Fine Foods can also call upon strong relationships with both Hampshire Fare, Rotary International and The Rotary Club of Westbourne. Hampshire Fare is one of the leading food groups in the country, as well as being one of the longest-established and most-proactive. Its enthusiastic team work hard behind the scenes to support and promote local
food and drink. The group was established back in 1991 by a small group of food producers and has grown to offer business support to around 300 members, including bakers, brewers, butchers, cheese-makers, pig farmers, rapeseed oil producers, wine producers and many more.
Working with the seasons, and with local suppliers and producers, has been shown to be key in achieving the best flavour. Harvest Fine Foods is able help to identify what is in season when, and with Hampshire Fare it can source delicious award-winning products such as the likes of Lyburn Farmhouse Cheeses, Wessex Country Gammons, Blackdown Hills West Country Eggs and Dorset Sea Salt. At a time when provenance and 'local' are increasingly important topics for its customers, working with the seasons is not only cheaper, but adds flavour, meaning that together this creates a win-win situation.
Rotary International, meanwhile, is the world's largest service organisation and is made up of many Rotary Clubs based throughout the UK, each of which is itself made up of businesses of various sizes. All of the companies and entities within each Rotary Club volunteer and support a range of charities and their local communities in their spare time. Harvest Fine Foods has been a part of The Rotary Club of Westbourne for five years, and has helped to raise over £42,000 for a number of charities in the process. Some of the charities it has helped are Cancer Research UK and The MS Society, as well as local groups in Bournemouth, such as The Elderly and Homeless, and Young Carers.
For Harvest Fine Foods, Corporate Social Responsibility also extends to its commitment to the environment, community and its employees, not to mention the commercial impact of conducting its operations. The sourcing of local suppliers allows the company to reduce its food miles, while it also adopts a responsible attitude to procurement based around ethical and sustainable production, with a bias towards local producers whenever possible. Whilst it always aims to be competitive, the company is keen to ensure that its partners are, first and foremost, treated fairly.
Further to the above, Harvest Fine Foods is also constantly striving to provide a healthy and supportive working environment for its staff, in order to create a culture of learning and personal fulfilment. Great relationships have always been at the heart of what has made the company so successful, and it is the goal of Harvest Fine Foods to continue to build lasting relationships based on mutual trust and respect with all of its business partners.