Harvest Food Group's Path of Life brand was born out of a necessity for healthy, clean-label and convenient foods.
Making healthy, organic and all-natural foods is more than a just a business for Harvest Food Group. Established in 1999 as a frozen vegetable supplier to food manufacturers nationwide, the Warrenville, Ill.-based company took its business into a new direction when it launched the Path of Life brand in 2012.
"We really started the brand out of the necessity for products on the marketplace that are better for you while also being convenient and tasting good," co-owner and President Scott Schmidt says.
At the time the brand debuted, Schmidt and co-owner Jason Eckert were making dietary changes to improve their health. Schmidt, who had gone gluten-free, says he struggled to find healthy foods before learning about quinoa, a gluten-free grain that is high in protein and rich in nutrients. "My wife and I were always on the run and trying to figure out what to eat as we were going down the path to healthier lifestyles," he adds.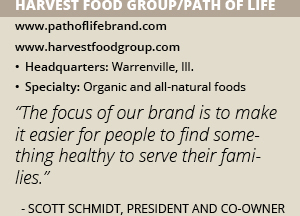 Harvest Food Group initially rolled out the brand to Costco stores. Additional retailers followed in 2014; today, Path of Life projects are available in club, grocery and specialty stores across the United States.
"The focus of our brand is to make it easier for people to find something healthy to serve their families," Schmidt says. "We believe when you eat better, you feel better."
Flavor and Quality
Path Of Life's products include quinoa blends in flavors such as Asian, Southwest and Mediterranean styles as well as pilaf, brown rice and kale blends. "These blends are not just quinoa in a bag," Schmidt says. "Our blends are fully seasoned and filled with vegetables, which give them great flavor."
Other Path of Life products include frozen vegetables such as broccoli florets, rainbow cauliflower and butternut squash; and veggie blends including kale and butternut squash, cauliflower and pea curry, roasted garlic cauliflower and Tex-Mex corn and mukimame.
Path of Life's frozen products are packaged in microwavable steam bags, making them convenient to prepare. "We try to take the guesswork out of having a really healthy side dish that is rich in flavor," Schmidt says. "You can throw it in the microwave, and four minutes later it's ready to go."
The quinoa, vegetables and other ingredients in Path of Life's products are sourced from growers around the world using only all organic and non-GMO methods.
Harvest Food Group maintains the high quality of its products during production. The company's 200,000-square-foot processing, packaging and distribution facility in Chicago is Safe Quality Food (SQF) Initiative Level 3 certified. "We take pride in our excellent rating," Schmidt says. "With all the recalls out there, food safety is a big focus for us on the consumer and the retail side. We want to do our best to protect everyone."
A Healthy Outlook
Harvest Food Group's belief in healthy living extends to its internal culture. "Our employee wellness program includes partnering with a local gym to make working out more affordable, and every Friday we do what we call 'Healthy Friday,' during which we bring in healthy snacks for the office rather than the typical donuts," Schmidt says. "On the social responsibility side, we only source from suppliers that comply with health, labor and safety laws and regulations."
The company also recycles paper, cardboard, scrap and finished packaging material. "We are working on putting other recycling programs in place to reduce our impact on the environment," he adds.
Looking Forward
Harvest Food Group continues to invest in its employees, operations and products. It recently installed a manufacturing line that will allow the company to package products in cups, making them more convenient for customers.
The company is working on new flavors for the Path of Life brand, including blends inspired by international cuisines. New product types are also in development.
"The brand is our company's focus," Schmidt says. "We want to continue to look into new opportunities to expand our offerings in the 'better for you' space and develop new items that stay on trend while looking to other areas of the store shelf we can put Path of Life onto."