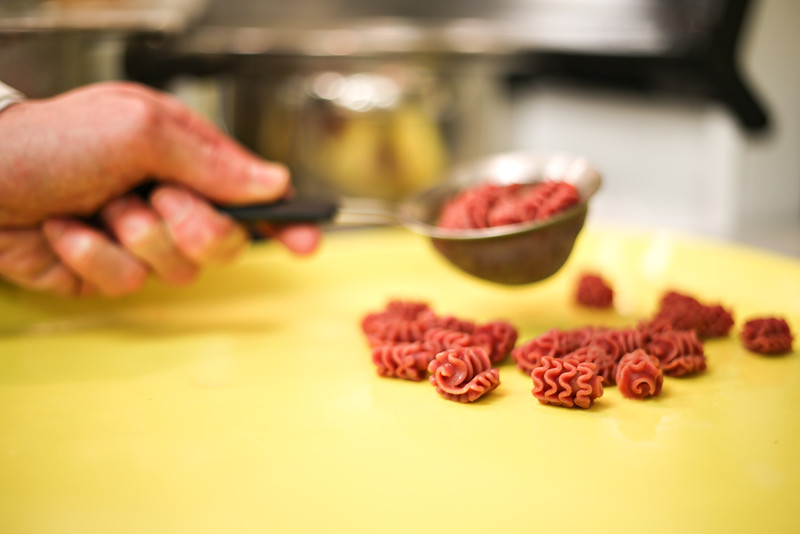 As more people demand higher-quality food ingredients, Harvest Innovations' soy proteins, oils and gluten-free ingredients stand out for all the right reasons.
With today's consumers looking for foods that are gluten-free, not genetically modified and healthy and organic, Harvest Innovations is in a great position. Based in Indianola, Iowa, Harvest Innovations is an industry leader in minimally processed, expeller-pressed soy proteins, oils and gluten-free ingredients.
"It is more cost effective to grow protein than to process it," President Barry Nadler says. "If nature can deliver it to you, it is better than using chemicals and equipment to process it."
Progressive Thinking
To understand why Harvest Innovations is so different requires an understanding of history and its impact on modern food production. During the World War II era, hexane processing to extract oil from soybeans became commonplace to produce fuel for the war effort. After the war ended, the process became mainstream, and most soy protein ingredients in foods today go through hexane processing. But Harvest Innovations takes a different approach.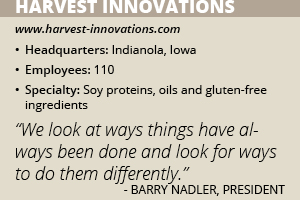 "We use non-GMO or organic soybeans, delivering proteins for human consumption that have been processed without any chemicals, with the bean producing as much of the protein as possible," Nadler says. "The soybean is a healthy product and has the highest amount of protein of any grain or legume. We start with beans that have higher protein levels, and our specialized facility takes the hull off the soybean in a highly efficient way. It is the only dehulling facility like it in North America."
Ultimately, Harvest Innovation can deliver a perfect soybean product to its customers without losing a lot of it to chemical processing. This has allowed the company to become the primary supplier of the base for soymilk on the continent.
Another aspect of Harvest Innovations is its work with non-soy ingredients. Its products include other grains and legumes that are gluten-free, like lentils, chickpeas, buckwheat, quinoa, ancient grains and more. The company has systems that can mill them to desired granulations and can gelatinize starches so the gluten-free foods stick together better. It is this side of its operations that has allowed the company to become a leader in market sectors such as gluten-free pasta.
"We've had 50 percent year-over-year growth for seven years," Nadler says. "That has been astronomical growth."
Part of the momentum behind Harvest Innovation's growth has been provided by the growing consumer interest in natural, gluten-free, non-GMO and organic foods. The company has seen much growth in the cereal industry because it can provide textured, non-GMO protein products for healthier cereals.
"Many large companies are moving toward more non-GMO products," Nadler says. "We've seen a lot of growth in the beverage industry, the gluten-free sector and in the egg replacement sector with our EggOut products. We developed a process to replace eggs in bakery and pasta products, which is indicative of our belief in innovation and bringing new products to meet the needs of customers looking for new ways to do business."
Critical to its operations are vendor relationships. Harvest Innovations doesn't use the same ingredients as many of its more traditional competitors.
"For example, we were the first ones to make a serious effort to use lentils in gluten-free pasta," Nadler says. "Lentils are grown as an alternative crop to wheat in alternative growing seasons. As you bring the lentils in, there are wheat berries mixed in, and we have developed techniques to clean out that carryover wheat, working with our vendors on that so it can pass our requirements for the limitation of gluten through cross contamination."
On the soybean side, the company works with vendors that develop high protein soybeans. The company has spent the last seven years developing those relationships and bringing the product closer to its facilities through joint R&D efforts with vendors.
Never Complacent
Continued investment in product development and infrastructure will always be a focus for Harvest Innovations. Right now, the company is developing a non-soy protein that is an underutilized legume and tastes good, which it hopes to introduce soon.
Additionally, the company has expanded its plant to ensure total separation between soy and non-soy production. It has invested in technology that helps provide the right levels of granulation and gelatinization in non-soy products, and it has made investments to improve the texture of soy and non-soy products so it can deliver crisp products for protein bars, cereals and more.
As Harvest Innovations looks ahead, it is looking for ways to seek international growth. Additionally, the company is excited by the prospects of delivering its new non-soy protein to the marketplace and providing more EggOut products in the bakery and pasta markets. Beyond that, Harvest Innovations aims to increase the level of protein in its products while doing more in the organic and non-soy areas. "We look at ways things have always been done and look for ways to do them differently with no chemicals and less mechanical involvement," Nadler says. "Being innovative is driving our success."