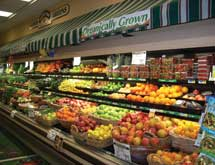 Tom Honer, president and owner of Harvest Market, has spent the majority of his life in grocery stores. Because of that experience, Honer feels he has made Harvest Market's two locations destination shopping that people feel good about patronizing.
Honer began his career at Fry's, a supermarket chain owned by Kroeger, where he worked his way up through the ranks until he became district manager. "I started out as produce clerk, moved up to store manager, then director of personnel, director of produce and then district manager," he explains. Honer was with Fry's for 17 years when he came across an opportunity to purchase a small market in Fort Bragg, Calif.
"I was tired of working six days a week," Honer says of his decision to open his own supermarket. "In 1982, without doing a market survey, we bought a small market in Fort Bragg. We convinced United Grocers to back our decision to build a new store and help us get into the [Boatyard] shopping center."
Harvest Market is a full-service supermarket, Honer says. "It's kind of a cross between Whole Foods, Trader Joe's and a supermarket," he adds. "Whole Foods is great, but where's the Coca-Cola? We carry the same type of products as a Whole Foods-type store does along with everything else you'd find at a large supermarket. We have it all."
In May 2007, Honer transformed a 100-year-old market and hardware store into Harvest at Mendosa's. A much smaller location – Honer has recently rebuilt another building on the property to serve as a standalone hardware store – he kept the old-fashioned meat and seafood counter and brought in as many of the products and services that the locals demand and the traveler needs. Harvest at Mendosa's is in Mendocino Village, a tourist area very close to the Pacific Ocean.
Both locations offer organic beef and poultry, and the seafood selection is the largest on the North Coast, Honer says. The bakery and deli departments have been used for weddings and the fine wine and spirits department has the largest selection of Mendocino County wines in the area.
Recently, Honer started adding organic clothing, housewares, gourmet cooking supplies, bedding, shoes and lifestyle products.
"We were in the process of building an addition, and we had this big section in the corner that wasn't being used," Honer says. "So we made that a lifestyle section. We listen to our customers. If they want a certain product, we'll get it for them."
"We have a captive audience that couldn't get the type of products we sell anywhere," says Yvonne Galliani, store manager and a 25-year veteran with Harvest Market. "[Customers] really love the lifestyle section. In fact, we've even had a woman register for wedding gifts here."
Members of the Community
The storms on the rugged coast of California are well known for causing power outages lasting up to a week, but that hasn't stopped Harvest Market from providing the community with a place to get some hot coffee and a meal or two.
After Honer lost truckloads of meat, poultry, seafood and other products requiring refrigeration to an outage, he purchased solar panels for the store's roof and a 400-kilowatt generator. Now, when the blackouts come, Harvest Market is a beacon of light in an otherwise darkened town.
"We provided the residents with hot coffee and breakfast," Honer says. "We were even serving lunch and dinner. Here was a warm and inviting store in the middle of total darkness."
Not only does the company maintain ties with the community by purchasing products from local farmers and businesses, but it also has become so charitable over the years, a donation committee was formed to coordinate all the programs the stores were participating in.
"Fort Bragg is kind of an artsy community," Honer says. "We support local theater and the arts. We also cater the annual Winesong dinner which benefits the Mendocino Coast District Hospital."
That sense of community and family comes from Honer's personal philosophy to treat people like assets. "People who work here, stay here," he says. After 20 years of service to Harvest Market, Honer takes the employee to Hawaii for a week.
"There is nobody I'd rather work for," Galliani says. "[Honer] is a man of his word and he empowers his employees. Everybody has something to say and listens to them. He is a man of his word. He's a real success story."
It's not just the trip to Hawaii that keeps the employees around. Harvest Market provides its full-time employees full medical benefits, profit sharing and a matching 401k.
"Every summer, [Honer] invites everyone and their families to his place for a picnic," says Tim Bosma, manager and son-in-law. "He treats everyone like a member of the family."
Between both locations of Harvest Market and a pure hardware store to keep the locals happy, Honer has built a sense of community with his employees and customers.