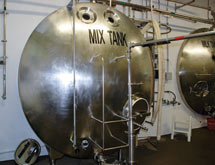 For ethnic Hispanic food producer Hato Potrero Farm, now is the time to launch new products and increase production for greater success. Riding high on the popularity of its Yo Gusto brand drinkable yogurt, the company is launching a new juice line. "The reach of the product is more than we thought it would be," founder and CEO Gustavo Perez says. "It's now a lot more than what we thought [it would be]."
Hato Potrero Farm was a pioneer in offering drinkable yogurt to the market. Originally, Hato Potrero Farm focused on providing dairy products to serve the greater Cuban-American community in South Florida. Now, its products are available in the entire state and along the East Coast and into the southern and midwestern regions of the United States. Yo Gusto brand products can be found in New York, New Jersey, Texas, North Carolina, Kentucky, Georgia and Chicago, Perez says.
It is now opening a brand-new production facility near its other plant in Clewiston, Fla., for the purpose of growing the niche food distributors' business. Working from two plants will maximize operations, Perez says.
The top product of the Yo Gusto family is drinkable yogurt offered in strawberry, mango, guava, guanabana, peach, Bananaberry, coffee, vanilla, natural and kumis flavors. These flavors are popular in the Latin-American market and growing in popularity among all demographics of health-conscious consumers who enjoy its digestive benefits. It is made from cultured Grade A pasteurized raw fresh cow's milk. Yo Gusto kumis won 3rd place in the World Dairy Expo Championship Dairy Product Contest.
In addition to drinkable yogurt, Hato Potrero Farm produces low-calorie yogurt, frozen yogurt, frozen yogurt bars, premium ice cream and cheese. Perez had been producing cheese from the start and added the ice cream and frozen yogurt two years ago.
New Processing Plant
Hato Potrero Farm is launching a new juice and beverage line in response to the rising costs of drinkable yogurt raw materials. Because of the rising costs, "we started looking in another direction," Perez says.
The new product line also has the added benefit of creating greater company diversification. "We don't want to put all our eggs in the same basket," says Javier Gonzalez, assistant vice president and plant director. "We put them in different areas."
In mid-October, tanks were being installed at the new plant located about one mile away from the current facility in south-central Florida. The plant is slated to open before the start of winter.
"The characteristic of our product is to focus on the tastes of the Hispanic population," Perez says. The All Juice & Beverage line will feature mango, strawberry, blackberry, passion fruit, orange-pineapple, orange-carrot and orange juices.
All Juice & Beverage is also producing bottled water and planning for tea offerings, as well. The tea is to be produced with a leaf currently not on the market.
Living the American Dream
Perez is originally from Camaguey Cuba, where his father had a farm named "Hato Potrero" where he made fresh homemade dairy products daily from his farm. Gustavo himself wanted to bring his childhood memories by recreating the yogurt and cheese his father made in 1957. After some trials and errors with his friend Antonio Vargas, one day Perez took a sip of the yogurt Vargas created and Gustavo closed his eyes. He was able to travel back in time to 1957 – recalling the moment his father gave him the first glass of natural fresh yogurt.
Although Perez had tried dairy farming and construction in Florida, in 2001 he and his wife, Myriam Larrinua, vice president of Hato Potrero Farm, decided to move into food production with his good friend and plant engineer Antonio Vargas. In order to devote his full attention to Hato Potrero, he decided to sell the farm, Perez recalls.
Distributing products to schools has been a success. Hato Potrero Farm, home of Yo Gusto, stared out with products stocked at small local stores.
"We appreciate their support and thanks to them and their customers we are what we are today. We're able to enter supermarkets such as Wal-Mart, Publix and other food chains," he says.
It operates a Grade-A plant regulated by the FDA to maintain a certification of (IMS) Interstate Milk Shippers. It is also regulated by the world's most recognized and trusted kosher certification, the Orthodox Union (OU). Rising diesel fuel and shipping costs, however, have led Hato Potrero Farm to focus its efforts on the local Florida market for greater profits, he says.
In spite of such challenges, Perez is optimistic about his company's prospects. One continuing factor in its success is that "tropical flavors can be hard to find," Perez says. The goal is to grow with future generations and Perez and his family's dream is to enter the hearth of all America with the Yo Gusto product line.