The origin of the name Paladar is important to us," begins Andy Himmel, Founder and CEO at Paladar Restaurant Group. "It comes from the Spanish word for palate or taste; however, we chose the name because, in Cuba, a paladar is a home eatery or small restaurant based out of someone's house or apartment. Therefore, when we wanted to open a restaurant, we knew it was the name for us. Our customers come home to eat."
Thus began the Paladar Restaurant Group. The company was established in 2007 with Paladar Latin Kitchen and Rum Bar (Paladar) in northeast Ohio and suburban Cleveland. Since then, new restaurants have cropped up near Washington, D.C. and in the metropolitan Philadelphia market. However, before all that, the group wanted to create an experience that the average suburban diner would not usually have access to (unless they travelled to a nearby city, for instance).
Paladar Restaurant GroupAs Andy goes on to explain, most restaurants dotted around the area at the time were American, Italian, or Chinese – and, therefore, much more accessible and straightforward to the average consumer. One knows the difference between carbonara and chop suey. But what about feijoada stew and queso fundido? Not so easy.
"There was nothing around that seemed to take advantage of the great flavors and profiles that are found in Central and South America, Cuba, and the Caribbean," says Andy. "So, in that sense, we were looking to create a new night out for suburban diners. We opened up Paladar, working extremely hard on the brand, the positioning of the menu, the marketing, and the terminology used since, in many cases, these words on the menu would be totally new to customers. Part of that process was therefore educational, and our goal was to showcase the hearty, soulful, and crave-worthy food from that area of the world in an accessible way."
Therefore, instead of listing a guajillo pepper sauce on the menu, Andy says it will read spicy pepper sauce instead. "When we began, we were much more direct with the types of ingredients that we were using in our restaurants, using Spanish headers and such," he reveals. "However, we found that this created a kind of barrier. That is not to say we are dumbing down; rather, we are simply making the menu approachable. We had to make our menu function in a way that did not make people turn away and order a steak elsewhere, but also read in a way that was still exciting for more adventurous eaters."
Indeed, eight years after the first Paladar, a sister brand, Bomba Taco + Bar (Bomba), was launched. More casual in its approach, three more locations have opened in the suburban Cleveland market and two in the metropolitan Philadelphia region.
Andy is keen to talk us through Bomba's cuisine. "We are a taco-based menu," he notes. "That being said, we do not hold ourselves back with any type of international borders: some of our best-sellers are the Nashville Hot Chicken Taco and our Vietnamese Meatball Taco! We also proudly cater to the vegetarian and vegan communities, serving delicious, plant-based chorizo tacos with pickled onions, mushrooms, pickled shishito peppers, and cilantro pesto."
Rum discovery
Other highlights include the curious Smoked Brussels Sprouts Taco, served with pickled red onions, umami sauce, red Fresno peppers, chili aioli, and plantain peanut crumbs, as well as Bomba Bowls, which include a choice of protein, a selection of toppings, and either white or cauliflower rice.
But, for Andy, a special focus should be placed on the brand's famous guacamole. "It is house-made and fresh to order; you can also add other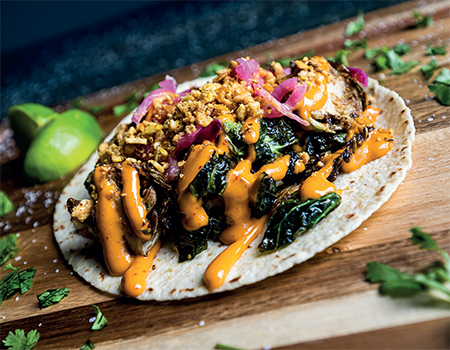 ingredients, which is a concept borrowed from our Paladar side of the business," he reveals. "In fact, we recently won the award for Best Guacamole in Philadelphia at a big annual event hosted there for the fourth year in a row! We serve it with a mix of house-made malanga, plantain and tortilla chips. Delicious!"
As well as snacks like bacon-wrapped jalapeños and harissa cauliflower wings, Bomba also serves incredible desserts. One is the new churro waffle, made from scratch with house batter and served with unique toppings such as burnt marshmallows, bacon, and ice cream. While the conversation then drifts to food under the Paladar brand – including chicken empanadas, adobo steak and blue cheese, and shrimp elote salad – Andy highlights what he considers to be the truly fun part of the brand: the rum bar.
"Each Paladar restaurant has 100-to-130 rums on hand, and all of the information you need to make an informed decision is handily kept in our Rum Bible," he tells us. "We are really proud of it. It walks customers through the process of making rum, the locations behind each brand, and the various histories attached to them – it is educational as well as a guide to a good drink! Whether Spanish-, French-, or English-style rum takes your fancy, the thrill of discovery can be found in every bottle and each glass."
More Bomba locations
Some favorite cocktails include the Jungle Bird (Smith & Cross Rum, LoFi Amaro, honey simple, lime, and pineapple juice), Pusser's Painkiller (Pusser's Navy Rum, Bacardi Mango Rum, Smith & Cross Rum, fruit juices, coconut milk, and nutmeg), and the tequila-based Jalapeño Paloma (El Jimador Silver Tequila, jalapeños, grapefruit juice, simple syrup, soda, and salted rim to serve).
Going forward, Andy admits that, though he expects to open a new Paladar every two years, the real driving force behind the growth of the group will be its Bomba offering. "The more casual approach is aligned with the market, which has changed since the pandemic, and you can expect to see one-to-two open each year going forward," he concludes. "Over the next five years, decisions related to internal and external growth will be made with the objective of building value, while developing a brand that offers a welcoming home to all people."
www.paladarlatinkitchen.com