Hawaii Coffee Company meets the needs of its customers by developing specialty coffee and tea that deliver the essence of Hawaii in every cup.
Hawaii is at the core of the Hawaii Coffee Company and not just because of its name. The company roasts some of the best and most highly sought after coffee in the world, and its brands embody the company's home in every product. "People who know Hawaii know Aloha is the true essence of Hawaii," President Daniel Dinell says. "And we infuse the spirit of Aloha into everything we make, and in every step of the process; from our relationships with our farmers all the way to the consumer, who I believe, can actually taste that spirit in the product."
The story of Hawaii Coffee and how it operates today proves Dinell's point. While formed in 2000 when LION Coffee and Royal Kona Coffee merged, the Honolulu-based company has deep roots. In fact, LION Coffee is one of America's oldest major coffee companies, getting its start in Toledo, Ohio, in 1864. The company ceased operations during the Great Depression and was dormant until coffee pioneer Jim Delano resurrected it in 1979 and moved the company to Hawaii.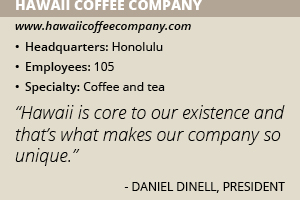 In 1968, Chicago-based Superior Coffee and Tea established Royal Kona Coffee when it purchased a small coffee operation that had been roasting a coffee bean from Kona, Hawaii. Today, Hawaii Coffee has four major brands under its roof, including LION Coffee, Royal Kona Coffee, Royal Hawaiian Coffee and Hawaiian Islands Tea Company.
LION Coffee provides the highest quality beans and premium ground coffee with value packed inside every bag for coffee drinkers near and far. From the coffee fields in Hawaii and around the world to the consumers' cups, LION Coffee shares Aloha with every sip.
Royal Kona Coffee continues to build on its legacy of producing smooth tasting Kona coffee cultivated on the slopes of Hualalai and Mauna Loa in the north and south Kona Districts on the Big Island. The districts' weather of sunny mornings, cloudy or rainy afternoons, little wind and mild nights combined with porous, mineral-rich volcanic soil create the perfect coffee growing conditions.
Joining these dynamic brands is Royal Hawaiian Coffee, which showcases other varietals grown in Hawaii, such as Kau coffee and Maui moka beans. "We created this brand because there are other great coffee beans grown in Hawaii, but we can't produce it under the Royal Kona brand because it's not from Kona," Dinell explains.
Offering even more value and cache for consumers, Hawaii Coffee partnered with world-renowned chefs Alan Wong, Roy Yamaguchi, Sam Choy, and Russell Siu on a Chef's Series of premium coffees under the Royal Kona and Royal Hawaiian brands. "These coffees were developed in collaboration with each chef who personally cupped and tasted them," according to Dinell. "This is a wonderful way for everyone, whether a 'foodie' or not, to enjoy a daily cup of coffee from noted Pacific Rim cuisine chefs."
Offering tropical tea flavors, Hawaiian Island Teas was launched in 1995 and joined Hawaii Coffee in 2004. The company uses premium quality tea leaves with some varietals dating back 100 years. Green and black teas are blended with exotic island flavors like passion fruit, mango, hibiscus, macadamia and coconut. "They are all tropical flavors," Dinell notes. "We tried an Earl Grey once and it didn't sell well. My point is, Hawaii is core to our existence and that's what makes our company so unique."
Securing Supply
Hawaii Coffee is the largest coffee roaster of Kona Coffee in the world and Hawaii's leading coffee supplier. The company owns a coffee mill in the Kona District, where it buys the Kona cherry and mills it through a wet mill process. "We buy from hundreds of farmers in the Kona District, paying a fair price that literally puts millions of dollars into the community," Dinell explains. "We are our only customer of the mill, so when it comes to our facility in Honolulu, we roast it under the careful eye and taste of our roast master having controlled the entire process from picking onward."
Owning and operating its own mill allows the company to stay close to the farmers and its supply. Hawaii Coffee buys about 20 percent of the entire Kona crop, according to Dinell. "The mill helps us control and ensure we have a continuous supply of a scarce resource," he explains. "The entire Kona crop is about 3 million pounds of green beans annually. By comparison, Brazil by itself produces 6 billion pounds of coffee and is the largest producer of coffee in the world."
Because there are always challenges in the supply chain, Hawaii Coffee says that its great partnerships with suppliers are key to its success as a global company. "I use the word 'partner' because if you look at suppliers as vendors, you don't have much of a relationship," Dinell explains. "Partners know each other's business and are there when you have that special request. The supply chain is critical and having great partners who are suppliers is essential. And this is where Aloha begins."
Hawaii Coffee develops and maintains its supplier partnerships through constant contact and ensures it has frequent opportunities to meet in person. "I make sure to start the conversation by asking them what we should be doing and if they are happy with things," Dinell says. "I also ask them what suggestions they have to improve. It is only through that communication will you stay on top of trends and the latest innovations. And, it's a key part of doing business in Hawaii. That's why it's called the Aloha State."
Tackling Trends
Hawaii Coffee prides itself on innovation and experimentation with new flavors and blends. The company will soon be launching a mango and kiwi flavored tea for its Hawaiian Island Teas brand. "The trend in the food industry is all about continual innovation," Dinell adds.
This flavor innovation has extended to the company's coffee lines as well. While vanilla macadamia nut remains the company's No. 1 flavored coffee, it continues to meet consumer demand with new flavors. "It's important that we are meeting the customers' needs," Dinell says. "There are some coffee aficionados who look down on flavored coffee and my response is that we do it because people like it. We offer both flavored and unflavored coffees."
The company also added four antioxidant-rich coffees to LION Coffee. Kona coffee beans are grown inside a cherry that is normally discarded with the skin to reveal the bean inside. "We have taken the skin, which is rich in antioxidants, made a juice out of it, roasted the coffee and then flavored it with the extract," Dinell explains. "The end-result is a great cup of coffee that's rich in antioxidants so you can drink your coffee and feel extra good about it, too."
As customers continue to be more interested in individualizing their coffee experience, Dinell says there is an increased demand for fresh and craft coffee. Consumers want to know where their coffee is from and are experimenting with craft coffee at home. "People experience it in the café and move it into their house," he explains. "My parent's generation bought coffee in a can and didn't care where it came from. Today we are buying coffee in air-tight bags with a one-way air valve back-flushed with Nitrogen to keep it fresh."
And of course, company innovation extends into the digital world, as the full line of Hawaii Coffee products has been available for online purchase at HawaiiCoffeeCompany.com since 1997. "We ship our products to consumers all over the world, and I get a kick out of thinking about that consumer in Abu Dhabi enjoying a taste of paradise all thanks to the Internet," Dinell adds. "It's all about engagement and service to our customers. We are always focused on getting better. This is a company always on the move."
Working Smart
To embody the brand, every one of Hawaii Coffee's more than 100 employees take "Coffee 101" to learn what makes LION, Royal Kona, and Royal Hawaiian coffees distinctive, and how to describe the taste and the roasting process. The company's goal is to not only engage its employees, but also its customers and the community. "If we focus on customers, work collaboratively, and support the community, financial results will follow," Dinell notes. "It's a simple business philosophy and one that has proven to be successful."
"We need a common understanding of our product and to have a passion for coffee," Dinell says. "On the public side, we offer free tours of our Oahu facility, and our mill in Kona is open 365 days a year. Hawaii is blessed with seven million visitors a year to the state who are always looking for something to do. We have lots of fans who get excited about the tours and love coffee."
Hawaii Coffee's motto is to "work hard and do the right thing," which means working smart, supporting each other and listening to its customers. "We do everything with honesty and integrity," Dinell says. "It is my vision to get the company culture right and great things will happen. Sounds like Aloha to us. And we'll drink to that."