Hawaiian Island Kona Coffee Co. and Hawaiian Isles Water Co. pride themselves on authenticity as well as taste.
For many food brands, "Hawaiian" is more of a marketing label than an actual indicator of a product's origins. Hawaiian Isles Kona Coffee Co. and Hawaiian Isles Water Co., however, do not use the name or imagery of the 50th state in vain.
"Many 'Hawaiian' products are actually made in other parts of the world, but we are truly Hawaiian," says Glenn Boulware, vice president/COO of the Honolulu-based beverage manufacturers and distributor. "We feel that we are a real and authentic brand."
Boulware represents the second generation of Hawaii-born leadership at Hawaiian Isles, founded by his father Michael in 1981 as a vending business. The vending company, which would later diversify into office coffee vending and foodservice distribution, decided to create its own brand of coffee as an alternative to the mainland-based brand it was providing.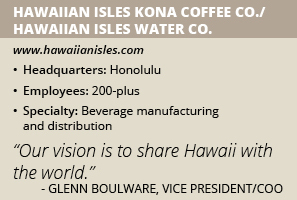 Michael Boulware was inspired by Hawaii's reputation for Kona coffee, made from beans cultivated in the Kona districts of the state's "Big Island." While renowned for its flavor, pure Kona coffee is also one of the most expensive coffees in the world. Boulware developed a coffee blend that includes Kona beans as well as other varieties. "My father wanted to create a local brand that had the taste of Kona coffee, but without its high price," Glenn Boulware says. "He wanted a coffee that your average local person could drink."
The Hawaiian Isles Kona Coffee Co. was joined in the 1990s by its sister brand, Hawaiian Isles Water Co., as an effort by Michael Boulware to "get ahead of" the bottled water market, which was greatly expanding at the time, his son says. Today, the water and coffee brands are the best-selling brands of their kind in the country. In addition, case packs of Hawaiian Isles Water are the top-selling retail items at Walmart stores in Hawaii, Boulware notes. The brand was recently named Hawaii's best coffee brand for 2016 from the Star Advertiser newspaper based on reader votes.
In 2012, Hawaiian Isles Kona Coffee Co. expanded to the mainland United States, with 300 mostly West Coast-based grocery stores carrying the brand. The brand has since expanded to more than 2,000 grocery stores as well as national accounts. Hawaiian Isles Kona Coffee Co. is also one of the top five coffee brands available in U.S. Armed Forces commissaries. "A lot of people have really taken to our product, and we have a lot of great retail partners," Boulware adds.
Both Hawaiian Isles brands are looking to expand their presence across the country. "Our vision is to share Hawaii with the world," Boulware says.
Making the Right Decisions
Hawaiian Isles Kona Coffee Co. coffee is available in bags ranging in size from 1.75 ounces up to 5 pounds. The company a few years ago introduced single-serve cups that are compatible for use in Keurig machines. "Introducing that product brought us the coffee shop customer," Boulware says. "The single-serve cup is very convenient, clean and easy, and you get almost a better cup of coffee than [other brewing methods.] It really has a lot of upside."
The company roasts its coffee beans and packages all sizes of its coffee in-house. Hawaiian Isles Water Co. also bottles its products in an on-site bottle facility. Both the water and coffee brands are distributed locally by the companies, with a third-party company handling mainland distribution.
Hawaiian Isles Water Co. recently moved into a new bottling facility. The company routinely new equipment such as blow molding, shrink wrapping and cap and label machines. "We try to vertically integrate as much as we can," Boulware says.
Controlling its own packaging process helps the company keep costs under control. "Water is very price-driven – you have to be very conscious of every single piece of material you use in your package," he adds. "As a manufacturer and distributor, you have to have your operation down perfect, and run everything as tightly as you can, because we operate on thin margins."
Hawaiian Isles Kona Coffee Co. and Hawaiian Isles Water Co. both use enterprise resourcing planning (ERP) and other systems in its operation. "We're looking to become more information and data-driven," Boulware says. "We have a couple hundred people who work for us across the country; while we're not huge, we still need to have the right information technology in place to help us make better business decisions everyday."