Hay Creek Hotels looks for uniqueness and individuality in its hotels and restaurants.
Hay Creek Hotels President and CEO Norman MacLeod is a very busy man these days. The hospitality company he founded in 2005 had just opened or assumed management of three hotels in July: The Hotel Landing in Wayzata, Minn.; The Brunswick Hotel & Tavern in Brunswick, Maine and Blantyre, a legendary Berkshires Forbes Five Star rated hotel nestled in Lenox, Mass. "It has been a busy start to the summer," MacLeod says.
The new hotels will join an impressive roster of hotels and restaurants already under management. And if you have never heard of some of the towns they are in, that is just fine with MacLeod. "We are not currently in the major markets of the world," MacLeod explains. "What we aim to do instead is to find properties that will be the best in their respective markets. The right property in primary markets will come."
At first glance, there seems to be no rhyme or reason to where a new property may crop up, but MacLeod notes there are strategic long-term plans in place to expand the Hay Creek portfolio. "Having been involved with a lot of major hotel chains, I really wanted to be sure that we grew intelligently," MacLeod notes. "We have created what I refer to as 'pods,' so we have a group of hotels in New England, then we started one in the mid-Atlantic, one in the South and the next pod will be in the Midwest with the opening of The Landing Hotel in Wayzata, Minnesota ."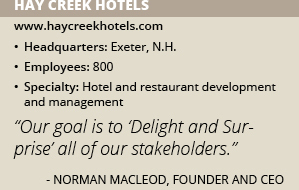 Those pods are essentially clusters of hotels in a geographic area, and are far enough apart so as not to compete with each other. The hotels themselves offer an intimate lodging experience, typically with 35 to 225 guest rooms overall. The idea is to offer all of the amenities found in a luxury hotel, combined with world-class cuisine while providing personalized service in a more intimate environment – all while being the market share leader. And though there are no specifics yet, MacLeod is in discussions with starting another "pod" in California and other parts of the West Coast as its Midwest division takes hold.
Opportunistic Assets
Although the individual hotels and restaurants that Hay Creek operate might not have much in common themselves (aside from the highest quality product and service in each respective market), there are some underlying themes to MacLeod's approach to finding that next venue. First and foremost is that the restaurant within the hotel must be recognized as its own standalone entity. "We will be successful only if everyone knows the restaurant," MacLeod explains. "We take great pride in making sure we understand the needs of the local community – both in price point and what they want in terms of experience. We build local relationships and loyalty within the community through the stomachs of our guest."
In other words, patrons of a hotel's restaurant would see other members of the community and not just travelers. A classic example of this is the Exeter Inn in Hay Creek's hometown of Exeter, N.H. The hotel features the well-known Epoch Restaurant & Bar, which has attained critical success with distinctive and creative New England cuisine as well as internationally inspired dishes. "Our restaurants are really freestanding independent restaurants," MacLeod explains. " We are the anti-hotel restaurants."
Given MacLeod's background, the restaurant-first mentality is somewhat surprising, but it is hard to argue with its success. MacLeod has worked every job from night watchman to executive vice president of Sheraton and Westin Hotels & Resorts. But his experience has led to another unique approach: the identifying and acquiring of small, underperforming independent hotels and resorts, then renovating and repositioning them as brand-new, well-managed upscale properties. "We like to find underperforming assets that haven't been able to succeed," MacLeod explains. "And then reposition them and come out the other side."
"A big piece of what we do is celebrate the uniqueness and individuality of these properties," MacLeod continues. "These are very special buildings, often times historic, in the communities they are in, and many are the predominant building in their location."
Nurturing Growth
Hay Creek has developed a winning formula, but MacLeod says he does not have any visions of an overly expansive chain. "We have no desire to run around and put dots on a map," MacLeod explains. "We are just looking for good opportunities and to have some fun in creating something special."
It is easier to have fun when everyone on board is passionate about what they do, and that is the case with Hay Creek. "We are all hotel and restaurant people," MacLeod attests. "For us, it is the only thing we have done, which means we understand all of the intricacies in running these very unique properties."
And similar to many hotel and restaurant chains, Hay Creek is not immune to the daily difficulties of finding long-term, qualified employees. "It's the No. 1 challenge for our industry and in general," MacLeod explains. "We spend a lot of time trying to attract the right kind of person and then developing them and treating them with respect so they will stay with us."
Finding and nurturing the right person has led to tremendous growth for Hay Creek – with this summer's openings, the group is now up to 18 different properties under management and several more in the development stage. And the passion of Hay Creek's employees ensures guests continue to come across something special in the industry, and in unique locations. "One of the things that helps this come together is our mission statement," MacLeod says. "We aim to 'Delight and Surprise' all of our stakeholders."