Florida-based Healthy Beverages launches COCO Cocktail as the industry's first nutritious alcoholic beverage.
Entrepreneurs and self-proclaimed risk takers Franz Tudor (FT) and Todd Shull (TS) are determined to change the future of alcohol. The co-founders of Fort Lauderdale, Fla.-based Healthy Beverages LLC recently launched COCO Cocktail, which they claim is the world's first nutritious alcoholic beverage.
Q: Changing the future of the alcohol is a bold claim, what gives you the confidence?
FT: It's not from our years of experience. The confidence comes from the innovation and superiority the product represents; we know we have something special. Neither Todd nor I have prior experience in the consumer goods industry. I have spent over 20 years as a business development consultant to medical device and biotech companies and Todd has over 15 years in the financial industry. We stumbled into a great product and now it is up to us to be the management team who makes a great product an iconic brand.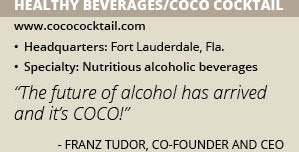 Q: From the name, I assume coconut plays a key role?
TS: COCO Cocktail is spiked sparkling coconut water. Approximately 70 percent of each can is coconut water. Franz called me one day after reading articles on the benefits of coconut water and people drinking it to cure hangovers. Training in the South Florida heat, I told him we drank it all the time to hydrate; it's more effective than Gatorade. Franz started talking about how he had already done the research and there was no reason why coconut water, juices and 'super fruits' couldn't be combined to replenish the vitamins and minerals depleted by alcohol. Let's make the first nutritious alcohol, he said. I thought it was so genius in how it was so simple and am still stunned no one had tried before. It's amazing to see how far we have come from a single 30-minute phone call.
Q: How can you legally say COCO Cocktail is nutritious?
FT: We learned the hard way and our inexperience caught up with us. Our first product offering was malt based and when submitting our COLA's to the TTB we were informed that it was illegal to include a complete nutritional panel on the packaging. All packaging had to be redesigned and our first offering launched without the ability to display any of its key attributes. We were handcuffed in our marketing message.
TS: It doesn't make sense that alcoholic beverages are one of the only food or beverage products not required to list all ingredients or nutritional information on the packaging. Our first offering wasn't gluten free and felt our label was incomplete. Making the switch to OTS Orange Peel Alcohol from malt allowed us to claim gluten-free, but also shifted us to the regulations of the FDA as a low abv wine instead of by the TTB.
FT: This removed the handcuffs. Not only does the FDA permit the inclusion of nutritional information on packaging for wine coolers, but also allows for the claims "Excellent" and "Good" if certain recommended daily allowances for vitamins and minerals are achieved. The claim, 'COCO Cocktail an Excellent Source of Vitamins & Minerals,' is in full compliance with federal and state regulations. We are very proud of our label.
Q: You say it's nutritious, but how does it taste?
TS: We learned early that regardless of the product attributes, taste is the only determining consumer factor. I have done over 300 in-store demonstrations and there are phrases you never want to hear; "that's interesting," "what is that" or "that could take some getting used to." You may as well pack up and leave the store. Our lemon and key lime tastes just like a fresh squeezed juice. Try our pomegranate, blueberry and raspberry side by side with a POM Wonderful. Simply amazing.
FT: We tried to create the cleanest drinking experience for the consumer using only all-natural, non-gmo and gluten-free ingredients. Always asking ourselves the same question, would we put this in our body?
Q: So what are consumers putting in their bodies when they drink a COCO Cocktail?
FT: The coconut taste in COCO Cocktail is very faint. Whether you're a fan of coconut water or not, the all-natural juices and "super fruits" enhance not just the vitamin content, but the flavor as well. Nothing synthetic and the consumer isn't left with the taste of artificial sweeteners or syrups, just crisp and clean juice. We receive a lot of consumer feedback as to how they don't feel dehydrated and lethargic the day after a night out.
Q: So are you claiming there are no hangovers?
FT: As we have not conducted clinical studies, we are not allowed to make health claims including curing or preventing hangovers. I can say, our coconut water from India is rich in hydrating nutrients including potassium and magnesium. Alcohol depletes key vitamins, leaving consumers feeling sluggish and the fruits in COCO Cocktail simply replace them. We are not saying it is healthy to drink alcohol, but if you do why not make the nutritious and delicious choice?
Q: You have called COCO Cocktail the "future of alcohol." How will your product revolutionize the market?
FT: The market will always be dictated by the consumer. There are approximately 10 million Americans and growing on the keto, paleo or gluten-free diets. Consumers can easily find a nutritious non-alcoholic beverage, but have a harder time finding the same in their local beer cooler. First light beer, then ciders and now spike seltzers all driven by some dietary trend. If you're vegan, try a COCO, gluten-free try a COCO or if you are out having a good time with friends and want to watch what you drink and still have a good time, try a COCO. Even as a mixer with your favorite spirit, try a COCO.
TS: Bethenny Frankel did a phenomenal job with Skinnygirl, demonstrating there is a market for alcohol consumers who are calorie and carb conscious. Even more recently, the market for low calorie and low-carb spiked seltzers has gone from 0 to 20 million cases annually in a blink. Q: What are some of the challenges you have faced or foresee?
TS: One thing we did not understand or appreciate when we entered the alcohol industry was the difficulty in securing distribution. This has been the greatest challenge. We recently added some amazing distributors and are actively pursuing additional states including California, Nevada, Arizona and Alabama. There are also a number of potential international opportunities currently under review. The world recognizes the benefits of coconut water; it's not just a U.S. trend.
FT: We know we are new and small and our next greatest challenge is managing growth. That includes people and financial resources. We have and continue to learn this industry on the fly, making plenty of mistakes. With certainty I can say there are more awaiting us. What we will not do is make the same mistake twice.
Q: Where is COCO Cocktail currently available?
TS: Currently available in Florida, Austin, Texas, Massachusetts, Rhode Island, Ohio, Indiana, Ashville, N.C., and Oklahoma. Retail authorizations include Whole Foods, HEB, Total Wine and ABC Fine Wine & Spirits.
FT: COCO Cocktail POWER and REFRESH are each sold as four packs of 12-ounce sleek cans with a suggested retail price of $9.99, but ranges from $8.99 to $10.99.
Q: What does the future hold for Healthy Beverages?
FT: After years of perfecting our liquid and packaging, we are finally ready to introduce COCO Cocktail to the world. We have a line of non-alcoholic products in the pipeline, but changing the future of one industry is enough to keep us busy and focused today.