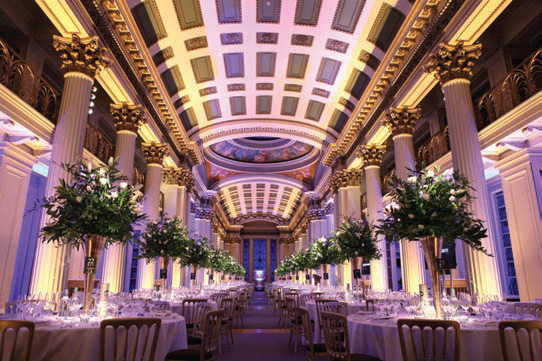 Proud traditions
By carving out its own unique niche in the culinary market Heritage Portfolio has grown to become one of Great Britain's most prestigious catering services
A passion for food defines Mark Miller, Founder and Director of Heritage Portfolio Ltd (HPL) – one of Great Britain's leading high-end caterers. An entrepreneur in the truest sense, Mark founded Portfolio Catering in his mother's kitchen back in 1993 and over the years that followed has served clients that included World Cup Cricket venues and the Sultan of Brunei. In 2003, the business merged with Heritage Hospitality to form what is today renowned for its innovative and creative menus as Heritage Portfolio. Based in Edinburgh, the company at this point was looking after a number of prolific Edinburgh venues including the Palace of Holyroodhouse and the National Museums of Scotland.
In 2013, the business took its place amongst the UK's elite by becoming one of only three caterers (and the only in Scotland) to be granted the Royal Warrant by Queen Elizabeth II for services to catering, distinguishing its unfaltering attention to quality and service. In 2014 it was approached by American hospitality group Centreplate to acquire the business, giving HPL the freedom to continue its own niche with the investment backing to expand even further. Today, thanks to the hard work and dedication of over 200 permanentstaff, the company is implementing a new growth strategy to cross outside of Scotland into England. Yet, whilst its geographical spread might be changing its attention to detail and fine quality food remains very much the same.
"The business can be split into two key disciplines," outlines Mark. "The first is destination cafes, so restaurantcafé style operations within visitor attractions. Our skill here is to create an offer that complements the client's overall strategy, whilst at the same time ensuring that it shares the common values that permeate throughout the business. Central to these is that all our food is made from scratch. From bread to pesto, we try to cook everything in the venue's kitchens from raw ingredients. The other avenue is in catering for special events at heritage properties, which we define
as being castles, palaces, stately homes and other buildings of distinction, where our hallmark for quality and detail is perfectly suited."
Crossing the border
Food undoubtedly takes centre stage within HPL and key to upholding this for more than a decade is award-winning Executive Development Chef, Brian Canale who has trained with some of Europe's most revered chefs and worked in some of the UK's most prestigious and exclusive restaurants. Keen to challenge himself, Brian, a former Scottish Chef of the Year, joined the company with the mission to change the perception that event catering couldn't meet restaurant quality levels. During his time at the company he has injected his passion for authentic flavours, which let natural ingredients speak for themselves, and created a range of innovative menus that now define Heritage Portfolio's offering.
With the backing of Centerplate and its leading reputation in Scotland, 2016 marks a significant milestone for HPL as it crosses the border into the English market. "Because we are very focused on quality, service and the strong relationships that we have formed, we have always kept to quite a tight geographical area," Mark says. "However, as we have grown and become more robust and sophisticated we have always seen an opportunity for expansion and with the investment potential of Centerplate we now have the chance to develop this strategy. Whilst we do this, however, it is vital that we retain our high-end niche so it is important to find those areas of the country where there are clusters of heritage properties and a suitable demographic profile that is looking for our style of offer."
Prestigious platform
In March 2016, HPL announced two successful wins in England: the worldrecord breaking British Airways i360 in Brighton and the historic Arley Hall and Gardens in Northwhich, Cheshire. In Brighton, Brian will be working with Centerplate's Director of Culinary Operations, Terry Price and Steven Edwards – winner of MasterChef: The Professionals – to develop signature dishes for the venue. Opening this summer, the contract will include the catering management of a 400 seat brassiere and 50-500 capacity event room at the base of the 162 metre moving observation tower plus a reconstructed 18th century toll booth tea room on the beach's promenade.
In Cheshire, HPL has installed an in-house team to manage all event bookings and event design for weddings, private dinners and receptions. It has created The Gardener's Kitchen, which is a new café to serve exquisite 'made from scratch' menus to garden visitors. "At both venues we will be building local teams with the flexibility that such unique and special locations will need, whilst maintaining the quality and traditions that we at Heritage Portfolio are proud of," highlights Mark.
Following it's ethos to be open, honest and proud, Heritage Portfolio has built itself a truly prestigious platform from which it has been able to serve top quality food to a whole host of highend guests. As far as the future is concerned, Mark has his focus trained keenly on developing the English market and is open to new opportunities to grow as and when they present themselves. "We will continue to look at what people like and what they want, to see where and in what direction we can head," he says. "However, the service and quality we provide will remain the same. We have become known for setting trends in the industry so as long as we ensure the resources are in place to continue this and keep people excited then I am confident that we will have a business to be proud of long into the future."