Continuing its focus on sustainability and natural menus, HERO Certified Burgers is expanding its concept into other operators' kitchens.
HERO Certified Burgers shines in its simplicity. When it got started about 15 years ago, Founder and CEO John F. Lettieri wanted an Angus burger with a slice of real cheese – healthier options – but couldn't find this outside of high-end restaurants and hotels. This desire resulted in HERO Certified Burgers, which aims to provide real, wholesome food raised in a sustainable fashion. Today, as these values are more popular in the foodservice industry, Lettieri continues to innovate to grow the HERO brand while ensuring profitability for partners and franchisees.
"I saw the opportunity to develop here in Canada what I saw was going on in Europe – high standards of food that had no extra hormones and was clean and sustainable," Lettieri explains. "I wanted customers to understand where the food comes from, and now the rest of the industry has caught up to speed. People are looking for better, more sustainable food, and that is what we base our business around. It was pioneering 15 years ago, but now it is part of the norm."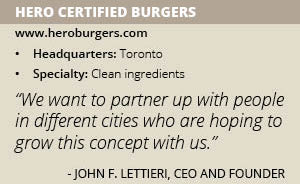 The company already uses all-natural cheese and beef products that are free from hormones and antibiotics, but it also is reducing sugars, sourcing vegetables that are non-GMO, developing all-natural pizzas, and adding high-quality Alaskan salmon and halal chicken to its menu. When going into different markets, HERO works with local farmers to understand how they raise their animals and what their sustainability profile includes, and HERO implements a traceability program. HERO's sustainability programs include the packaging it uses and its approach to waste management.
"We are working to increase the clean ingredients in the food on our menus," Lettieri stresses.
Foodservice Support
The clean, sustainable and all-natural focus is important to HERO's core values and always will be, but the company continues to innovate to distinguish itself in exciting ways. With the introduction of HERO Certified Virtual Kitchen, the company brings new franchising opportunities to the market and empowers local restaurant owners, caterers and franchises to increase revenue without additional labor or rent.
"We did an extensive study for the past year-and-a-half on the foodservice industry," Lettieri says. "We saw an opportunity to have our food in someone else's restaurant – people can get our food when they are requesting it through a delivery app. Rather than the third-party delivery people having to go from restaurant to restaurant, they just have to go to one place to get our food and other food."
With his experience building HERO Certified Burgers, Lettieri saw the high costs of restaurant ownership, and this made him realize there had to be another way. At the same time, the ongoing increase of third-party delivery options made the virtual kitchen idea viable. Additionally, it was attractive to restaurant owners who had to deal with the costs of brick-and-mortar establishments while keeping current with the growing demand of delivery from consumers.
"This concept allows us to grow our business with more partners," Lettieri says. "Franchisees also can grow because with our product they can grow as a restaurant, caterer, offer delivery and more."
Not only does HERO expand its own business with the Virtual Kitchen, this concept supports the entire foodservice industry with the same staunch focus on quality HERO has maintained throughout its history. Existing foodservice operators don't have to make any investments other than buying the HERO food – they can use their current staff and industrial kitchen equipment in their own restaurant. The brands can more easily adapt to new dining trends and evolving consumer preferences, while still growing their operations. With HERO as a partner, operators have access to a premium brand and a proven menu.
Those who may be interested can contact HERO, submit an application and HERO will make sure they meet its strict quality standards – primarily that their business is clean and the owners know how to operate successfully in a high-quality manner. Next, HERO works with its partners on how to build their businesses. It helps them determine if they should expand into offerings such as a hot lunch program for schools, catering, late-night service or all of the above. If the operator decides they don't want to do this anymore, they don't have to.
"Let's say you own a diner," Lettieri says. "It takes nothing to get involved, and all you have to do is deliver your first order. You got through a pre-approval process and we set them up with the supplies they need for our menu. We want them to learn who I am and what I'm about so they know it's a partnership. We charge a fee plus royalties, and the diner is increasing its gross sales and taking that margin for themselves. Franchisees can grow by having our product and expand however they want."
HERO is based in Toronto and primarily operates around the GTA, but Lettieri is open to expanding further. When HERO opened a location in New York City, he noticed that 15 percent of its sales was in delivery through third-party apps. Lettieri realized he could have given all of that delivery business to the pizzeria next door and easily expand that way. Now, he hopes more foodservice operators understand the ease of this, as well as the potential for additional profits.
"We want to partner up with people in different cities who are hoping to grow this concept with us," he says. "We are primarily focused on existing businesses because they already have customers, but if they qualify, we will look at them. We are the first and only people who are taking our HERO product and concept to a third party, but it's a sustainable program. I'm giving them my delivery business because I am supportive of the competitor and the entire industry."