Sourcing sustainably raised food and operating in a sustainable fashion have helped Hero Certified Burgers carve out a pioneering legacy.
Founded in 2003, Hero Certified Burgers is not your average quick-service restaurant franchise chain. Based in Canada and mainly operating in southern Ontario, Hero Certified Burgers stands out as the first Canadian fast-food franchise committed to using sustainably sourced food products.
Today, Hero Certified Burgers has grown to include 55 locations in Ontario. The company has also expanded into the United States, opening its first location in Buffalo, N.Y., in 2015.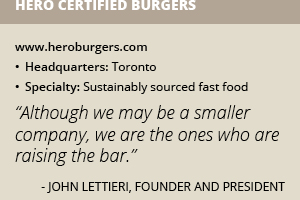 "We are building another three stores this year, and we are growing through a franchise model," founder and President John Lettieri says. "Although we are heavily in southern Ontario, we are interested in western Canada for expansion opportunities as well as concentrating on the northeast U.S. for continued growth."
Driving Philosophy
What has defined the company from the beginning is its belief in using food that was raised in a sustainable manner. The company sources only naturally raised beef, serving all-natural 100 percent Canadian Angus beef from cattle raised in a free range environment and grass-fed without hormones or antibiotics.
As the company has diversified its menu to satisfy a wider audience, that philosophy of sustainability has extended throughout its product offerings. Its menu today includes everything from hamburgers and veggie burgers to poultry and wild Alaskan salmon sandwiches. It also offers poutine, Ontario-grown greenhouse tomatoes, gluten-free food options and real cheese, and it has used some non-GMO food items, such as tomatoes, Portobello mushrooms and pickles.
"Our focus is on continuing to work toward more of a clean platform for our food, such as by working diligently to bring on more GMO-free products," Lettieri says.
In all areas, Hero Certified Burgers is focused on full traceability, providing public information on the ranchers and farmers that it works with. This is all part of the company's effort to live up to its farm-to-table philosophy.
"The all-natural, antibiotic-free, hormone-free and sustainable elements have always been what set us apart," Lettieri says. "Our beef is traceable back to our ranchers. We believe in animal welfare and working with the right ranchers, and that has been the basis of our food platform."
But sustainability doesn't end there for Hero Certified Burgers. The company was also the first Canadian chain to use a new type of packaging that is produced from 100 percent post-industrial/post-consumer recycled paper. In addition, Hero Certified Burgers has included sustainable elements in its store design and operations, such as LED lighting, non-toxic cleaning products and reclaimed wood.
"We've also designed a lean physical store footprint to help us operate sustainably," Lettieri says.
More to Come
At present, Hero Certified Burgers is moving ahead with its growth plans. To assist in this process, it is taking advantage of technology. For example, it recently began utilizing Skype to facilitate strategic discussions with franchisees. This is an important part of the company's efforts to assist its franchisees and learn lessons from them.
"We want our franchisees to understand our approach to food," Lettieri says. "They have to be engaged in understanding how to deliver the product, and they must understand their community. We provide them with a three-week training program in a classroom environment here at our headquarters, and our online knowledge center provides them with support in many areas. Then, by bringing them into the office or meeting with them on Skype, we can make sure we are all on same page."
Other pieces of its growth plan will focus on marketing. The company is investing in locally focused advertising efforts, such as putting up billboards and promoting new product launches.
In addition, Hero Certified Burgers is moving ahead with its expansion plans. Lettieri says the company's goal is to increase the system's size by about 10 percent – or five to seven stores – per year.
"Our goal is steady growth," Lettieri says. "We've had a big push over the last few years in southern Ontario, and now we can be more selective. We want to develop new territories and foster organic growth in the system."
As it is opening up new stores, the company is also investing in equipment to speed up service. "It can take a little longer to prepare our food, so we are looking to increase volume at our stores by making adjustments in the kitchen and allowing us to deliver products faster," Lettieri says.
But what will ultimately continue to define Hero Certified Burgers is the quality of its food. The company is continuing to invest in product development, introducing limited-time-offer products that can become menu staples depending on sales.
"This year we partnered with Ace Bakery for an all-natural bread selection," Lettieri says. "At this point, we have any protein you could ask for, so I see us doing more to make people aware of what we already have instead of adding a lot of new products."
Having pioneered the sustainable approach to fast food, Hero Certified Burgers knows that other players in the market are starting to play catch-up. As more consumers become interested in and educated about sustainable food production, the trend continues to grow and become more mainstream.
"There is more competition now, and more of the larger players are getting into it," Lettieri says. "We see it is becoming more of the norm and less of a specialty. Although we may be a smaller company, we are the ones who are raising the bar, and our next focus will be on doing more to go GMO-free."