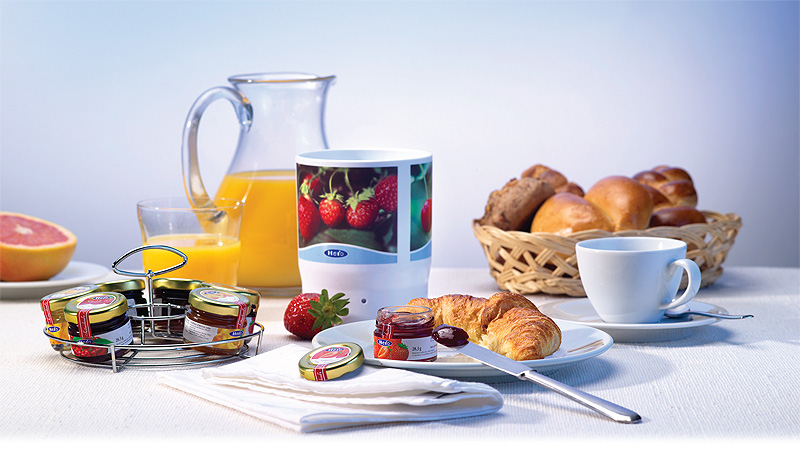 Preserving tradition
With a major new investment set to increase its market presence Hero Switzerland is staying true to its innovative tradition
The Hero brand was established in Lenzburg, Switzerland in 1886 with the aim of making fruit and vegetables last longer without losing flavour. The company soon grew into a leading food manufacturer specialising in convenience foods and jams. In 1995 Dr Arend Oetker acquired the majority shareholding in the group and since then Hero has grown into a major international group focusing on the core categories of fruit and infant nutrition. The Hero Group employs approximately 4000 personnel in more than 30 countries, with an export network of 50 countries worldwide and a turn over close to two billion CHF.


Richard Werder, general manager of Hero Switzerland, elaborates on the company's product range: "Traditionally the convenience food sector has been a huge stake in the business such as canned vegetables, tomato products and our famous ravioli and rosti products. Our cereal bar range, Corny, is an important part of the Swiss operation and of course we share the group's core categories of fruit and infant nutrition. One of our key areas of expertise is our jams which are known all over the world."
Hero Switzerland has a long history in the Swiss marketplace, with next year marking its 125th anniversary. Richard explains why the company has been so successful: "Hero was one of the pioneers of tinned production and has always understood customer needs. We are a household name in Switzerland and our commitment to quality means customers know that if they buy Hero products they're getting the best. We also offer one of the widest range of jams of any of our competitors, as well as regular jam our range includes a light jam with fewer calories, a smooth jam with no fruit pieces and kernels and also three fair-trade products."
One area Hero Switzerland is becoming increasingly known for is its individual jam servings for the foodservice and hospitality industries. These are produced in aluminium portions or miniature glass jars. Hero Switzerland's jam portions can be found across the world, including on a number of major airlines. The company also provides portions to four and five-star hotels globally, recently finalising a deal with one of the top hotel groups worldwide.
Currently Hero Switzerland is in the process of building a new factory in Lenzburg, which will act as an international competence centre for jams with a focus on individual portions. Approximately 35 million CHF has been invested in the facility, which will be operational from the first quarter of 2011 and capable of producing 350 million jam portions a year. Thomas Sprenger, head of foodservice business unit at Hero Switzerland, elaborates on the jam portion market: "In Switzerland there is a very high percentage of jam portions in the foodservice industry, but if you look outside of Switzerland this is much lower. Across the world, establishments such as hotels and hospitals will often buy in big pails of jam, which they will then serve in small portions 26to clients, or in glass jars for clients to help themselves. Hero is the market leader in the Swiss foodservice sector for jam with a market share of more than 70 per cent, which reflects the quality of our product."
As well as the competence centre, the new facility will house the headquarters of the group. The Hero Group has two other competence centres in Europe – one for infant nutrition and one for fruit. This network means that the group can share its knowledge and experiences to the benefit of its individual companies. In order to focus on its core competence, Hero Switzerland has outsourced the logistics to a strong partner: Galliker Transport & Logistics.
Hero Switzerland is a member of the Swiss Convenience Food Association (SCFA), a group for manufacturers of convenience products including chilled and frozen foods. Richard describes the benefits of being part of the SCFA: "It's important for us to be able to exchange our needs and experiences and we receive support in other areas such as importing and exporting. A hot topic at the moment is what kind of products can be called Swiss made, which obviously could affect us, as a Swiss company. Being part of the SCFA means we keep up to date with issues like this."
Although Hero Switzerland, and the Hero Group, remained fairly secure during the recent economic crisis, it still faces the challenges of operating within such a concentrated market. Richards highlights the current conditions: "The marketplace is currently quite tough, as many retailers have their own brands which we have to compete against but there is a kind of co-existence beside these private label products. We see a number of chances for growth particularly in the jam category, as that is our key competency and we have excellent technologies and quality in this area."
In terms of the future Hero Switzerland is looking to strengthen its current position locally, as well as grow its brand presence in other competitive markets such as the UK. Richard concludes with the company's vision for the next five years: "We want to have an even stronger position in jams in the Swiss retail channels and to also expand our infant nutrition and cereal bar market shares. Naturally we want to maintain our share in the traditional convenience tinned products. As well as retail we have a strong line in the Swiss foodservice industry and within this sector we believe there are opportunities for growth whilst providing a reliable and successful partnership service."