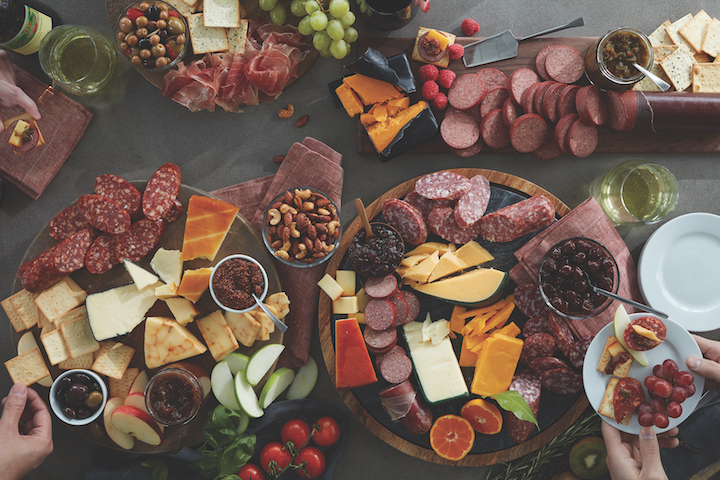 Hickory Farms has refreshed its brand and broadened its product offering, while maintaining its dedication to quality.
It doesn't have to be a holiday or someone's birthday, giving a gift is a great way to show appreciation for a person. Whether you're heading to a small gathering of friends or a large family get-together, it's nice to bring a gift. It's even better when the gift is effortless and represents a high level of quality. Hickory Farms has been part of gift giving since 1951, and because it is known by generations for its ease, taste and quality the company is dedicated to remaining a gifting leader for the long term.
Based in Chicago, Hickory Farms takes pride in "connecting people through effortless gifting." Since its inception, the company has been a leading retailer of food gifts and specialty foods available online, in catalogs and in leading mass merchants, supermarkets and more than 500 seasonal retail shopping locations throughout North America. Once known as a holiday food gifter, Hickory Farms is now a one-stop shop for every occasion throughout the year. This is even more true now, as the company continues to expand with new products and a focus on meeting the needs of today's consumer.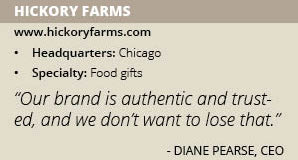 "Our brand is authentic and trusted, and we don't want to lose that," CEO Diane Pearse says. "Our overall vision is to be the best retailer in the food gifting space, and that means we want to be the first place people think to come when they are giving a food gift, anytime of the year.
'A Special Time'
Providing "effortless gifting" is part of Hickory Farm's brand refresh, but it's doing even more than that. Hickory Farms created a more contemporary logo with new typography and brighter colors, and much of its packaging has a basket-weave design to evoke feelings of gift baskets, not just boxes. The company also conducted extensive consumer research, which showed that people trust the brand and look to it for great-tasting products, while also wanting more premium goods and impressive packaging.
"We wanted to know what the brand meant to people, and that's how we decided to refresh," Pearse says. "The feedback we received was that we had permission to change, so we made the brand a bit more modern and moved into new categories."
This includes leaning heavily into new categories outside the core summer sausage and cheese, like chocolate, she says, and notes "I would put our chocolate against anyone's in a blind taste test." The chocolate line includes milk chocolate sea salt caramels, dark chocolate peanut butter meltaways, toffee bark and chocolate-covered strawberries.
Hickory Farms has also gotten into gift baskets with wine.  "The selection wine in each gift has been perfectly curated to match the products we're offering, Pearse says. We also have steaks and gourmet meats, including a beautiful line of impressive fillets and other cuts of meat. Now, people can give a gift of a fine dining experience at home. There are side dishes that go along with it and wine, so we really are a one-stop destination for food gifting."
With its online presence, Hickory Farms constantly gets feedback from consumers and can continuously evolve to meet their needs. The company also is targeting times of year that aren't the year-end holidays, introducing catalogs for Valentine's Day, Father's Day and spring, to which consumers have responded well. Pearse stresses the culture of Hickory Farms and its "terrific team" will keep the brand going strong.
"We are at a very interesting time in the brand's history – I like to say we are a 68-year-old startup," she says. "We've been around for 68 years, so we already have a known brand, with a loyal following and we are profitable, but because we're doing so much to reinvent every aspect of the business, there's all the excitement of a startup."