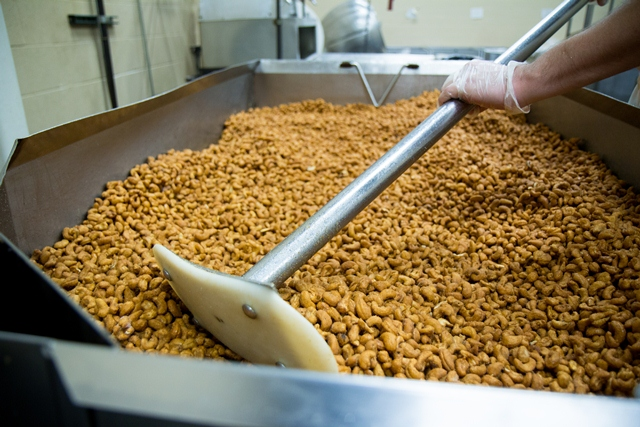 As demand rises for better-for-you products, Hickory Harvest Foods responds by switching to an all organic oil manufacturing process and expanding its product lines. The company continues to deliver healthy and gourmet snacks its customers desire, while gaining further name recognition in the industry.
"There's been an added focus on manufacturing and specialty packaging for more all-natural and organic products," Vice President of Sales and Marketing Mike Swiatkowski says. "We now oil-roast organically and are expanding in that healthier-for-you market that's growing in specialty retailers and becoming more mainstream in grocery accounts."
In 2015, Hickory Harvest hired a new director of operations, regional sales manager, accounting manager and plant manager to oversee improvements to its manufacturing processes and expand its market reach. "It's an exciting time for Hickory Harvest Foods as we continue to grow and expand our business," Swiatkowski says. "Adding experienced managers in food manufacturing will help us improve our processes and expand our marketing reach as we continue to set record sales growth year over year."
This year, Hickory Harvest plans to add about 16,000 square feet to its manufacturing facility in Akron, Ohio, to accommodate several new manufacturing product lines. In addition to new manufacturing methods, the company has also focused on improving its quality. "Over the past two years, we have taken a lot of steps to improve our quality standards," Swiatkowski says. "Our facility is now a certified SQF Level 2 facility and we continue to focus on improving quality and becoming the leader in the industry on quality."
Brand Improvements
Hickory Harvest was incorporated in 1972 by Joseph and Pauline Swiatkowski and their son, George. It began as a small distributor of cheeses and smoked sausages, but as the business grew the company changed focus and began roasting nuts in the mid-1980s.
Today, the company offers a selection of more than 400 different products – roasted nuts, candies, confections and snack items – sold under the Hickory Harvest Foods and I.M. Good Snacks brands, as well as private labels and in bulk. Its specialties are raw, roasted and flavored nuts, dried fruits and vegetables, confections, candy, licorice, trail mixes and granola. "Our goals is to continue making high-quality, great tasting snacks," Swiatkowski adds. "It's an added benefit that many of the snacks we produce – nuts, dried fruits and trail mixes – are also good for you."
Hickory Harvest plans to launch a new product line of healthy trail mixes this year in what Swiatkowski describes as upscale packaging under its Hickory Harvest Foods brand. The new trail mixes offer nutritional benefits and a unique combination of flavors that consumers are demanding. "We are constantly watching the market for trends on what's the next big thing in snacks," he explains. "We have a good research and development company we work with to help develop products and flavors for our customers. I'm excited for this new line of products we are rolling out in late spring."
Most recently, the company launched a line of hot-panned butter toffee and praline-coated nuts. Products in the line include butter toffee peanuts, almonds and cashews, as well as praline pecans. "This new line of butter toffee nuts are hot-panned, which creates a hard, candy shell, offering a nice crunchy, sweet and salty flavor experience," Swiatkowski describes.
Moving forward, Hickory Harvest plans to continue to work hard to make its name more prevalent in the industry. The company plans to accomplish this not only through its vast product lines, but also by updating its packaging for the Hickory Harvest Foods and I.M. Food brands. "We want our customers to understand hat a product from Hickory Harvest is the best there is in terms of quality, taste and flavor experience," Swiatkowski says. "Our goals for the future are to continue to be an innovative and customer-focused company."
The company has high expectations for growth over the next five years and will continue to build its team and develop innovative processes that will take it to the next level. "Our long-term goal is growth," Swiatkowski adds. "We have built a team over the past several years, recruiting key people with snack food industry experience to round out our executive team, which will drive us to the next level and beyond."