Hickory Harvest Foods works hard to increase awareness of its brands to retailers and distributors by increasing production capacity and launching new products from its processing plant.
The Akron, Ohio- based company was incorporated in 1972 by Joseph and Pauline Swiatkowski and their son, George. It began as a small distributor of cheeses and smoked sausages, but as the business grew, the company changed focus and began roasting nuts in the mid-1980s. In 2003, George Swiatkowski died suddenly and left the business to his wife, Darlene, and their sons Joe and Mike Swiatkowski. "As CEO of Hickory Harvest, I am proud of the company my sons have helped me grow – one that truly blossomed after they stepped into their leadership roles in 2003," CEO Darlene Swiatkowski says.
Today, Hickory Harvest offers a selection of more than 400 different products sold under the Hickory Harvest Foods, I.M. Good Snacks,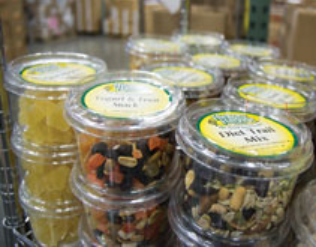 private labels and in bulk. Its specialty is raw, roasted and flavored nuts, dried fruits and vegetables, confections, candy, licorice, trail mixes, and granola.
"We really want to continue making high-quality products that people enjoy the taste of and the health benefits that come along with our vast product selection," Vice President of Sales and Marketing Mike Swiatkowski says.
Quality Roast
Hickory Harvest sources as many of its products as possible in the United States and processes a majority of its items in-house. The company's process begins with cold storage of raw nuts and bulk products. The nuts are roasted in 100 percent peanut oil, but it also specializes in honey roasting and other nut flavoring.
The processing plant includes numerous bagging and packaging machines that weight and fill each snack-size bag. It also includes completely automated state-of-the-art nitrogen-flush tub packaging. The snacks are then labeled, boxed and ready to ship. Hickory Harvest produces its own brands, but also offers private labeling. "There is growth potential there for us," Swiatkowski explains. "We have the flexibility to fulfill both small and large production runs. We can provide more value and quality than what national brands are able to in the nut industry."
The products produced by Hickory Harvest are distributed to grocery chains, convenience stores, wholesalers, distributors, food manufacturers, specialty food and gift stores. "Our goal is to go after small and medium-size customers in the industry," Swiatkowski says. "We can provide them the most benefits in terms of customers and partners we can build long-term relationships with."
Silliker, a worldwide provider of food safety, quality and nutrition services, audits Hickory Harvest's plant for product safety and the company anticipates receiving an SQF Level 2 certification in May.
Surge in Snacking
The food industry is reporting an increase in snack consumption and in response to the trend, Hickory Harvest expanded its plant by 17,000 square feet last year. "We are still a small family owned company in the industry and we have been growing rapidly over the past five years," Swiatkowski says. "We will continue to be innovative and customer focused no matter what size we are."
Hickory Harvest also is acquiring businesses that can add to its portfolio of snacks. In November 2012, the company formed a partnership to create The American Confection Company in Columbus, Ohio, to capitalize in the manufacturing and panning of chocolate, yogurt and flavored all-natural products. Hickory Harvest has begun panning nuts and anticipates releasing its new products later this year.  "Panning will be a big thing for us that will be coming out in the second or third quarter of 2014," Swiatkowski adds. "If we can continue to manufacture more products, we will be the resource for companies in the industry."
Hickory Harvest stays informed on the latest trends and flavors for new products. "We aren't a company who comes out with new products just to come out with them," Swiatkowski says. "We want to have long product lifecycles. We won't be so creative that a product won't sell, so we focus on what does sell."
Hickory Harvest is working hard to have its name become more prevalent in the industry. The company will be launching updates to its website and revamping its I.M. Good brand packaging to gain more attention. "In this industry, it's all about reputation, hard work and fulfilling requirements and customer expectations," Swiatkowski notes. "We are updating our image to get people to know about us, know our capabilities and understand that we are a good company with which to do business."