Hodgson Mill aims to grow further by leveraging cutting-edge technology and meeting its customers' demands.
Alva Hodgson started milling grain in the Missouri Ozarks in 1837. The business thrived, and Hodgson Water Mill continued to grind grains through the early 1900s. The mill company became officially known as Hodgson Mill Inc. in 1969.
Today the Effingham, Ill.-based company specializes in premium milled grain and seed ingredients and mixes, and is owned by Bob and Cathy Goldstein. In addition, Hodgson Mill has grown from a local business into a national leader in whole grain products with more than 100 employees.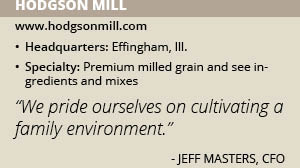 Hodgson Mill is still committed to maintaining the family values that made the company a success, according to Chief Financial Officer Jeff Masters. "We're finding that millennials are starting to appreciate our family culture," Masters explains. "Before they buy products they want to know are our employees being treated and paid fairly. We pride ourselves on cultivating a family environment."
Maintaining and providing its customers a selection of quality products has also been key to Hodgson Mill's success. This includes gluten-free, non-GMO and organic products. "We offer a variety of products that people not only want, but also what some people require," Masters says. "Quality is critical for them. Our customers know that if we say it's gluten-free, it really is. Ultimately, they know that they can rely on and trust us to meet their needs."
Performance Driven
Hodgson Mill's growth initiative started in 2016 when it hired a new sales team, Masters and Vice President of Sales Jonathan Thomas. "The company was at a crossroads and now we have reached a nice plateau," Masters explains. "However, now it's time to take it to the next level. We've done enough innovation on our products, but from a production standpoint we're ready to run."
Masters brings more than 30 years of automotive manufacturing experience to his role. "I managed other manufacturing facilities," he says, noting he has also brought a "completely different mindset" to Hodgson Mill.
"We're utilizing lean manufacturing practices to drive efficiencies and improvements," he says. "We've started cross-functional teams to address issues and map out our processes as well."
He adds that Thomas has been an asset to the team. "He brings a wealth of experience and ability to the company," Masters says. "We have the same mindset, and Bob has afforded us the opportunity to try and make this work. He understands that sometimes you have to do things differently, so the company is trying different things to remain successful."
This includes Hodgson Mill conducting market research prior to rolling out new products. "In the past, the company would introduce products it thought would be good instead of conducting market research to find out what consumer demands were," Masters says. "We're now approaching it with a bit more scientific methodology, which, I think, will make us a bit more successful."
Hodgson Mill usually rolls out five to 10 new products per year. In 2018, the company is on track to introduce even more than that, according to Masters. It recently rolled out four new flavors for its Kentucky Kernel line, a coating for baked and fried chicken. The flavors include garlic and herb, lemon pepper and spicy Cajun. "These flavors will be added to our existing Kentucky Kernel line," Masters says. "You can buy them at our retail store now. We are also working on innovations in hot cereals, soups and side dishes."
Hodgson Mill also recently invested in several green initiatives, including solar module arrays, solar panels and new windmills installed in 2016. "It's important to us how we treat the environment," Masters explains. "If we don't take care of what we have now, there won't be anything left in the future."
Looking Ahead
In his nearly two years with Hodgson Mill, Masters says he is most proud of helping to drive the company's cultural change. "Making changes in processes is simple; driving cultural change is very difficult," he says. "It hasn't been easy, but we know that our employees appreciate our efforts."
The company has even implemented a better benefits plan for its employees. "It's a better plan with better service at a lower cost," Masters says. "Our health coverage also now includes a wellness plan. If an employee chooses to take part in it, we will contribute to their HSA. Jonathon and I also put together a profit-sharing incentive plan that will roll out this year."
Hodgson Mill is pursuing several new avenues as it moves forward, including the foodservice, distillery and industrial segments. "We aim to expand into restaurants and industrial kitchens like hotels, colleges and prisons," Masters concludes. "There are many other avenues we're considering in those fields as well, like co-packing and private labels. That's where we expect our growth to come in."