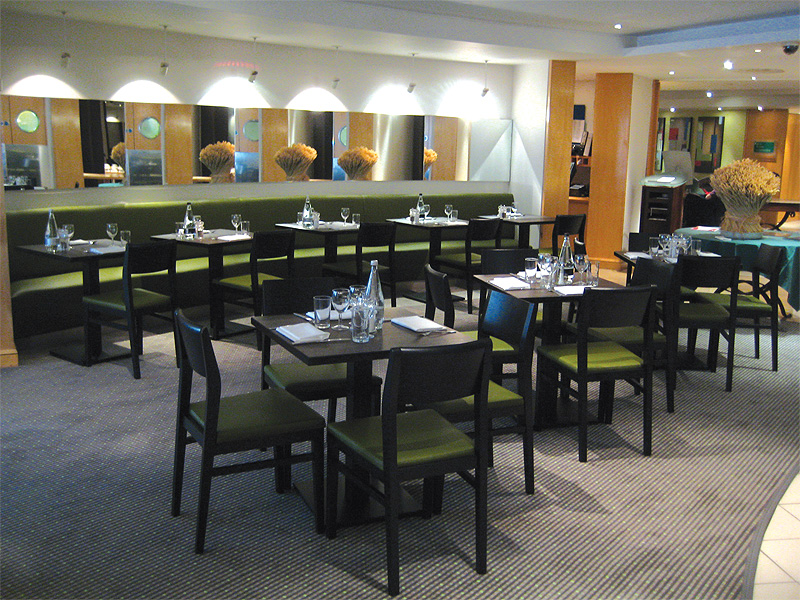 Holiday Inn Regent's Park
Sleeping giant
Holiday Inn Regent's Park has recently completed a worldwide rebranding programme that aims to improve the group's services even further
Holiday Inn is a chain of hotels with branches throughout the world, and is part of Intercontinental Hotels Group (IHG). The Regent's Park site is a 332-bedroom, four star rated hotel located at the heart of London's West End. The company has recently been undergoing a worldwide relaunch of its corporate image – the largest such operation that the hospitality industry has experienced – and is already seeing the benefits.


Understandably, this expensive repositioning was not undertaken lightly. The company did extensive research before taking action as Byron Wilson, manager of the Regent's Park hotel, details: "Before we went into the rebranding we conducted a global survey of 80,000 people to see what was important to them about hotels: which hotels they stayed in, what they valued, what they thought of the Holiday Inn brand and what they thought of other hotel brands. We knew before we started what people were looking for and what we were going to do."
Byron goes on to explain how the rebranding has already affected Holiday Inn: "It is still very early days for us at Regent's Park, but looking at our guest engagement scores from around the world, we're seeing a five per cent lift in guest satisfaction. We have also increased our average room rate on the back of the improved product. The feedback has been extremely good."
The most striking aspect of the redesign is a new logo and corporate image, made to look more contemporary. This is only one of a large number of changes however. Other refreshed elements range from staff training to lobby ambience, through to bedding and bathroom experience. The Holiday Inn Regent's Park also spent a quarter of a million pounds refurbishing its dining area, the Junction Restaurant, and this has had a positive effect on both the customer and the staff.
Byron highlights: "We've introduced an Easy Next Generation 'ENG' cooking concept into the kitchen. The idea is to use specialised equipment to cook food very quickly, turning our kitchen into an electric one. We don't operate a deep fryer, or salamander and we don't operate any gas rings. Our equipment has near instant heat, which allows us to have it on only when required, resulting in a much more energy efficient kitchen. This has had a huge impact on us, taking all the heat out of the kitchen yet still being able to produce the same foods very quickly and efficiently."
He adds: "The ENG Cooking concept has been very exciting to be part of, and certainly has been able to provide a very consistent product throughout the country to all of our guests. We were fortunate enough to be a trial hotel and it's been very successful. Removing all the heat from the kitchen has had a positive influence on the working area, and has been beneficial from an environmental aspect too." The money has also been spent on updating customer facilities of the Junction Restaurant, with completely new carpets, chairs and tables to achieve a fresh look and feel. A similar refurbishment operation at the hotel's Junction Bar will be completed imminently.
One of Holiday Inn's strengths as a brand is the uniformity of its branches throughout the world. Whether in London or Leicester, South Africa or Singapore, the company has made sure that every one of its branches conveys the signature atmosphere; this includes the scent, music and lighting present at Holiday Inn reception areas, as well as bedroom and bathroom amenities. Therefore it is equally important that, within the UK, whenever a customer uses a Holiday Inn they are presented with a familiar menu regardless of their location. It is therefore important that not only does a supplier meet critical food hygiene standards but that they are also able to provide consistent products throughout the UK. For its fish items, the company utilises suppliers of sustainably farmed fish and, where possible throughout its entire menu, makes use of British products.
Throughout the recession, the company has definitely noticed an impact on its business. "Our customer patterns have changed dramatically in the last 24 months," Byron explains, "and I think that 77we won't go back to where we were. During the recession, customers moved to Holiday Inn as they wanted a brand that they know and trust. Customer expectations have changed and we'll continue to move forward." He continues by reflecting on how this has effected the company's dining business: "During the recession people learned or looked elsewhere for their food and beverage options. People stopped using hotels for some of the occasions they'd traditionally used hotels for and we have certainly seen that in terms conference and events."
Nonetheless Holiday Inn has maintained a positive outlook and its rebranding even during economically unstable times has shown that the company is on a steady rise. At Regent's Park, the process of updating and refurbishing its facilities is ongoing. Byron concludes by highlighting some of the new aspects that customers can look forward to: "Refurbishment is a continual process at our hotel, whether it is new carpets being laid, public area carpets being replaced or the beds and public area toilets being refreshed. We have all of that slated over the next two years." With all of these updates in the pipeline, the branch and company look to be in an excellent position for the future.